Top SaaS Trends Shaping the Future of Business Software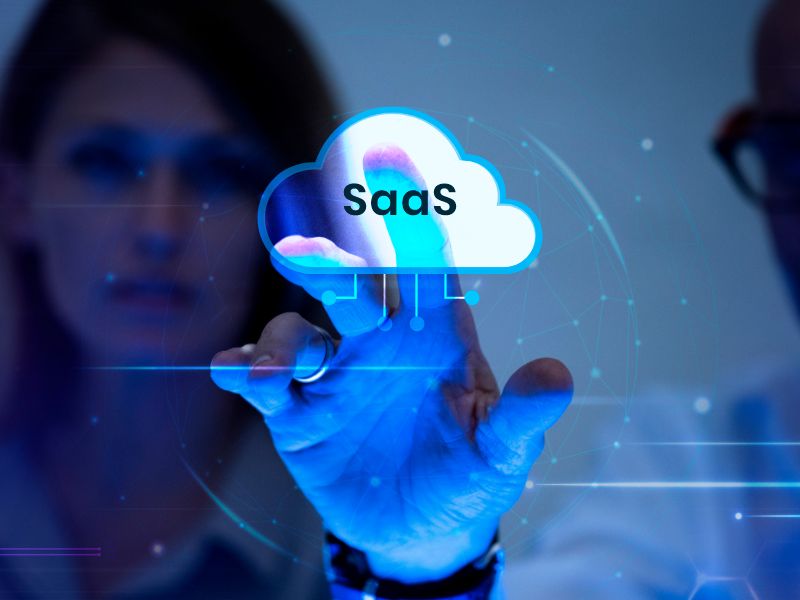 Your SaaS business is facing challenges as it strives to grow and stay ahead of the competition. But you and your team refused to back down. As the CEO, you're brainstorming with your team, exploring innovative ideas to revolutionize your SaaS offerings, and wondering how to overcome these challenges.
That's where the top SaaS trends for 2023 come in. These trends can be the ultimate solution to propel your business forward. You can navigate the ever-changing SaaS industry and find exciting opportunities by keeping up with these trends.
So, it's time to seize these opportunities and weave these trends into your strategic planning to deliver trending saas products. Let these trends in SaaS guide you toward a brighter future where your SaaS business stands at the forefront of innovation and captures customers' attention.
Rise of Low-Code/No-Code Platforms
One of the noteworthy trends projected to shape the SaaS market in 2023 is the rising usage of low-code/no-code development platforms. This trend has captured the interest of business leaders and is expected to influence organizations of all sizes significantly.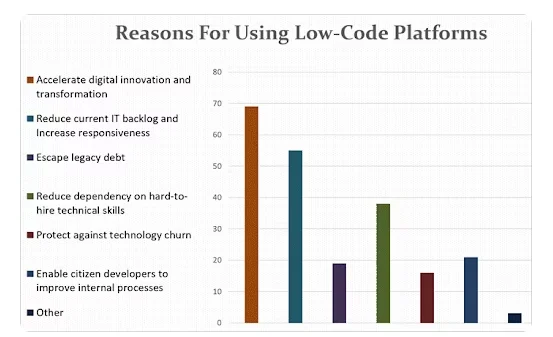 Image source:- adamfard.com
To take an example of a worldwide technology giant, Siemens has used low-code development to promote digital transformation throughout their organization. According to Roland Busch, Deputy CEO of Siemens AG, "Low-code development enables us to speed up our digitalization efforts, streamline our processes, and deliver innovative solutions to our customers faster."
Siemens has seen outstanding outcomes after using low-code technologies. They've been able to offer new products and services quickly because of application development cycles up to 70% faster. This accelerated speed-to-market has given Siemens a competitive edge and enhanced its ability to address customer needs promptly.
The advantages of this trend are evident, as demonstrated by Siemens' success in deploying low-code/no-code solutions—additionally, statistics from the industry back up the growing importance of low-code/no-code platforms. According to Gartner, there is an immense need for these solutions since the low-code development market is anticipated to Grow by 20% in 2023.
Growth of hyper-personalization in SaaS products
Hyper-personalization is becoming more prevalent in SaaS products due to users' growing need for individualized and customized experiences. SaaS providers understand the benefits of utilizing user data, behavior, and preferences to develop to meet specific demands.
Netflix is one noteworthy example of hyper-personalization in action. The streaming giant uses user data to provide personalized suggestions, resulting in a more immersive and entertaining streaming experience. By analyzing viewing habits, genre preferences, and previous interactions, Netflix leverages the power of hyper-personalization to provide content that aligns with users' tastes and interests.
SaaS companies may promote deeper engagement and long-term relationships by adapting products and services to the individual demands of users.
The Cloud Migration Wave in SaaS
More businesses are expected to move their software to the cloud in 2023, as it offers greater scalability and flexibility and reduces the cost of building SaaS products. Cloud-based SaaS solutions also provide better accessibility, as users can access them anywhere with an internet connection.
A real-life success story that illustrates the advantages of cloud migration is Adobe's move of its Creative Suite to the cloud. By adopting cloud-based SaaS, Adobe witnessed remarkable revenue growth and heightened customer satisfaction. The cloud migration allowed Adobe to provide regular updates and new features to its users, enhancing the overall user experience and solidifying its position as a leader in the creative software industry.
AI Taking Over SaaS Applications
2023 is poised to witness significant advancements in SaaS, particularly in Artificial Intelligence (AI). As AI becomes increasingly ingrained, its application in the saas industry is set to redefine how businesses operate. Let's explore the top SaaS trends related to AI and their potential impact on organizations across various sectors.
Autonomous, Self-Learning AI: AI technology is rapidly becoming a standard fixture in the SaaS industry, enabling organizations to personalize their offerings and gain deeper insights into their target audience. With autonomous AI innovations, businesses can achieve greater efficiency and intelligence while optimizing resource utilization.
Market Growth: AI has witnessed significant developments in recent years and is projected to reach a staggering market value of $733.7 billion by 2027. This remarkable growth underscores the transformative potential of AI in various industries, including SaaS.
Data Alerts: Modern software providers leverage AI algorithms to develop features like data alerts. These alerts utilize advanced neural networks and pattern recognition to detect anomalies and notify users promptly. By staying informed about critical events, businesses can maintain better control over their operations and make informed decisions.
Personalization: AI technologies, such as natural language processing (NLP), enhance the software's user-friendliness. SaaS solutions can deliver improved customization and cater to individual customer needs by processing human speech patterns and incorporating voice control.
Speed and Responsiveness: AI-enabled SaaS solutions expedite internal processes, providing swift answers to queries, enabling quick forecasts, and enhancing overall responsiveness. Organizations can make faster decisions and adapt promptly to changing market dynamics.
Emphasis on Cybersecurity and Data Protection
The year 2022 saw an increase in data breaches and cybersecurity attacks, raising security concerns for the SaaS company in the future. These concerns have penetrated organizations globally, forcing them to implement new technology and processes to provide complete security safeguards. In 2023, SaaS security is set to take center stage as the cloud faces various security threats and risks that demand immediate attention.
According to the latest SaaS security report by Adaptive Shield, one of the primary security issues for cloud businesses since 2019 has been SaaS misconfiguration. The report reveals that 63% of respondents experienced security incidents in the past year due to misconfigurations, primarily caused by a lack of visibility into changes in SaaS security settings and excessive access to these settings across different departments.
Adopting SaaS Security Posture Management (SSPM) is recommended to mitigate these risks. SSPM tools enable automated and continuous monitoring of SaaS applications, minimizing configuration and security issues while ensuring compliance. Organizations implementing SSPM can proactively identify and resolve security breaches in real-time, minimizing their impact. The report compares companies using SSPM technology and those that do not.
The Mobile Takeover: SaaS Goes Mobile-First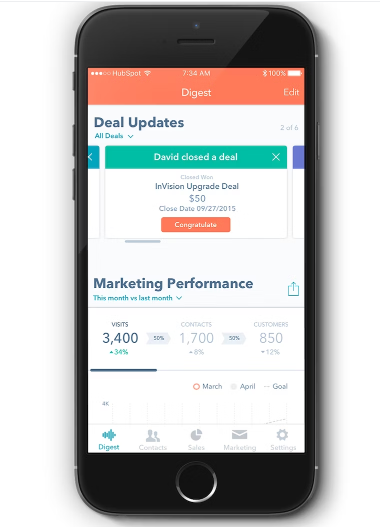 Image source:- adamfard.com
As more people rely on mobile devices, businesses adapt to this trend by offering mobile-first and mobile-only Software-as-a-Service (SaaS) solutions. These offerings are designed to provide a seamless experience for users, allowing them to access software from anywhere and anytime using their smartphones or tablets.
For example, Zoom, a popular video conferencing platform, has launched a mobile-only app that lets users attend and host meetings directly from their smartphones. This means users can join discussions on the go without needing a computer. Similarly, Slack, a leading team communication and collaboration tool, has embraced a mobile-first approach. Their mobile app is designed to provide a smooth experience for users primarily using their smartphones for work communication.
Integration with other software platforms through APIs
Integration with other software platforms through APIs is a key aspect of professional SaaS application development services. APIs enable seamless communication and data exchange between different platforms, offering several benefits for businesses. Here's a breakdown of why API integration is an emerging trend as it provides:-
Experience:- Allows SaaS applications to connect with other popular platforms and services, enabling smooth data synchronization and automation. This improves user experience by eliminating manual data entry and streamlining processes.
Functionality: Integrating with APIs opens up a world of possibilities for SaaS providers. It allows them to extend the capabilities of their applications by leveraging complementary services. This means users can access a more comprehensive solution that meets their needs.
Wider Ecosystem: Enables SaaS providers to tap into a larger ecosystem of platforms and services. By connecting with widely used third-party solutions, they can reach a broader customer base and create more user value.
Data Exchange: Facilitates bi-directional communication, enabling platforms to share data in real time. This promotes collaboration, improves reporting and analytics accuracy, and simplifies workflows across different software applications.
API integration is essential for SaaS applications as it enhances the user experience, expands functionality, provides access to a wider ecosystem, and enables real-time data exchange. By leveraging APIs, SaaS providers can create interconnected software solutions that offer seamless integration with other platforms, ultimately driving business growth and customer satisfaction.
Industry-Tailored Solutions
As technology advances, businesses seek software solutions that precisely cater to their unique industry requirements. This demand has given rise to vertical SaaS providers who specialize in offering industry-specific software. These providers understand the complexities and challenges organizations face across various sectors, and they develop specialized technologies to streamline operations and foster growth.
Vertical SaaS solutions are tailor-made for specific industries like healthcare, banking, and real estate. By focusing on the distinct needs of each sector, these solutions offer features and functionalities that are highly relevant and valuable to businesses operating within those industries.
For instance, in the healthcare sector, vertical SaaS providers provide electronic medical record (EMR) systems, telehealth platforms, and medical billing software that comply with industry regulations and enhance patient care. Similarly, in the banking industry, specialized SaaS solutions may include core banking systems, online banking platforms, and compliance management tools.
Businesses may streamline their workflows, boost productivity, and comply with sector-specific requirements by implementing industry-tailored solutions. These specialized software packages enable companies to make data-driven decisions and optimize their operations, increasing productivity and customer happiness.
Analytics and Business Intelligence Take Center Stage
Analytics and business intelligence tools are increasingly being used in SaaS products. These technologies assist users in making better decisions by offering real-time data insights. It is significant because data is critical for business success.
Consider an organization that collects a large amount of data from many sources. They require tools to analyze and visualize data to make sense of it all. This is where SaaS providers come into play. They integrate powerful analytics and business intelligence tools into their software, making it easier for users to explore and understand their data.
One popular example is Tableau. It offers easy-to-use features that let users create interactive charts and graphs to see patterns in their data. This helps businesses communicate important information and make smart decisions.
The Hybrid SaaS Solution
With the growing adoption of cloud-based software solutions, there is an increasing demand for hybrid Software-as-a-Service (SaaS) offerings. Hybrid SaaS solutions offer the best of both worlds by combining the flexibility and scalability of cloud-based software with the security and control of on-premise software. This approach allows businesses to leverage the benefits of the cloud while maintaining control over sensitive data and critical systems.
An excellent example of a successful hybrid SaaS solution is Microsoft Dynamics 365. It seamlessly integrates cloud-based and on-premise software to provide a comprehensive suite of business management tools. Organizations can choose to store their data and run certain applications in the cloud while keeping other critical processes and sensitive information on-premise.
This hybrid model enables businesses to optimize their operations based on specific needs, ensuring data security and regulatory compliance while leveraging the advantages of cloud-based technologies.
Conclusion
Businesses must keep a close eye on the saas industry trends to stay ahead in the competitive digital landscape. These trends can provide numerous opportunities to develop a SaaS Product, streamline operations, and drive growth. In addition, incorporating financial technologies such as blockchain and machine learning can further enhance the functionality of SaaS applications.
However, developing effective SaaS applications requires a deep understanding of the industry landscape and user requirements. Partner with a professional custom software development agency like Finoit Technologies, which stays up-to-date on the latest trends and can help businesses develop custom SaaS solutions that meet their unique needs. Connect with our development experts to embrace these trends, leverage the latest technologies, and achieve success in the fast-evolving SaaS landscape.
FAQs
How are SaaS providers addressing the evolving security challenges?
As a basic step, SaaS providers are implementing measures such as multi-factor authentication and conducting periodical security audits. They are educating customers on best practices for securing their own data and providing tools to help them do so. Additionally, many providers are increasingly investing in artificial intelligence and machine learning to detect and respond to security threats in real-time.
What is the mobile first approach for SaaS?
The mobile-first approach for SaaS refers to designing and developing software applications with mobile devices as the primary platform. Essentially, the concept thus implies that the application is built with the understanding that it will be primarily accessed and used on a mobile device, such as a smartphone or tablet, rather than on a desktop computer.
How does the rise of "No-Code/Low-Code" platforms influence the development and deployment of SaaS applications?
As these tools allow non-technical professionals to engage in development, they equip SaaS providers to reach a wider audience, as users without technical expertise can create their own applications. Naturally, the development sees rapid and more agile development cycles, as changes can be made to the application in real-time without the need for extensive coding.
Need Help With Your
SaaS Development?
Proven
Transparent
Dependable
Book a Free consultation
Drop in your details and our analyst will be in touch with you at the earliest.
USA
6565 N MacArthur Blvd, STE 225 Irving, Texas, 75039, United States