7 Ways How Software Gives Businesses a Competitive Edge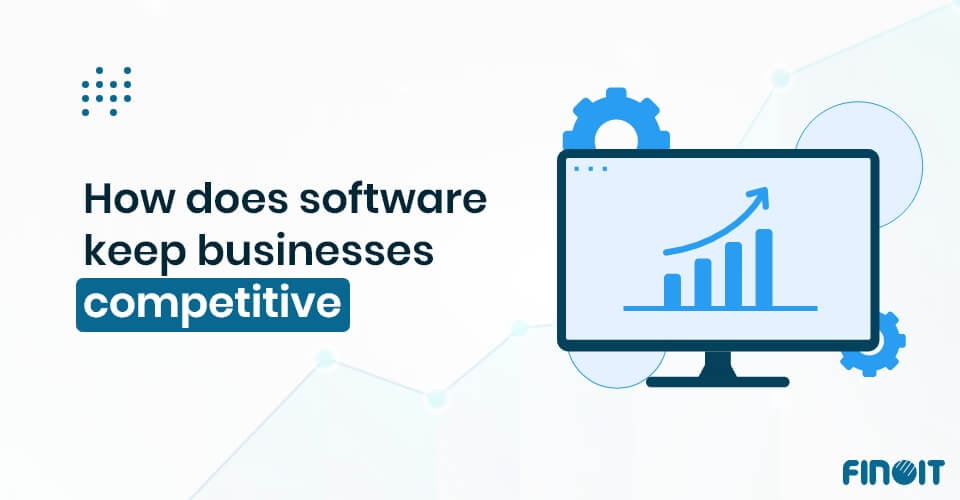 Understanding early on that software is your competitive advantage is essential for business growth. It provides valuable insights into customer behaviors and helps reduce human errors, allowing businesses to understand their customers better and create tailored strategies to meet their needs.
About 20 years ago, extensive transactional systems in the data center were the only focus areas where software was used within organizations.
Now, every industry sees it as a ubiquitous pillar in nearly every function. As per Gartner, worldwide software spending is expected to grow by 11.8% to $902.1 billion in 2023.
One incident to back it up is- at an all-hands meeting fifteen years ago, Jeff Bezos declared that Amazon was not a retailer but a software company.
"Our business is not confined to brown boxes. The software is in charge of dispatching the brown boxes. Our ability to win is based on our ability to arrange magnetic particles on hard drives better than our competitors."
Using software applications for services helps businesses deliver a more accessible and affordable customer experience. Ultimately, it helps increase revenue, particularly for small and medium-sized businesses.
Standing out in terms of online presence and customer interaction on the web and software applications is one of the ways a business can outperform its competitors.
In this post, you will learn about:
How does software come into the picture of digital businesses?
How software solves modern business challenges?
Benefits of software that keep businesses competitive
How Does Software Come Into The Digital Picture?
Businesses nowadays approach every new opportunity or strategy, intending to make the solution as digital as possible. The term "digital-first" refers to a business model that prioritizes digital processes internally and digital offerings externally.
Much of today's business is powered by competitive edge software. Customers interact with a company through software, which allows them to place orders, request assistance, apply for credit, view accounts, troubleshoot problems, and more. Companies have a new opportunity to update their business model by leveraging software as a strategy.
To keep up with the tides of digitization, banks, insurance, retail, publishing, manufacturing, and every other industry have been transforming into software-first businesses. Software isn't just for storing data; it's also for delivering data across an organization's operations. Agile infrastructure development keeps companies with legacy enterprise systems ahead of the curve.
Three Modern Business Challenges That Software Solve
The fact that software is not static poses a strategic and operational challenge. Many people associate it with electricity, which can be plugged in and then forgotten about. However, software applications for services, as well as the processes it affects, are constantly evolving.
Because of this reality, new competitive challenges emerge. The three business challenges and their solutions are listed below:
Challenge #1: Only Customizing Existing Products
Most businesses prefer to customize an existing product to reduce the time to market and overall cost. This is simply a desire to make more money quickly. As a result, startups are technologically lagging behind their competitors as digitization continues to accelerate.
One of the main issues with product customization is that once it is deployed, the customization layer fails to provide resilience because the business requirements change. In such cases, stability becomes critical. No matter how frequently you customize a product, the cost will increase.
Solution: Bringing Software Development Experts on Board
As a result, developing a new product is always less expensive and takes less time than customizing an existing one. One of the most thoughtful decisions will be outsourcing such services to a reputable software development company. Building genuine codes and intuitive products from scratch takes less time for software experts. This ensures that a specific software product has been built logically and that all aspects of the product are correctly connected.
Challenge #2: Coping With Competition
According to an old branding rule, the most successful businesses are:
A. The first in category
B. Or the best in category
Companies see new options for interacting with customers and developing and releasing products as they are empowered by constant connectivity and realize software can be a competitive advantage. By testing new products or ideas with consumers using mockups, computer-generated virtual products, and simulations, they shorten cycle times and shorten learning curves.
Solution: MVP Development
Managers must be concerned about competitors using software-enabled techniques such as rapid prototyping and real-time testing to leapfrog them.
A proper roadmap is another solution to such a problem. To address this challenge, startups can use an MVP to validate their product idea. You can use MVP to test and evaluate your market speculations and get a quick user review of your product idea.
Challenge #3 High Administration Costs
Companies' administration has frequently been a costly but necessary business function that takes time to scale efficiently. Technology has had a significant impact in this area.
Solution: Automation Streamlines Everything
Almost all paper processes, from signing contracts to filling expenses to managing invoices, can now be done digitally. We've also seen automation software used to cut administrative costs:
Automate your accounting procedures. For example, PayPal has many automated features that will make your administrative life more effortless.
Manage your tasks. Trello and Atlassian make it simple to keep track of what is in flight and what is coming up.
Improve your accounting services. There are hundreds of software solutions to make paying your suppliers, employees, and yourself easier, including Sage 50, QuickBooks, FreshBooks, Zoho, and Xero.
How Software Applications Keep Businesses Competitive (Benefits)
Most startups and SMEs are enticed to increase their brand visibility and gain competitive edge in the market by developing a software application strategy for their product and services to generate revenue.
So, let's get started and see how software can help you outperform your competitors.
1. Ease of Adoption
Software designed specifically for your company's needs has unique solutions and features that will allow for a smooth adoption.
2. Complete Personalization
You can personalize customer experiences through custom software development. In other words, you can specify specific designs and features that will set your product apart from the competition.
3. Reliable Support and Maintenance
Software development is accompanied by dedicated software developers and support teams ready to tackle any challenge. Furthermore, they will provide consistent maintenance and resolve technical issues, security flaws, and other software-related issues.
4. Strong Security Measures
Custom-made software is likely more secure than off-the-shelf products. Many custom software development firms have extensive experience in the cybersecurity field. They gained this knowledge while working on various projects and industry verticals. This ensures that they can provide strong security for your customized solution.
5. Better User Experience
User experience (UX) plays an essential role in increasing customer interaction with your product or service. We can see the customer behavior shift to how a product or service makes them feel rather than how well a product or service performs. As a result, your product or service's user experience and design have never played such vital roles.
6. Facilitates Customer Interactions
Software aids in facilitating and centralizing customer communications. Software solutions use a variety of channels and touchpoints to enable customer interactions and provide a relevant end-to-end experience. With such a solution, it is much easier to implement conversational marketing, establish a relatable social media presence, and deliver personalized messaging to your target audience.
7. Build on Your Strengths
Because of the nature of the marketplace, competitive advantages dwindle over time. One way to keep your advantage is to keep innovating on your core strengths. Internal and external-facing software is essential for increasing your value.
Remember that software development only happens after a while, so you must be selective when deciding to invest in software development.
Takeaway
Software development is a prime mover for businesses to begin a digital transformation. If you do not shift your focus to developing advanced software applications, you will undoubtedly fall short of meeting your customers' changing needs.
Because the main features of the digital economy include the same goods and services as traditional ones, the only difference is a platform for serving them. Everything in the digital economy is served through the internet. As a result, software development is no longer an option; it is now required to support a country's digital economy.
Many companies respond to digital competition by acquiring startups or building "innovation centers". However, true disruptors understand that whoever builds the best software wins in the digital economy.
How can you stand out and gain a competitive advantage when everyone uses the same software? In that area of your business, the choice is no longer "build or buy." It's "build or die."
We can help you to develop custom software based on your business requirements. Contact us now!
FAQs
1. What is the definition of software development?
Computer science activities devoted to creating, designing, deploying, and supporting software are referred to as software development.
2. How has technology altered the business environment?
Technology has altered the business landscape from automating manual work to integrating business processes, departments, and branches. Businesses are more agile, scalable, and productive than ever.
3. Why do people invest in cutting-edge software technology?
Work automation, easy access to data and information, simple integration of different processes, and enhanced security are a few reasons.
4. When should small businesses invest in software and automation?
When small businesses want to reduce operational costs and want to scale, right then, they can invest in software and automation.
Book a Free consultation
Drop in your details and our analyst will be in touch with you at the earliest.
USA
6565 N MacArthur Blvd, STE 225 Irving, Texas, 75039, United States