What is Application Software? Top Uses and Types of Application Software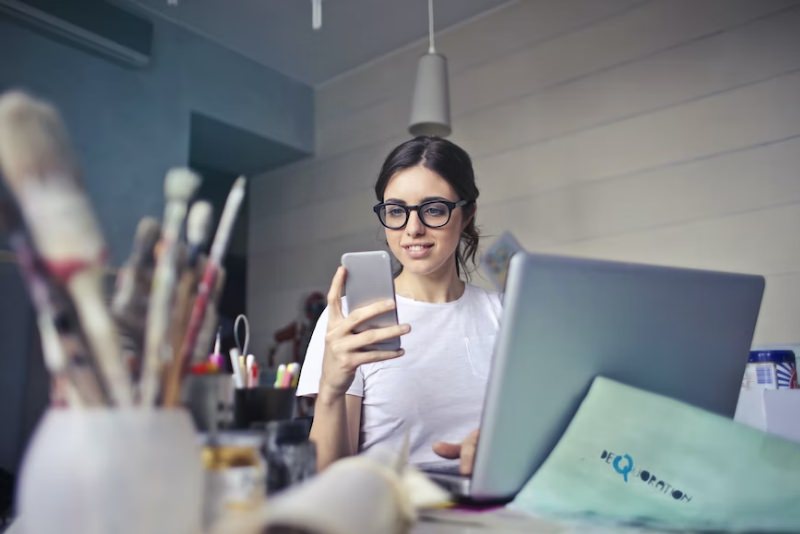 Choosing the best application software for your business or personal needs can boost productivity.
Understanding the various types of application software available to you – whether ready-made or custom apps built and uniquely designed for your needs – will assist you in evaluating your options.
But before you dive into what is best for you, understanding what application software is and the different types of software applications will help you make the best business decisions.
What is Application Software?
Application software is a computer program that performs a specific personal, educational, or business function. Each application is intended to help end users complete various productivity, creativity, or communication tasks.
Application software uses
End users can use application software to complete any number of tasks. Here are a few uses of application software:
Performs specific tasks
In general, the application software should be designed with the end user in mind. They will primarily benefit the end-user by assisting them in specialized activities across various industries, including education, business, and entertainment.
Manages and manipulates data
In the business world, application software is used to manage and modify employee, customer, and other databases. Application software can be anything from an enterprise resource planning system to a customer relationship management system.
Organize information effectively
Individual users can create and manage data using application software. Microsoft Excel, for example, is a popular application software among businesses that allows users to manage spreadsheets.
Types of Application Software With Examples
Millions of people use the most common software application platforms daily. They are intended to aid in specific tasks, streamline workflows, and improve team communication. The list of application software types is not intended to be exhaustive.
An application software example will help you understand the functions of various types of the same. Application software assists you in managing your tasks, taking notes, conducting online research, setting alarms, keeping an account log, and even playing games. Application software packages are intended to perform specific tasks, facilitate workflows, and enhance team communication.
Presentation Software
Presentation software is a popular application for personal and professional use. These programs are intended to assist users in quickly presenting information, thoughts, and ideas using engaging visual modes such as text,
Common examples of presentation software are Visme, Prezi, Google Slides, Keynote, Microsoft PowerPoint, etc.
Spreadsheet Software
Spreadsheet application software, like productivity software, aids in the organization, storage, and analysis of data in columns and rows to make calculations more accessible and faster. These rows and columns can be used in formulas to perform critical mathematical functions. This is a digital representation of traditional paper worksheets.
Examples of application software in the Spreadsheet category are Microsoft Excel, Google Workspace, Quip, Apple Numbers, Zoho Sheet, etc.
Database Software
A database application software, also known as a DBMS (Database Management System), is a collection of data that is linked to any application. This aids in data organization by creating and managing databases for storing, modifying, extracting, and searching for information. When we run an application, it accesses the database and stores the data after it has been modified.
Examples of database application software are Microsoft SQL Server, PostgreSQL, My SQL, Amazon RDS, Oracle RDBMS, etc.
Multimedia Software
Users can use multimedia application software to create, edit, or record images, audio, and video files. This application software dominates the entertainment, media, and telecommunications industries. They are intended to improve the visual and auditory aspects of the existing material. They combine text, audio, still images, animation, video, and interactivity with improving communication and engagement.
VLC media player, KMPlayer, Kodi, iTunes, Vidmate, and Windows Media Player are a few examples.
Simulation Software
A simulation application software is created by modeling a natural phenomenon with a set of mathematical prescriptions. Simulation software is designed as an animated model that simulates the operation of an existing/proposed system. They are helpful in military engineering, gaming, and industries such as space shuttle navigation, power plants, and so on, where improper operation can have disastrous consequences.
Some common simulation software examples are Simcad Pro, SimSolid, FlexSim, Analytica, HSC Chemistry, etc.
Word Processing Software
Word processing software allows users to input, edit, format, and output text content. This software program enhances the text by processing words with pages, paragraphs, and formats. It also improves the 'wording' experience by providing quick access to thesaurus, synonyms, and antonyms. It adds art features such as font styles, colors, and styles to letters.
Some famous examples of application software related to the word processing category are: AppleWorks, Notepad, Wordpad, Word Perfect, Open Office Writer, Microsoft Word Docs, Google Docs, etc.
Web Browsers
Web browsers, also known as browsers, are pieces of application software that are used to access and view websites via the internet/World Wide Web. It obtains the required content from a web server and then displays the page on the user's device upon request.
Examples include Safari, MS Edge, Firefox, Google Chrome, Microsoft Edge, etc.
Educational Software
Education software, also known as learning educational management software, is a type of application software designed specifically for educational purposes. They are intended to help teach and learn new content, concepts, and processes. They greatly assist administrators and educators in creating content, sharing lessons, managing classrooms, and managing institutional and student data.
Most modern education software are built with .NET framework or Java development, while many opensource LMS have been built using stacks like Python development.
Google Classroom, Litmos, TalentLMS, ProProfs, etc., are some examples.
Project Management Application Software
According to Wikipedia, "project management software has the ability to help plan, organize, and manage resource tools and develop resource estimates." This application software is a versatile tool that allows project managers (PMs), stakeholders, and users to manage expenses and costs.
Some standard project management application software are Basecamp, Nifty, Trello, Jira, Asana, Monday, Adobe Workfront, etc.
Customer Relationship Management Application Software
Customer Relationship Management (CRM) is a type of application software that enables businesses/organizations to manage their interactions with customers intelligently using data analysis. They assist you in providing a seamless experience to your customers by developing stronger relationships- whether it be a sales CRM or service CRM.
Examples are HubSpot, Salesflare, Fieldcircle, EngageBay, Dynamics, Salesforce, etc.
What to Look For in Application Software?
Sometimes application software is pre-built, with elements that can be customized, as in the examples above. Other times, you'll be able to build the entire thing using low-code technology.
You want to ensure that the application software is useful, whether providing a service you're interested in, connecting you with others, or automating manual processes.
More and more businesses are investing in purchasing or developing custom application software. The preceding discussion of business application software explains its application in various business domains.
You can also contact us because we are the best software development company to guide you and build a custom-made solution. Our experienced project managers and developers will gladly guide you through the process and can create high-quality and dependable software for you.
FAQs
What is the distinction between an application and an app?
Applications are software programs designed and maintained for end-users to perform specific computing tasks. Apps, on the other hand, are programs that are specifically designed for mobile devices.
Can you explain the distinction between "on-premise" and "hosted" application software?
An on-premise cloud is one in which your company owns and manages its data servers. On the other hand, Hosted Clouds are when you pay a fee to a software provider to manage your data remotely.
What is the distinction between application software and a platform for application software?
An application, also known as an app, is used to perform specific tasks by a user. A computing platform typically includes a hardware architecture and a software framework that allows application software, such as the operating system and programming languages, to run.
What distinguishes system software from application software?
System software programs are self-contained, whereas application software is dependent on it. When the system is turned on, software programs run in the background, whereas application software interacts with its end users.
How do I choose the best application software?
Examine whether the software is adaptable enough to meet your future requirements. Confirm how long you will need to learn and use the software. Consider whether the software integrates your preferred driver and other productivity tools such as analysis, visualization, and storage.
Book a Free consultation
Drop in your details and our analyst will be in touch with you at the earliest.
USA
6565 N MacArthur Blvd, STE 225 Irving, Texas, 75039, United States