Top 10 Retail Technology Trends to Watch for in 2024 and Beyond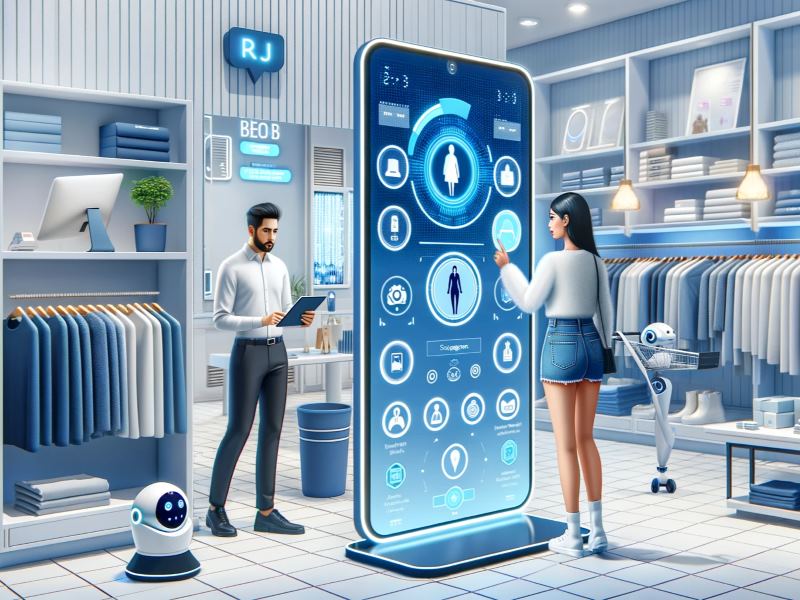 Driven by technology, the retail industry is on the cusp of a revolution, as the tech trends covered here detail.
From operating through a personal and localized approach to revolutionizing its character with the integration of technology, the retail industry has undergone a sea-change transformation. Driven by the need to reach a global audience, the rise of technology is bringing to the fore unprecedented tech trends that are turning the corners in the field.
As technology has become a staple, retailers have started seeing themselves as tech businesses while carrying out their core functions. Lucy Partridge, Retail Transformation Partner at ASOS, puts it aptly: "We're a fashion company, but also a tech company. We like to see ourselves as innovators in tech, and we're always after the next big thing in online shopping."
95% of retail decision-makers report positive results from their investments in technology. It is proving valuable for seamlessly blending online and offline experiences and setting new standards. Technology also comes into play in the transformation of omnichannel retailing, promising a unified journey across various touchpoints.
As we move on to know about what these trends are, we need to know that they do not operate in isolation, rather they are interlinked and work together. Some of them are currently in the midst of their evolution, while some are still in their nascent stages. However, their potential to redefine the future of retail is palpable.
What Are The Technology Trends Shaping The Retail Industry?
The impact of technology on service delivery has been remarkable in recent times. In 2023, technology investment was one important agenda for retail leaders and it will remain for the upcoming years. We explore the untapped possibilities and potential of technology across areas and use cases through the following transformative and emerging retail technology trends. They will set a course of high efficiency and productivity, leading to the enhancement in ROI.
Artificial Intelligence Bringing Smartness
The retail and consumer industry is undergoing a transformative shift with the widespread adoption of Artificial Intelligence (AI). 80% of retail executives anticipate implementing AI-powered intelligent solutions in their operations by 2027. So, the industry's recognition of AI's potential to bring operational revolution is clear.
AI has already demonstrated its effectiveness in areas like demand forecasting and paving the way for hyper-personalization and advanced retail analytics. Moreover, it is offering impetus for building self-taught recommendation engines that will accord a new form to retail models. Generative AI has begun rendering new dimensions to the industry, offering more advanced chatbots.
Experiences are coming from different corners. Olay utilizes AI to deliver personalized skincare recommendations, creating a tailored customer experience for each customer. One Stop reported a remarkable 5% point increase in in-store availability across their entire product range after implementing an AI forecasting solution in 2022, resulting in a substantial boost in sales.
AI is showing its impact throughout the retail value chain. Frito-Lay and Home Depot have leveraged IBM's AI technology to streamline their processes. Likewise, many players are implementing machine learning and deep learning algorithms to reengineer their operations.
Due to the rush towards artificial intelligence, the global AI in the retail market is projected to reach $45.74 billion by 2032, at a CAGR of 18.45% from 2023 to 2032. Examples like Nike's acquisition of Celect for $110 million demonstrate the willingness of retailers to invest heavily in AI technology to gain a competitive edge. With these developments, it is evident that AI is poised to trigger a major transformation in retail.
Automation for Optimum Efforts
The flourishing use of automation in the industry is poised to revolutionize operations. Contrary to the common assumption that it will lead to widespread job loss, it is expected to result in a shift in job roles. With robots and automated systems taking over tasks like inventory management (restocking and fulfillment), and checkout processes, the efficiency gains will open up opportunities for more high-touch online and in-store service roles.
The integration of autonomous vehicles, robotic warehouses, and predictive analytics is set to streamline operations and greatly enhance efficiency. These trends are already unfolding though yet to mature fully.
Moreover, the concept of "just walk out" shopping, epitomized by Amazon Go, is on the brink of becoming more widespread. The innovative concept relies on computer vision, sensor fusion, and deep learning to allow customers to select items and leave without undergoing a conventional checkout process. Shoppers will find their time saved to a remarkable extent and also develop a positive image of the retailer.
With 40% of US retailers reporting productivity improvements due to AI and robotics, current statistics demonstrate the efficacy of automation in the retail sector. Major players like Target and Walmart have already implemented cutting-edge technologies, such as electronic shelf-edge labels, shelf-scanning robots, and partially automated backroom unloading. These investments have shown impressive internal rates of return, solidifying the case of automating processes in retail.
Augmented Reality and Virtual Reality Giving Impetus to Phygital Retail
Indeed, with Augmented Reality (AR) and Virtual Reality (VR), the industry has begun offering a new-age experience to customers, combining the best of online and in-store capabilities. As VR headsets and AR glasses become more advanced and widely adopted, they are set to offer immersive virtual shopping experiences that are set to transform the way customers interact with products and stores.
The use of AR in retail can lead to a remarkable 17% increase in consumer purchase intent, which will increase in the coming times. Despite this potential, currently, not many retailers are leveraging AR or VR in their customer buying experience, highlighting the untapped potential of the technology.
One of the key areas where AR and VR are making significant strides is personalization. Retailers are increasingly utilizing these technologies to provide customers with virtual try-before-you-buy experiences. For example, IKEA's AR app, IKEA Place, allows customers to visualize how furniture would look in their own homes before making a purchase. Apart from enhancing the shopping experience, it also reduces the likelihood of returns.
On similar lines, luxury watch retailer WatchBox has harnessed augmented reality to allow customers to virtually try on watches, offering a level of personalization that was previously unimaginable. Then we have ASOS that has integrated AR by providing simulated models on their website. Customers can dress up these models and see how garments would look on different body types.
Augmented reality is also set to transform product packaging. In the future, packaging may come to life through technology, providing customers with additional information, videos, or interactive experiences when they scan the package with their devices. So, besides adding an extra layer of engagement, AR and VR will also serve as powerful marketing tools.
Platformization of Retail To Open Up New Growth Channels
Over time, retailers have recognized the need to pivot towards online platforms that can meet the evolving demands and preferences of consumers, and ensure resilience during unprecedented times. This trend towards platformization has been driven by several factors. Firstly, the exponential growth of eCommerce and the increasing digitalization of customer behavior. Additionally, consumers now expect a seamless shopping experience, which is possible through platforms that can immaculately deliver services.
Platformization involves having digital platforms that provide a smooth interaction among retailers, consumers, and various stakeholders within the retail ecosystem. It creates a unified and interconnected environment where retailers can offer their products or services, and consumers can access them through a single interface.
As a pioneer, Amazon uses a platform-based business model that has revolutionized the retail industry. By connecting various industries and establishing a presence in markets they previously couldn't access, Amazon has transformed the way consumers shop and the way businesses operate. Its extensive network of sellers and buyers, coupled with its sophisticated logistics and distribution capabilities, has redefined retailing on a global scale.
Walmart has also been investing in its retail media platform, using which brand marketers and advertisers could buy ad space within its digital properties. The platform will create a streamlined method for advertisers to serve advertisements to consumers near points of purchase and decision-making.
IoT for Touchless Experience
Nearly 90% of consumers consider the checkout experience as one of the most significant factors influencing their perception of a store. While digital payments provide hassle-free last steps in the buying journey in online stores, in brick-and-mortar stores, consumers are demanding a similar experience in the form of zero-touch payments and authentication.
In view of these demands, retailers are adopting various strategies such as implementing mobile payment options, scan-and-go systems, and smart shelves. However, most of these derive their roots from the internet of things (IoT). There are unimaginable benefits of IoT for the retailing industry as the experiences of leading firms tell us. Burberry, a luxury brand retailer, uses IoT to let their customers have a satisfying experience in their stores. It uses RFID tags to track products and provide customers with personalized recommendations as per their preferences.
Deloitte has found how the growing IoT acceptance and usage by retailers is likely to generate more consumer data, helping retailers and consumer companies to deliver more personalized experiences. The innovative disruption is expected to shake up established traditional business models and make earlier known rules of success or growth redundant.
IoT coupled with artificial intelligence, and machine learning is aiding in the Frictionless concept. For instance, Amazon Go stores use advanced computer vision and sensor fusion technology to offer a frictionless experience. Customers can enter, pick up items, and simply walk out, as their purchases are automatically billed to their account.
Wayfinding with Indoor Positioning Systems (IPS)
IPS relies on a network of sensors strategically placed throughout a retail space. These sensors communicate with mobile devices via signals, allowing them to triangulate the user's position. One significant reason behind the rise of IPS is that it helps visitors quickly find stores, products, and amenities in shopping malls and retail stores. As a result, the time spent searching is reduced, allowing consumers more time for shopping.
Certainly, the viability of IPS has made retailers mull its implementation, as 47% of retailers are planning to invest in IPS technologies to enhance customer experiences. The potential impact on revenue is equally good, with reports indicating that IPS can boost the average check by up to 20%.
Mall of America, the largest shopping complex in the United States, has integrated beacon technology to revolutionize indoor navigation and proximity marketing. Similarly, retail giant Target has also embraced IPS by incorporating Bluetooth IoT lighting systems in many of its locations. When customers shop with the Target app on their phones, they can access a map that precisely pinpoints their position in the store, and they can locate items efficiently. IPS is thus setting a new standard for in-store experiences.
Shopping with Voice
Voice commerce, as a subset of conversational AI, has rapidly gained traction, witnessing an astonishing growth rate of 321.74% in the span of just two years (2021-2023). Nearly, 51% of consumers use voice search to research products. Moreover, 22% of consumers have taken the next step by making actual purchases through voice commands.
Rothy's, a prominent women's footwear and accessory brand, has leaped in the direction of using voice capabilities. It has integrated a voice app into its offerings, with which customers can browse and make purchases using voice commands. Similarly, Bloomingdale's has implemented the technology with an aim to cater to the evolving preferences of its tech-savvy clientele, which is helping it drive customer engagement.
The evolution of voice commerce reflects a broader shift towards seamless, frictionless shopping experiences. It can meet consumers' desires for convenience, speed, and accessibility. As it eliminates the need for manual input on screens, voice commerce streamlines the purchasing process. This is one reason why it is turning out to be appealing to retailers, especially for achieving multitasking and efficiency.
Voice recognition technology however is advancing and becoming more sophisticated, and even greater integration of it is sure to be seen in the retail industry in the coming years.
Progressive Web Apps for Optimized Online Visibility
A PWA is a type of web application that leverages the latest web technologies to deliver an app-like experience directly through a web browser. As users can access the PWA without the need for a traditional app download and installation, its use is rising in retail.
PWAs register a remarkable 50% higher engagement rate, indicating that users are more likely to interact with and return to PWAs compared to traditional websites or native apps.
As PWAs offer impressive loading times, customers can swiftly navigate through product catalogs and complete transactions. The speed advantage translates into tangible benefits for businesses, with PWAs exhibiting a 36% higher conversion rate compared to native apps. Additionally, the capability of PWAs to operate offline brings it to the retailers' must-to-implement list.
Due to its efficacy, PWAs are being harnessed by businesses across domains in the retail space. For instance, Tajawal and Almosafer, leading travel booking platforms in the Middle East, have witnessed a threefold increase in conversion rates after implementing PWAs. Similarly, Starbucks Coffee has implemented a PWA to offer a streamlined and personalized ordering experience, complete with features like offline access and push notifications. In the future, we will see a score of retailers using PWAs to redefine customer experiences and enhance their web platform's performance.
Hitting The Target With Geolocation
Geolocation leverages information about a customer's geographical location to deliver personalized messages and offers. It is one of those trends that has gained momentum when consumers are altering their traditional shopping habits. By using data such as country, state, city, ZIP code, and even income level, businesses can ensure that their messages reach the intended audience, leading to more effective marketing efforts and reduced costs.
The efforts of firms such as Macy's and Walgreens are underway to embrace geolocation technology to enhance their customer experiences. Macy's, for instance, is experimenting with location-sensing technologies to improve their online store interface. Similarly, Walgreens has begun using geolocation data to offer location-specific recommendations, deals, and promotions.
Geolocation can thus offer a targeted approach to cater to the unique preferences and needs of customers in different areas. Using it, firms can see an uptick in customer satisfaction and loyalty, as they get an exact idea of consumer behavior and how it's changing.
Achieving Transparency with Blockchain
Today's informed and smart stakeholders, internal and external, are keen on how a consumer business maintains its process transparent. This brings to businesses the need to record every step in the supply chain in a secure and unchangeable manner. The rapid adoption of blockchain in the consumer industry is the result of this change in mindset. Looking ahead, from 2023 to 2028, the blockchain in retail market size is anticipated to surge from $0.31 billion to $2.62 billion, with a CAGR of 52.92%.
One of the key benefits of employing blockchain in this industry is the elimination of intermediaries. By cutting out middlemen, retailers can streamline processes like contract management and auditing, resulting in significant time and cost savings. Such efficiency gains can be particularly crucial in an industry where margins can be tight, and competition fierce.
Companies like De Beers have implemented blockchain to assure customers that their diamonds are conflict-free and ethically sourced. American Express employs it to improve its membership rewards program, enabling customers to use their loyalty points seamlessly across a range of brands and segments. Carrefour, on the other hand, utilizes blockchain to meticulously monitor the supply chain to keep the processes transparent and assure the authenticity of products.
Sustainability for Long-term Value
The retail and consumer industry is making a genuine attempt to adopt and build sustainable practices, driven by increasing awareness and preference amongst stakeholders towards green initiatives. Today, a remarkable 80% of American consumers consider sustainability when making at least some of their purchases.
Consumers and investors alike are increasingly scrutinizing the sustainability efforts of retailers. So, adherence to established frameworks and regulations, along with accurate reporting, has become crucial for maintaining trust and credibility in the market. Currently, the retail supply chain contributes to a staggering 25% of global greenhouse gas emissions. Therefore, reducing emissions across the supply chain has become a top priority for the industry.
Sustainability-prompted shift in consumer behavior has also led to a surge in demand for products marketed as sustainable. Sustainable Market Share Index Report reveals a near two-fold growth rate for sustainably made products as compared to their non-sustainable counterparts. They registered a five year CAGR of 9.43% as compared to 4.98% for its conventional counterparts.
Several industry leaders are embracing sustainability to achieve their long-term green goals. H&M has launched a sustainable fashion line and is committed to using 100% sustainable or recycled materials by 2030. Nestle has set an ambitious goal of achieving zero net greenhouse gas emissions by 2050. Similarly, Home Depot has implemented sustainable practices, such as recycling and waste reduction, and has committed to reducing its carbon emissions by 50% by 2035.
To keep track of their performance in the area and meet periodic targets, consumer businesses are integrating sustainability analytics into operations. They are utilizing data-driven insights to optimize their energy usage and reduce inefficiencies.
Drive Digital Transformation in your Retail business with Us
The rise of these retail tech trends is the result of two things. First, it is a response to the demands of consumers and second, it has offered a way to surge ahead in the competition. As many as 80% of retailers claim that technology has the potential to offer significant monetary benefits. Portraying a positive future and these tech trends will keep unfolding in retail, maturing into must-to-adopt practices, as we transition from 2023 to 2024 and beyond.
It is evident that those who will seize the opportunity to adapt and innovate will not only meet the demands of today's consumers but also position themselves as leaders in the retail landscape.
To derive the benefits of these trends, however, businesses have to invest in a set of technical capabilities. This process can be simplified by onboarding a dedicated technology consultant.
As an experienced retail software development company, we are well-positioned to assist retail businesses in incorporating the most cutting-edge tech features that are shaping these trends. So, Finoit can be your go-to partner to embrace the latest technologies and evolve fast. Get in touch with our experts for further discussion.
Book a Free consultation
Drop in your details and our analyst will be in touch with you at the earliest.
USA
6565 N MacArthur Blvd, STE 225 Irving, Texas, 75039, United States