Building A Legal Brand: Strategies For Triumph and Traps to Dodge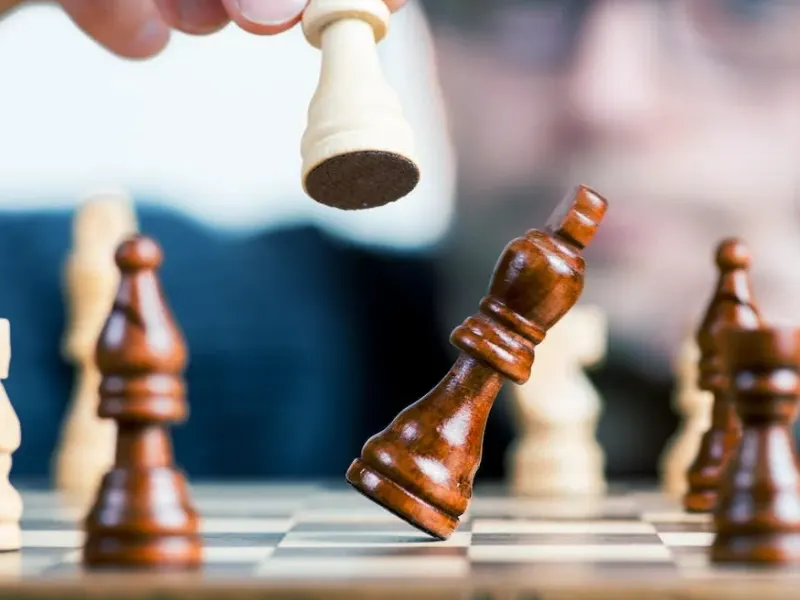 For many years, law firms have relied on conventional messages and established networks to market and brand themselves. But as the market began getting crowded with qualified providers, the competition to showcase competencies grew fiercer, making it challenging for firms to stand out.
Worth USD 603.8 billion in 2015, the legal industry soared to USD 787.28 billion in 2022, as the growth continues further, which will take it to an estimated USD 1112.75 billion in 2026. This is what Statista's research tells us.
The growth of the industry has been accompanied by many changes. Law firms are reposing more trust in technology, the focus on diverting attention to niche services has increased more than ever, and each firm wants to assert that it has a distinguishing battery of lawyers.
And with all this growth has come the challenge of standing out!
The only way to do that is building a brand. Setting yourself apart from the competition in ways that create an impression and a high recall value.
How you brand and position yourself holds the key to bringing your competency to your audience. Despite objections that law is a people business, having a compelling brand has become crucial for firms in the evolving legal landscape.
As you embark on the journey of building a brand for your law firm, it's essential to be aware of the potential steps that will steer you along the right path. At the same time, you must be mindful of missteps that can undermine your efforts and dilute your brand's impact.
With these prospects of branding for a law business in mind, we have produced a list of dos and don'ts to help you effortlessly navigate the branding process for your law business more effectively.
What is legal branding and why does it matter?
Legal branding lets you build a distinct and exclusive identity for your law firm by means of visual elements, communication strategies, and promotional activities. You aim to draw in your desired target audience and distinguish your firm from other law businesses.
Through branding, your law firm serves the crucial purpose of showcasing your unique value proposition (USP) to potential clients, making them choose your services over competitors.
A well-crafted law firm brand can effectively attract new business, while ignoring it can lead to missed opportunities. It not only creates an identity but also communicates your firm's values and expertise, thereby helping you establish deeper, long-term relationships with your audience.
For instance, an outdated law firm website, stagnant online reviews, and a lack of social media activity can repel prospects, giving the impression that the firm is inactive. Conversely, a law firm with an updated client-oriented website, recent positive reviews, and an active online presence is more likely to capture the audience's attention.
In essence, your legal brand functions as a means to enhance your reputation and entice people to explore your law firm and its services.
Dos of Effectively Building a Brand for a Law Firm
Beyond courtrooms and contracts, your law firm's brand plays a pivotal role in attracting clientele. Below we uncover the dos of branding that can position your firm for long-term success in the legal arena.
Compellingly craft your story to convey your core values
At the heart of every successful brand lies a compelling story that relates with the audience.
What do you stand for?
What's your promise?
Do you deliver your promise with ethical practices?
Is it all about money or some other motive guiding your firm?
These are the questions you answer through a story and define your law firm brand communicating them through your origins, mission, vision, and values. A strong brand story humanizes your firm, provides context for your practice areas and legal expertise.
Lawyers are usually assumed as heartless, being practical, even when dealing with the most delicate matters around humanity. However, you might not be amongst those who fall in the common lot. Then how do you distinguish yourself? How do you make your audience see your human side?
Remember, being true to yourself is more important than anything else in the legal industry. Money might not be everything for you, as a philanthropic motive might be guiding you, but then you need a true story narrated compellingly that corroborates with your actions.
So, if you are a law firm that specializes in civil rights, you will need a brand story that traces back to your experiences. You would relate with the audience and let them know your commitment to championing justice. This not only makes the practice areas relatable but also cultivates a deep-seated empathy, enabling clients to perceive the firm not merely as legal advisors who are committed to fairness and equality.
Your values will showcase your commitment to ethical standards, and client-focused service. When integrated into your brand identity, core values will create a strong foundation that will guide decision-making, shape client interactions, and reinforce your firm's credibility.
A good law firm, therefore, always conveys its vision through its story as Kirkland & Ellis, a leading US law firm, aptly demonstrates. It has ingrained pro bono work as a cornerstone of its identity. It makes its lawyers engage in impactful initiatives from their early careers, spanning civil rights, immigration, and veterans' benefits. On its website you will find it promoting its pro bono achievements. But, this promotion is justified by it getting recognized for its social commitment and free legal services.
Kirkland & Ellis's dedication earned it the 2020 "Beacon of Justice Award" from the National Legal Aid & Defender Association (NLADA) for aiding vulnerable migrants. Collaborating with other firms through the Lawyers for Good Government Foundation, it assisted small business owners in navigating complex COVID-19 stimulus packages. This commitment epitomizes the firm as a socially conscious legal brand that is committed to making a tangible difference in society.
Maintain Consistency Across All Touchpoints
A consistent brand presence builds recognition, fosters trust, and enhances your firm's professionalism. Invariably, consistency is a fundamental aspect of effective brand building. Your law firm's brand identity should be seamlessly integrated across all touchpoints where the audience and potential clients interact with your firm. Knowing that observing consistency in branding can increase revenue by 23%.
Across all aspects of your law firm's presence, spanning your website and social media platforms to marketing materials and office ambiance, it is imperative to uphold a consistent and harmonious brand identity. This entails meticulous alignment of design elements, color palettes, typography, and messaging, that is uniform throughout all touchpoints.
When your audiences navigate through a website, they must get to see a visual uniformity so that they easily capture even the finest details. This coherence in design and presentation fosters a sense of trust and professionalism.
However, the need for consistency goes beyond just the website. It must extend across all communication channels and mediums. A law firm's informative blog post on social media, discussing recent changes in immigration law must depict the same design elements, voice and tone, and overall aesthetics in an email newsletter. This uniformity not only reinforces the firm's brand identity but also signifies reliability and dedication to quality.
Moreover, physical marketing collateral, such as brochures or business cards, should seamlessly mirror the digital representation of the firm. Your audience might attend a legal conference and pick up your brochure. The information and visual style on the brochure should match with what the client has previously encountered online or in other materials.
Prioritize Experiences
Exceptional audience experiences are not only pivotal for client satisfaction but also integral to your law firm's brand identity. The significance of creating positive client interactions that align with your brand promise is important to law firms. Your brand promise encompasses the value and benefits clients can expect when engaging your legal services.
Here is what Elie Orgel, Director of Marketing at Rosenblum Law has to say, "In today's instant gratification world, if you don't respond to clients in a timely fashion, they will get upset and leave a negative review of your business or choose to hire someone else,"
When you deliver on what you promise, you reinforce your firm's reputation and create a strong brand perception in the minds of clients. Finally, effective communication, responsiveness, and personalized attention contribute to exceptional client experiences.
We jump on an example from another known law firm that uses constant engagement to keep the audience aware and informed.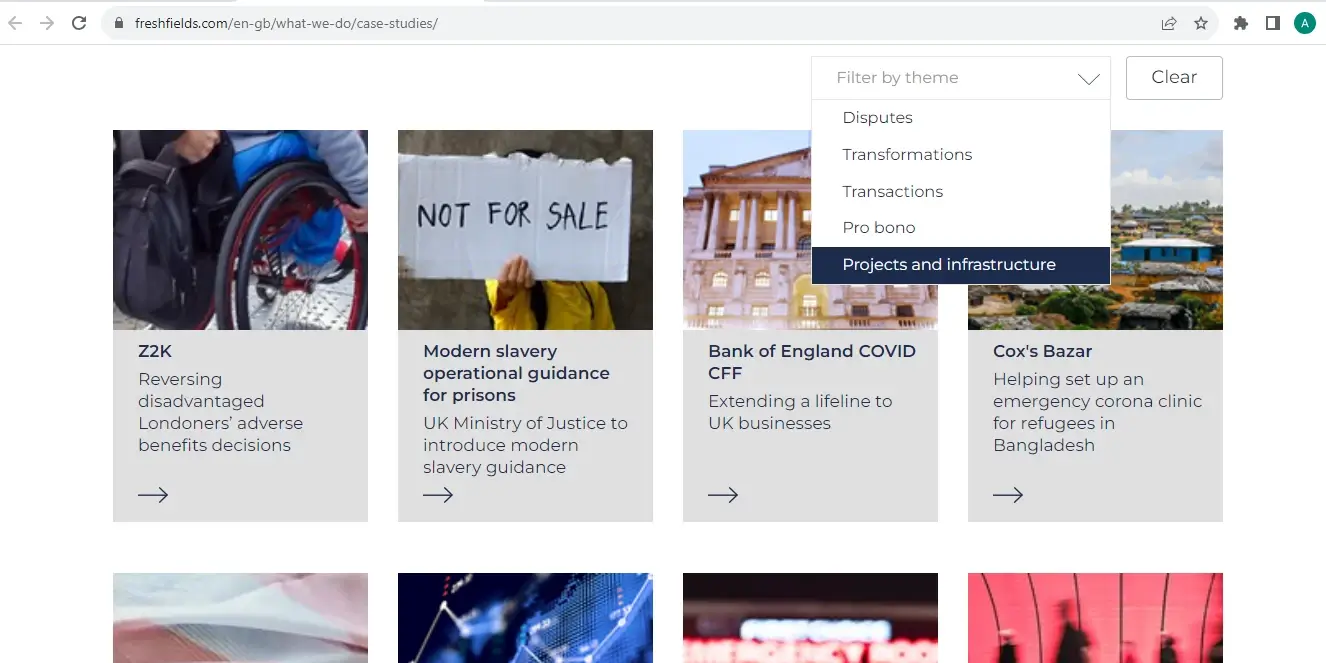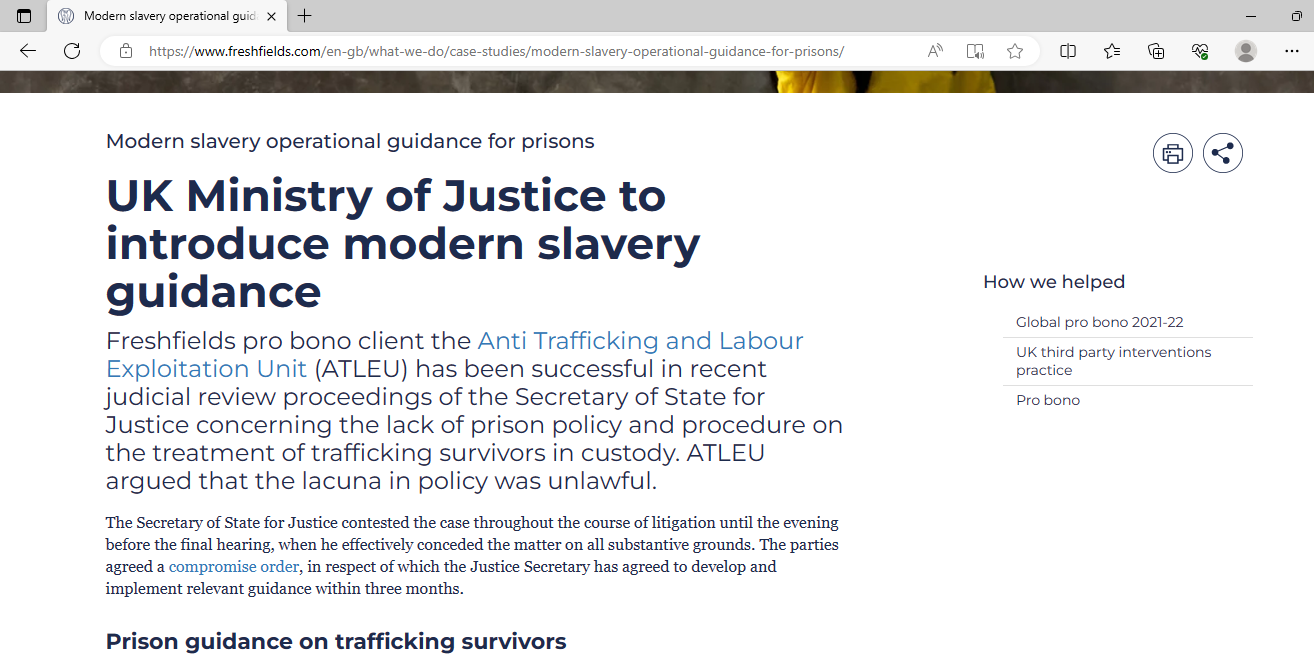 Sources of Images: Freshfields Bruckhaus Deringer
A highly established law firm, Freshfields Bruckhaus Deringer offers comprehensive information to the audience. Visitors have the option to filter the content by type, which makes the transition convenient. With its content, the firm has cultivated a brand image that it values guiding the audience into the depths of the subject—an indispensable quality for any successful law firm. Through engaging and valuable content, the firm keeps itself in those 67% brands that generate more leads through regular blogging and content generation.
Embrace Authenticity and Transparency
Authenticity is a key driver of brand success in today's consumer-centric world, as clients seek genuine connections with the firms they choose. A staggering 90% of people always choose a brand that looks authentic and reflects transparency. At least with the legal industry, transparency is extremely vital, and firms that offer an authentic view of their services only succeed in engaging with clients on a long-term basis.
A genuine brand identity mirrors the firm's values, ethos, and legal approach. This authenticity should permeate not only marketing materials but also the very essence of the firm's operations, and encompass every aspect of the firm's functioning.
Open and honest communication regarding legal processes, fees, and potential outcomes is essential. Such transparency builds a foundation of trust that is indispensable for nurturing strong client relationships and fostering brand loyalty.
Furthermore, the willingness to address challenges openly and candidly is a testament to a firm's commitment to transparency. By not shying away from complex or potentially sensitive situations, law firms demonstrate their dedication to accountability and ethical conduct. This forthrightness not only garners respect from peers but also the public, positioning the firm as a symbol of authenticity in an industry that sometimes struggles with opacity.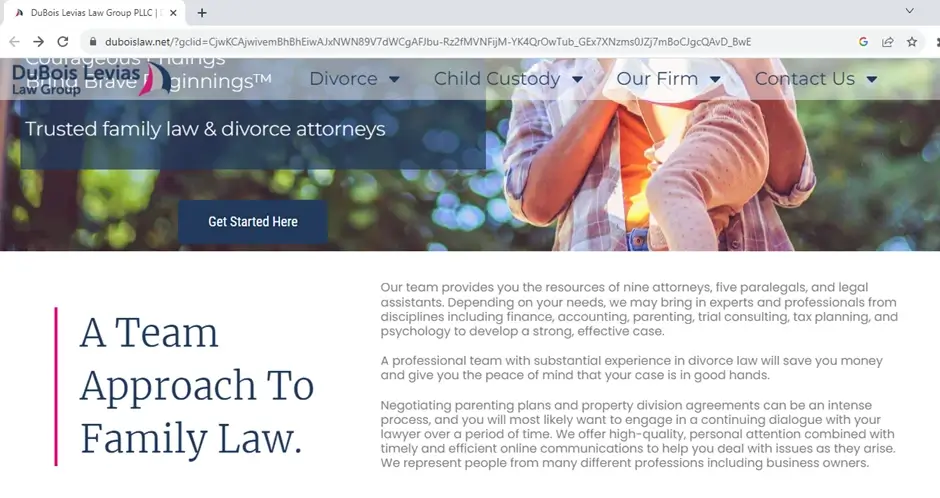 Here we have DuBois Levis Law Group, which poses itself as an expert in divorce and family law. Read how it clearly talks about its in-house strength and how when required it brings in experts to reinforce the team that's fighting your case.
Image Source: DuBois Levias Law Group
In no way has the firm claimed that it owns a big team of lawyers or experts who are skilled at handling inevitabilities in the case. It has fairly made its stand clear: "Our team provides you the resources of nine attorneys, five paralegals, and legal assistants. Depending on your needs, we may bring in experts and professionals from disciplines including finance, accounting, parenting, trial consulting, tax planning, and psychology to develop a strong, effective case." When firms offer authentic information in this manner and remain transparent throughout the case journey, they keep enhancing their brand value.
Design that communicates
Your law firm's visual identity plays a pivotal role in shaping perceptions and creating a memorable brand. Collaborating with branding experts ensures that your visual identity is aligned with your firm's values and resonates with your target audience.
A well-designed logo serves as a visual representation of your firm's brand and is often the first element clients encounter. Your website is a digital medium to showcase your brand identity and should effectively communicate your practice areas, and services. As it is a reflection of your expertise and values, some tips that you must follow when designing a website for your law firm are:
Establish visual hierarchy with size, weight, and placement; highlight important elements using right colour combination, contrast, and spacing. Opting for strip or grid layout is always a great idea.
Enhance readability with contrast, larger font size, simple fonts, limited typefaces, varied sizes and weights for text organization.
Simplify homepage by making key messages instantly conveyable. Employ tactics like content placement and call-to-action.
Ensure easy navigation with logo link to homepage, clear menu structure, anchor menu for scrolling, and important links in footer.
Prioritize mobile-friendliness through responsive design that offers optimal user experience across devices.
Not just websites, but all marketing materials, from business cards to presentations, when professionally designed showcase attention to detail and reinforce your firm's commitment to excellence.
Remember, crafting a robust law firm brand involves a dynamic interplay: actively engaging with feedback and nurturing open communication. This reflects the firm's commitment to refinement, valuing insights from clients and peers alike. Meanwhile, fostering open channels attests the firm's client-centric ethos.
Not least of all, acknowledging constructive feedback isn't just an internal endeavour, rather it solidifies the firm's reputation externally. Responsive to critique, the firm showcases its adaptability, going well positively with both clients and industry peers. With this unison, the dual strategy forms the bedrock of the firm's brand, fostering a progressive and client-centric legal practice.
Don'ts to follow for effectively building a legal brand
In the pursuit of building a successful law firm brand, it's as essential to know "what not to do" as it is about "what to do". So, let's discuss the don'ts now.
Don't ignore your unique story
While it's important to draw inspiration from successful brands, avoid the temptation to directly replicate another law firm's brand story. In the industry with several thousand players, differentiation is the cornerstone of successful brand storytelling, but not at the cost of copying someone else's story.
Instead of copying, take inspiration from successful firms and build your own authentic narrative that holds the key to build a resonant and impactful brand presence.
96% of people before seeking any legal advice carry out a Google search. As a first stage in the discovery process, they will arrive on your website. Having gone through the website, in the next stage they will connect with you. If your brand narrative is an honest reflection of your firm's ethos, values, and expertise, then it would lead to establishing long-term relationships. When you digress from what you are not, then the journey ends in the second stage itself.
It's this distinct voice that empathizes with the audience, evokes a meaningful connection and finally nurtures trust among clients. Embracing your uniqueness is the compass that guides you through the competitive landscape.
Never overpromise and underdeliver
A common pitfall in branding is making grand promises that your firm cannot fulfill. Overpromising and under delivering can lead to disappointed clients and damage your firm's reputation.
General law practices often prove to be a major marketing blunder, akin to being a jack of all trades but master of none. This approach lacks clarity on the services offered and fails to engage potential clients. So, you do not hold expertise in corporate law but are brazenly promoting it on your website. And when a business turns in for assistance, you are blank.
Firms should thus identify their legal expertise and target a niche to attract the desired clientele. By narrowing focus, successful growth becomes more attainable, aligning marketing with brand promise. On the other hand, discrepancies between branding and actual strengths damage reputation.
Companies often stumble by allowing marketing to create unrealistic expectations that their offerings can't fulfill, leading to a weakened brand. This commonly arises from CEOs imposing their ambitious visions onto marketing materials, resulting in overblown slogans or taglines. This, however, can never be the case with law business, as it completely rests on the ability and experience of the lawyers, who need to demonstrate strong exposure in a given niche.
One time adaptation is never enough
Branding is not a one-time endeavor; it requires ongoing monitoring and adaptation. You must periodically assess your brand's effectiveness and make necessary adjustments. Failing to adapt to changing market dynamics, client preferences, or emerging trends can lead to stagnation and decreased relevance.
Avoid the mistake of considering your brand identity as a static entity. Regularly review your brand's performance, gather feedback from clients, and stay attuned to industry shifts. By remaining agile and responsive, you ensure that your brand remains current, and maintains its competitive edge.
However, continually reassessing your brand messaging requires a delicate balance between change and consistency. Renowned law firm Baker McKenzie evolved their brand over the years to reflect global expansion and changing client needs, while keeping unwavering commitment to providing top-tier legal services. It made measured adjustments to successfully maintain its brand identity while effectively appealing to a diverse clientele.
Similarly, regularly revisiting your law firm's brand standards, both in terms of messaging and visual elements, is essential to ensure alignment with your desired brand perception. DLA Piper's merger-driven growth led them to reassess their brand identity to better reflect their expanded global reach. While they retained fundamental brand elements, they adapted their messaging and visuals to encompass their enlarged scope and capabilities. This approach allowed DLA Piper to project a modernized image without sacrificing the recognition they had built.
Don't Ignore your online presence
The arrival of the digital era has pushed law firms to come out of their traditional garb and cash in on the latest trends. We are seeing how being digital is the primary criteria to successfully realizing each branding goal.
Your online presence shapes your brand identity and so, ignoring your website and social media platforms can hinder your firm's visibility and accessibility. It is unbelievable but factual that 84 percent of law businesses generate leads through organic traffic on social media. So, you don't even have to pay a single penny, but just be adept in leveraging websites, social media, and all relevant online platforms and tools.
Avoid the misconception that an online presence is secondary to traditional marketing efforts, which have been more prevalent in the legal industry than any other industry. Your website serves as a virtual storefront, offering potential clients a glimpse into your firm's expertise and approach.
Regularly update your website with relevant content, showcase case studies, and provide valuable resources to engage and educate your audience. This step becomes highly important at a time when 65 percent of your competitors are allocating their marketing budget to online initiatives.
Don't be generic
Ignoring the potential of hyper-localized marketing can be a grave misstep for law firms seeking sustained growth. Every law firm, eventually, is targeting an audience from a specific geography.
A key drawback of ignoring hyper-localized marketing is the loss of a personalized connection with the audience. By not tailoring content and messaging to local nuances, law firms risk appearing disconnected from the very individuals they aim to serve.
Today's digital time compels every business to know Google My Business. Remaining distant from such tools can severely undermine a law firm's visibility. The absence of a well-maintained GMB profile not only limits visibility but also raises questions about the firm's professionalism and reliability, deterring potential clients from engaging.
In times where online searches heavily influence decisions, an inaccurate or incomplete GMB profile can result in potential clients overlooking the firm in favor of competitors with more compelling online presences. Having a GMB account is thus just the first step, as managing and optimizing makes the real difference.
The failure to list a law firm in relevant online directories and engage with local organizations can also have far-reaching consequences. Without a solid presence in these platforms, the firm may miss out on critical touch points where potential clients are actively seeking legal services. Moreover, by shying away from community engagement, you will alienate yourself from valuable referral networks and collaborative opportunities, only stunting your growth potential.
To Conclude
Each "do" discussed above contributes to the development of a brand identity that not only distinguishes your firm in a competitive market but also meets with clients.
And as you embark on the journey of building a brand for your law firm, it is also important to steer clear of common pitfalls and challenges. By avoiding the "don'ts" outlined above, you can navigate the branding process with greater confidence.
As legal branding poses the challenge of combining branding and marketing knowledge with the experience of law practice, seeking consultation from honed law firm website designers and branding consultants is always the best step.
Drawing from a wealth of experience and industry knowledge, a skilled consultant can offer a fresh and objective perspective on your firm's branding efforts,
By leveraging the guidance of a seasoned consultant, you not only expedite the brand-building process and improve the visibility but also maximize your firm's potential.
Book a Free consultation
Drop in your details and our analyst will be in touch with you at the earliest.
USA
6565 N MacArthur Blvd, STE 225 Irving, Texas, 75039, United States