Shifting From Brick To Click: 5 Things Law Firms Must Do To Grow Using Technology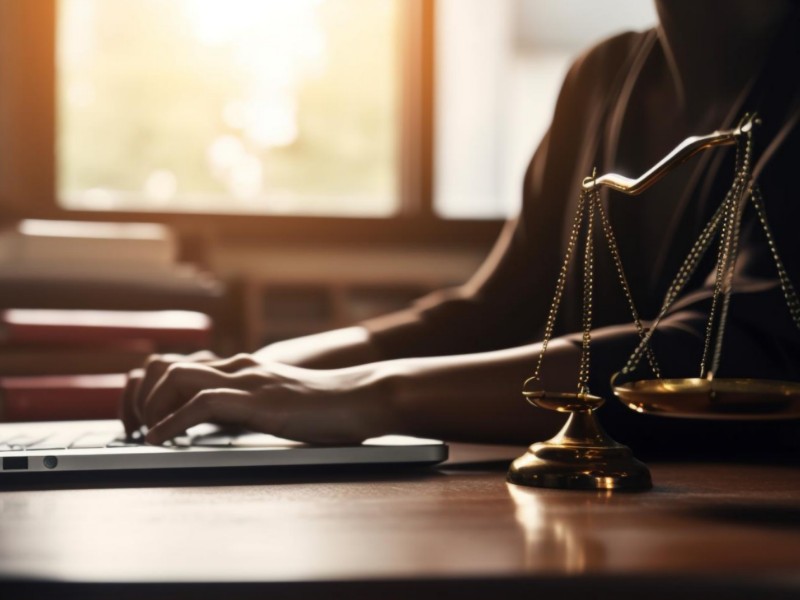 Digital transformation has swept through most industries, even the legal; though the pace of adoption has been a bit slower when compared to other industries, as law firms have continued to rest on traditional approaches.
However, going against the tide, many law firms are doubling down on technology, making a remarkable shift towards digitalization and scripting success stories. Through regular quality investment in technology, internationally renowned law firm, Baker McKenzie, continues to reach new milestones in tech innovation for business improvement.
From offering interactive web platforms to streamlining internal processes, technological breakthroughs can optimize processes for a law firm. Integrating cutting-edge legal technology solutions to automate repetitive tasks, such as document drafting and contract management are some examples. The innovation while operational efficiency can optimize the client serving process.
Following the footsteps of big players and recognizing the potential benefits that come with leveraging technology, smaller and mid-sized law firms are also making strides in this direction.
While digital transformation is a blessing, law firms need to approach it correctly so that they get the most out of it. With the adoption for advantage comes risks which can be countered only by following a well-framed strategy.
If you are one of those law businesses that is trying to get into the digitally-enabled fold and achieve contemporary standards then this discussion is meant for you.
Why must law firms go digital
Traditionally, law firms have resisted technology on a hunch. Insecurity around technology use caused by deeply-rooted convention is one prominent reason that has kept dissuading lawyers from embracing the latest technological innovations.
"Lawyers are unlikely to use artificial intelligence software unless they trust the results it provides," expresses Nicole Black, lawyer, author, and legal tech journalist, in her article, Could Artificial Intelligence Benefit Your Law Practice?
Being not tech-savvy can account for losses, which is why it becomes a necessity for lawyers to be digital. As then:
Lawyers, paralegals, and support staff will not have to spend excessive time on administrative duties, which will keep the operational productivity high.
It won't hinder the firm's ability to handle a higher volume of cases effectively and provide clients with prompt legal services. As a consequence, the firm will save valuable billable hours.
Innovation will improve service delivery and seizing new opportunities will become easy.
Meeting expectations of modern clients i.e. seamless access to legal services through online platforms, real-time updates on their cases, and efficient communication channels will all become possible.
Following the roadmap to transformation
It's not a new phenomenon now for law firms to think of digitizing their processes and becoming tech-centric. However, there is no reason they should be compelled by the move, rather look into it as an opportunity. Jumpstart your journey to transformation journey through this progression:
Digital Literacy: The First Step
Increasing volume of information in the legal industry is becoming available in electronic formats. Further, the legal market is rapidly evolving, frequently introducing new players and online platforms that connect lawyers and clients. Kennedys IQ – an online litigation platform – is one example. Legal professionals who are digitally adept can employ tools to navigate ensuing challenges.
"Lawyers who are adept with various technological tools can work faster and smarter," remarked Toni Jaeger-Fine, Assistant Dean of International and non-J.D. programs at Fordham Law School, while speaking to LLM Guide, a global community of law students.
Continuing her discussion on technology proficiency, the academic further states, "The more technological aptitude a lawyer has the better off they will be. They will be able to do their work more efficiently and they will be in a position to offer productivity and client-centered solutions to their team."
However, glaring statistics from CLM buzz, a survey by ContractWorks group showed that an astonishing 77% of lawyers had 'experienced a failed technology implementation'. Does your law firm fall in that group, where your lawyers are not tech-friendly? If so, it's high time you start looking at the digital transformation positively.
Digital savviness keeps lawyers on top and subsequently the firms they work for. Today, expertise in data analytics and cybersecurity is as important to a law professional as it is to professionals in any other industry. Lawyers with cybersecurity awareness can better assist with client requests, and they can better manage various privacy and security demands. Likewise, data analytics can give law firms a competitive edge in courtrooms and negotiations.
While speaking to the LLM Guide, Michele DeStefano, Professor of Law, University of Miami School of Law and founder of LawWithoutWalls that seeks to create innovations at the intersection of law, business, and technology, clarified the role of data-driven decision-making. "The beauty and the gold is when you can analyze the data and use the information from that data to make more strategic decisions and create new types of products and services that clients want."
Coming to practical innovation: Selecting the right legal tech
Being digitally literate will make you move through choices, when you arrive at the decision to implement technology in daily operations. Start by listing out tools that fit your ecosystem. You can initiate the change with a case management software.
This centralized, easy-to-access repository, keeping each case's details and documents organized, will keep you from rummaging through paper documents and will save you thousands of important minutes. Managing requests, matters, client and case records, documents, dates, schedules, and deadlines, and also billing expenses won't be a nightmare anymore.
By implementing a cloud-based case management tool, you can put energy-draining manual and repetitive duties aside in favor of fulfilling work like high-value analysis and client connection building. And since it combines workflows and aggravating information silos, it creates a knowledge repository, making onboarding easier for a new team member.
A case management software is a silver of the full scope. To disrupt the true technology power, law firms need to let AI and machine learning disrupt their processes. AI can bring transformation in works like legal research, which is often a gruelling task for lawyers. It can be effectively used to draft contracts, recommend judicial decisions, and predict legal outcomes. AI can review documents 90% faster and with 60% more accuracy, as compared to what it would take a lawyer.
Contending the power of AI, Ilona Logvinova writes in her McKinsey article, "With gen AI, so much of the lawyering that we're used to doing manually will be easily automated and readily available for our adoption… I see this as a tremendously exciting time in our profession, because the best use of this newly emerging automation stack can free up real time that lawyers use on heavily time-consuming work with lower payoff." She further elaborates how AI can assist in suggesting novel legal theories to lawyers, thereby strengthening their arguments.
Distinguishing yourself in crowd: Creating a strong online presence
Carry out a Google search with a query "top law firms in the world" or "top law firms in the USA". You will see names like Kirkland & Ellis and Latham and Watkins pop out at the top in the list. Visit their websites, look for the sitemap and check how they are laying out the content across the website. Do this analysis for top ten law players to make a structure ready for your website.
But a good functioning website that gives a sustainable presence doesn't work by itself. It needs to be backed by search engine optimization (SEO). Ranking-wise, all top websites of law businesses you would see on Google or Bing, rest on a result-driven digital marketing and SEO strategy.
So, when you are done building and launching your website, SEO comes as the next step. Now, go back to those ten websites and analyze what sort of content the law firms are placing and posting. It is content that fuels SEO. The more meaningful the content and the more it is built in line with SEO norms, the more successful your website is going to be.
Equally important for you would be to avail yourself of social media platforms. White & Case, an internationally recognized law firm heavily uses social media marketing tactics to engage with audiences.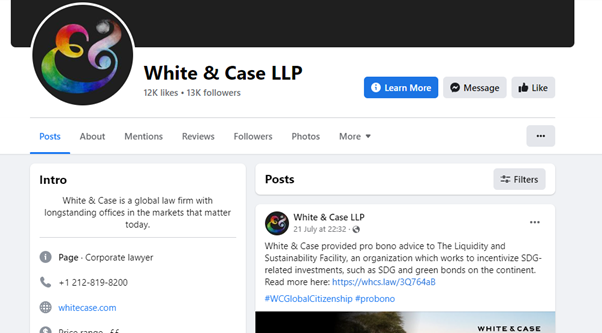 Image Source: whitecase on facebook
Presence on social media doesn't need to restrict to promotion of services or achievements; it can be to create awareness amongst the audience on vital issues. Above, as we can, White & Case is bringing to its visitors how it is contributing to sustainability, an area of high importance in present times. So, it serves a two-fold purpose – marketing of their competency to deal with such legal cases and imploring the audience to explore sustainability at length.
Aligning for success: Time for strategizing
Once you have built a website, you have built a foundation. And as said, SEO decides the strength of the foundation, with content serving as the key constituent. Content serves two-fold purposes. First, it lets you demonstrate your expertise, and second it helps you attract audiences.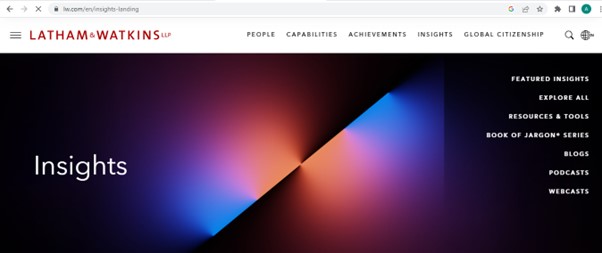 Image Source: Latham and Watkins insights
Latham and Watkins, a known law firm, operating globally, keeps publishing useful content on its website. The visitor can explore various sections ranging from Featured Insights, Blogs, to Podcasts and Webcasts.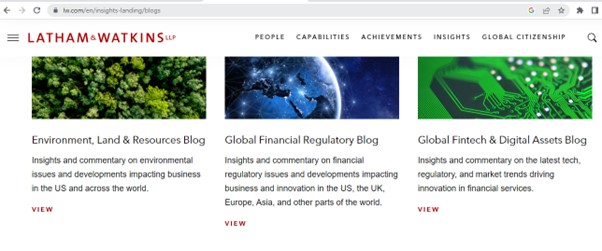 Image Source: Latham and Watkins Blogs
In Blogs, you can find content around important legal matters and pressing global issues. This wealth of insight is sure to make the first-time visitor come back again.
In Podcasts, you can find how the firm has listed different discussions. A visitor can look for one of interest and explore it.
Image Source: Latham and Watkins Podcasts
By implementing various collaterals, Latham & Watkins is demonstrating how a law business can distinguish itself in the digital landscape.
Other avenues like email marketing and paid promotions can be next in your list of initiatives. But it all depends on how much you are ready to invest. Probably, you may like to experiment with organic efforts for sometime, and having generated promising results continue improving them.
Finally, measuring success through analytics and performance indicators using key metrics is a universal practice that law firms seeking to evaluate their digital growth and optimize their online marketing strategies will have to follow.
Employing analytics and performance indicators serves as a compass for growth. By analyzing important metrics such as click-through rates (CTRs), social media engagement, return on investment (ROI), cost per acquisition (CPA), customer lifetime value (CLV), bounce rate, law firms can identify strengths, weaknesses, and areas for improvement.
Developing a continuous loop: Innovation is not a one-time act
Adopting technology is a journey that requires a careful, step-by-step approach. Law firms must not stop innovating and continuously seek opportunities for improvement.
Taking one step at a time allows the firm to adapt to new technologies smoothly and ensures that all stakeholders are on board with the changes. This iterative process also provides room for feedback, enabling the firm to fine-tune their digital strategies and make necessary adjustments along the way.
Then comes the role of keeping pace with emerging legal tech trends so that you remain at the forefront of innovation and your core offerings. Like other industries, the legal industry is witnessing a surge in disruptive technologies like AI, blockchain, and legal analytics.
Partnering with tech companies that specialize in these areas can provide law firms with cutting-edge solutions. But when you are looking to drive digital innovation through an external partner, then before moving ahead, thoroughly gauge their technological capabilities.
Takeaway
For law firms, the digital transformation process will be fraught with difficulties and the firms that are still resistant to change will soon witness the damage. But firms that will invest in tech and employ law firm digital marketing experts will create massive growth opportunities.
You may think about vulnerabilities around privacy and security of information. But seeking assistance from trusted and authorized hands, you can give up this fear and get ready to transition to an advanced, fully tech-managed ecosystem.
Lastly, people in charge of implementing new technology, should anticipate and prepare for roadblocks. Share a timeframe that allows your team members to learn and ramp up and become a technology evangelist so that you can make them understand the benefits of using technology. In this manner, you would keep them motivated to change, and act as a resource to assist when problems emerge.
Book a Free consultation
Drop in your details and our analyst will be in touch with you at the earliest.
USA
6565 N MacArthur Blvd, STE 225 Irving, Texas, 75039, United States