Top 10 Mobile App Development Trends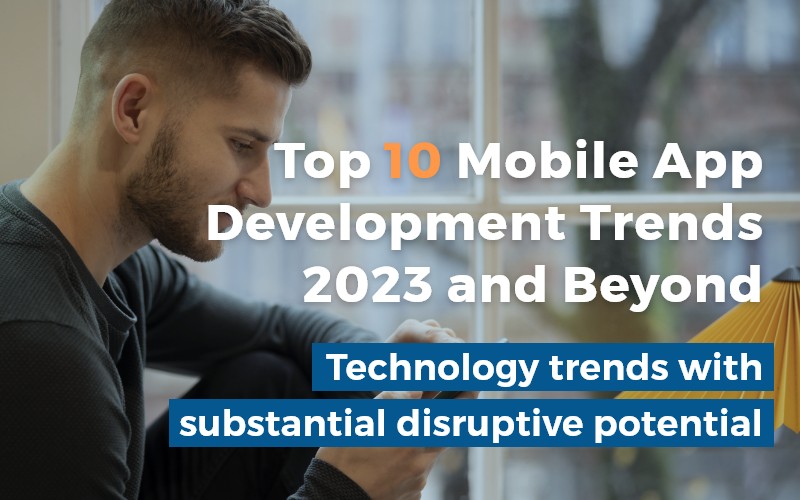 The mobile app development landscape is evolving rapidly, allowing new trends to come and flourish in the industry. The change is, of course, helping the consumers to become aware of the new technologies and use them to avail a suite of different services.
The popularity of mobile applications gives users a chance to leverage the related benefits in their respective businesses. Reaching the masses for business promotion through a dedicated mobile app is easier. It also serves as a direct communication channel for the users to connect with the business.
Regardless of their categories, mobile apps have made it a better world for users. Be it the requirement of booking an app or ordering food from your favorite restaurant, services are available just with a few taps on the smartphone. And when developing an application, ongoing trends play a pivotal role.
Trends in mobile development keep changing frequently. The ones that have prevailed lately may not find a place in the upcoming year; this is how the cycle goes on. There is no definite formula for how a trend makes it into the business, so there is always uncertainty about the trends that will prevail next. The article is going to clear all such doubts by exploring the trends for 2023.
AI and ML reshaping development
AI and ML have caused a seismic shift in the technologies utilized by mobile development companies. These are two interlinked fields and are having a profound impact on the mobile development landscape, leading to the creation of exceptional apps.
Right from the outset, ML and AI have enabled businesses to adopt more precise and targeted approaches in engaging with their customers. By leveraging these latest trends in mobile apps can offer personalized experiences, enhancing user satisfaction and driving engagement.
The potential is immense, AI algorithms can analyze vast volumes of data, providing valuable insights for app optimization, recommendation systems, and predictive analytics. Meanwhile, ML algorithms enable apps to learn and adapt based on user behavior, preferences, and patterns, resulting in tailored experiences and enhanced functionality.
The combined power of AI and ML is the mobile development trend, allowing companies to deliver innovative and immersive experiences that cater to the evolving needs of users.
Blockchain gaining momentum
Blockchain technology has indeed made a significant impact on the mobile app industry trends. This groundbreaking technology is empowering companies to innovate by seamlessly integrating it into finance-related transactions, ensuring transparency and accountability.
The potential of blockchain is truly remarkable, holding the key to creating apps that have the capacity to forever transform the way we approach payment-related applications. As blockchain continues to grow dynamically, app development companies are leveraging its capabilities to drive innovation and reshape the future of digital transactions.
Looking to Build
an App?
Proven
Transparent
Dependable
Low Code/No Code
The mobile app industry is being reshaped by the transformative low code/no code movement. Developers now have exclusive shortcuts at their disposal, allowing them to create interactive applications in record time. Tools like Zapier provide seamless plug-and-play interactions with various services, while Bubble empowers non-technical designers and business owners to build complete web apps.
Google's acquisition of Appsheet, valued at $60 million, further showcases the significance of these platforms. According to Statista's 2022 survey, Google Appsheet leads the pack with 40% usage among developers and business owners. This surge in adoption signifies the democratization of app development and the immense potential it holds.
Cloud-Driven Mobile Apps Will Become Trendy
Cloud technology has been enriching our lives for some time now. We are all aware of the fact that cloud computing is an essential part of the apps (including Facebook, Gmail, and many others) that we use today. As the technology grows we will see cloud-driven apps that will directly fetch the data from the cloud in order to reduce the storage space on our mobile phones.
XR Revolution
Extended reality (XR) technology has taken the world by storm, captivating users through captivating AR filters and immersive gaming interfaces like the iconic Pokemon Go. But its impact doesn't stop there. Major enterprises are harnessing the power of XR for virtual training and onboarding, revolutionizing the way employees learn and adapt.
The future looks incredibly promising for XR, with Statista predicting the market to surge to a staggering $52 billion by 2027. Augmented and virtual reality have already become the go-to marketing strategy for businesses, captivating audiences like never before. This opens up endless opportunities for new product owners to introduce and elevate their services, leveraging XR to grab maximum attention and drive conversions. To exploit these technologies effectively, partnering with a professional iPhone app development services  can be highly beneficial.
On-Demand App
The on-demand app market is booming, capturing the attention of over 22 million users and attracting a staggering $60 billion in investments, as highlighted by the esteemed Harvard Business Review. This solidifies on-demand apps as the future of application development, with the on-demand economy poised for remarkable growth.
For app developers and business owners, these ones of the latest trends in mobile apps present a unique chance to tap into the power of on-demand app development and cater to the ever-changing needs of their audience. These apps offer a multitude of features and functionalities, enabling businesses to provide enhanced services and boost accessibility.
The advent of user-friendly platforms has also simplified the app development process, making it more streamlined and efficient than ever before. Beyond the financial benefits, using the right mobile development trends can elevate brand visibility, foster brand awareness, and help businesses reach their potential customers, establishing authority in their respective niches.
Amplify App Experiences with motion magic
Don't let your app users settle for stagnant and uninspiring designs that fail to captivate. Therefore here comes motion design icons that offer interactivity, engagement, animated scrolling, and macro interaction, effectively capturing your users' attention.
Take Domino's app as an example, where the integration of refined motion design features resulted in an impressive 23% increase in conversion rates. By leveraging motion design features in your apps, not only do you save your users' time, but you also guide them toward a remarkable and captivating journey.
Mobile IoT
Mobile IoT is already showing its impact on various sectors, allowing businesses to overcome traditional barriers to collaboration, cooperation and decision-making. Central to the mobile IoT ecosystem, mobile apps are steering this revolution.
Considering the potential of mobile apps for IoT, businesses are beginning building from the simplest to the most complex apps. Offering seamless connectivity and excellent user data handling capabilities, the apps are serving as an important bridge between the devices and the users.
It may be costly to start with and have numerous device integrations, third-party integrations, various sensors, tracking data, and other features in a complicated IoT application. Understanding the development and cost complexities, businesses, therefore, need a straightforward feature-based IoT mobile application development process. Having such a process will prove beneficial for businesses in maintaining the ecosystem until additional capabilities are gradually introduced over time.
Era of touchless UI
Touchless UI is an emerging trend that allows you to use apps without physically touching the screen. For instance, you might already be familiar with some touchless features, like using your fingerprint or face to unlock your phone or authenticate payments. According to Gartner, we can expect a groundbreaking shift as over 50% of major business apps would be incorporating touchless experiences by the end of 2023.
But the future holds even more exciting possibilities. Imagine controlling apps with just a wave of your hand or by moving your head. Soon, mobile app trends will even be able to follow your eye movements to help you scroll through content effortlessly. Therefore, these innovations are set to transform the way we interact with apps, making them more intuitive and convenient than ever before.
Apps for foldable devices
Take advantage of the surging popularity of foldable devices in your mobile app development strategy. These devices with larger screens and multitasking capabilities offer users a more immersive and efficient experience. Optimize your apps for foldable devices to make the most of the increased screen space, delivering detailed content and enhanced functionality.
Video streaming and gaming apps can particularly benefit from the expanded screens, providing users with captivating experiences. Whether it's maximizing visuals or utilizing the additional space for controls and information, the possibilities are vast.
With the rise of foldable devices, it's crucial to stay ahead and ensure seamless app performance on these unique devices. By incorporating foldable screen considerations into your development process, you can tap into one of the significant mobile app development trends of 2023, providing optimized and engaging experiences to your users on foldable devices.
Summing Up
That's all on the emerging mobile development trends to flourish in the year 2023. The above-listed trends are proof of how much traction is generated in the app development domain. As the industry is thriving every single day, more trends are likely to join the league soon. And one way to get started with your favorite mobile apps trends is by partnering with an experienced mobile application development company.
That's where Finoit, an experienced mobile app development company, steps in. With their extensive industry knowledge and expertise, Finoit is the ideal partner to bring your app ideas to life.
As a trusted collaborator, Finoit understands the ever-growing demands of the app development domain. Their team of skilled professionals is equipped to embrace emerging trends, ensuring your app stands out in the competitive market. From conceptualization to deployment, connect with our development expert to leverage end-to-end services tailored to your specific needs, delivering innovative, high-quality mobile applications.
Need Help with
App Development?
Proven
Transparent
Dependable
Book a Free consultation
Drop in your details and our analyst will be in touch with you at the earliest.
USA
6565 N MacArthur Blvd, STE 225 Irving, Texas, 75039, United States