Android Vs. iOS – Which Mobile OS is the Most Promising One?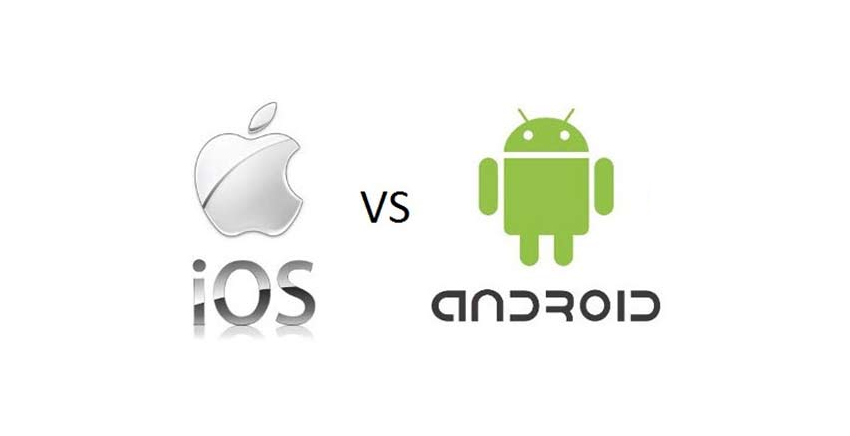 Choosing a mobile OS can be tricky, especially when each OS provider keeps bringing upgrades. As Android and iOS continue to dominate the mobile OS market, here, we bring a meticulous comparison between the two OS, which will come in useful when making a choice.
Mobile apps are like the magical wands that ease out difficult tasks for enterprises as well as individuals. In that context, it will not be wrong to call the mobile OS as real magicians who endorse the functioning of all those utilitarian apps to the hilt. As a matter of fact, today, the entire globe is hypnotized by the heroics of Android and iOS, the leading operating systems existing in the mobile computing market.
Both iOS and Android mobile OS platforms keep on introducing new features and functionalities to make it easier for the developers to come out with more user-friendly, interactive, and visually appealing apps. And this is where the real competition remains alive between the two stalwarts.
As each of these two top mobile OS strive to maintain a healthy existence and dominate the market, let us checkout which of these mobile operating systems has managed to win the hearts of mobile users worldwide. Or is it that both enjoy more or less equal status and have their distinctive fan following. We will do this evaluation, by comparing both operating systems across a range of some important parameters, by first beginning with the OS overview.
Mobile OS Overview
Android
The mobile OS from Google acts as the fuel for around three billion mobile devices across the globe. The fact that Android is customizable, makes it a worthwhile OS for most of the developers willing to come up with cost-effective apps. It is a boon for touchscreen mobile devices and has continuously upgraded its services on and tabs.
The latest Android Version, Android 13 codenamed Tiramisu, released in August 2022 promises much more finesse and fun through features such as intuitive QR scanner, Native Bluetooth LE Audio support, Panlingual per-app language support, enhanced security hub, smart home controls, and granular permissions.
iOS
Developed by Apple Inc., iOS forms the core behind all the Apple devices, whether iPhone, iPad, and iPod Touch. It allows the user to do almost everything related to personal and professional life. Thanks to the multifarious features it comprises and the utilitarian apps it ensures. It has its own customer base and allows the apps to run on the device only after it passes specific Apple guidelines.
The new iOS 16 mobile OS takes a leap forward toward enabling the users a bigger and better experience of Apple devices with familiar functionality. Features such as Passkeys and Shared Tab Groups, iCloud Shared Photo Library, Lock Screen customization, messaging, dictation add zeal to the mobile operating system.
Popularity
One could expect a stiff competition between Android and iOS to win the popularity race, as both compete to secure considerable grip. We check out what recent findings reveal about the two mobile OS.
If we are to compare the market share, as per StatCounter GlobalStats, as of March 2023, Android significantly leads the market by having 70.93% share, with iOS coming next at 28.37% market share.
In the Reader's Choice Awards 2023 by PCMag, both iOS and Android earned 8.7 rating for overall satisfaction. However, owing to its higher likelihood-to-recommend rating, Android has been chosen for the Award.
While reliability and app selection are two areas where Android and iOS are tied, Android wins in the areas of free app selection, contact, calendar management, email, Wi-Fi hotspot, and voice assistant—common but useful functionalities that are significant to most us. In contrast, iOS receives the greatest ratings for app quality, photo and video shooting, and its digital wallet, Apple Pay.
If we are to consider the US market alone, then since 2009 till the present, iOS has been the reigning king of the US smartphone OS market. While Android dominated the OS market share globally, it trailed Apple in the US. The iOS market share in 2023 is around 57.75%, while the Android market share is around 41.88%.
Interface and usability
Both the mobile OS promise distinct features and facilities to make up for the UI and usability of their phones. We look at them here.
Android
With upgrades to the Material You UI from Material You theme introduced in Android 12, in Android 13, you have more flexibility over the design of the home and lock screens and a wider range of colour options. The automatic theming of app icons across all apps, not just Google's, is another wonderful addition.
Per-app language personalization is another great feature that Android 13 offers. In this, if users want to display each app in a different language, then they can do it with a simple setting change. So, users can keep the overall system in one language, while each app in a separate language.
iOS
Some notable features of iOS include photo styles, photo shuffles, notification animations, lock screen suggestions, and focus filters. Live text is an interesting feature in which text remains interactive in video frames that are paused. Users can effectively use functions like copy, paste, translate, and lookup. It supports recognition of languages like Korean, Japanese, and Ukranian.
Under the Home feature, iOS has brought a series of features considering the taste of new-age smartphone users. With the Home app, users can easily navigate, organize, as well as control and view the accessories. Redesigned accessory tiles make various accessories visually recognizable through colour and shape combinations. Similarly, there are features like Matter support that help connect compatible accessories together.
App Support
App Store in both mobile OS covers almost all the important productivity requirements, the difference however lies in the quantity and diversity of the apps.
Apple App store is regarded as the most reputed destination for a good quality and quantity of app support. Most of the apps that are available in other stores are also there in the Apple store and in addition, some of the apps are only exclusive to iOS that makes it steal the show.
The Google Play Store is the strongest rival to the Apple store with above 3.5 million apps currently available for download. Owing to the open-source nature of the OS, it is comparatively more convenient to develop android apps. Overall, both the Android and iOS offer about a similar number and variety of apps.
Security and Privacy
Android
In Android 13, Google introduced a new Remote Key Provisioning (RKP) model for the provisioning of attestation keys. By removing factory provisioning failures and switching to an architecture, where Google is greatly responsible lifecycle management of these attestation keys, this new strategy will improve device security.
iOS
It is lockdown mode that powers the new iPhones with iOS 16. As Apple explains, this feature "sharply reduces the attack surface that potentially could be exploited by highly targeted mercenary spyware." Locking down recently deleted and hidden images is another significant upgrade. Images are now secured via face authentication, whereas earlier versions of the software just allowed users to conceal them from the main landing page.
Development Flexibility
Android
The SDK Manager on Android 13 allows programmers to obtain a wide variety of SDK (software development kit), NDK (native development kit), and tools, which streamlines the lifecycle of developing mobile applications. In addition, Android 13 emulator system images are available for programmers to use in testing and development for a variety of mobile devices.
A long variety of fantastic new features and APIs are included in the greatly enhanced Android 13 version that significantly boosts developer productivity. The "new copy and paste UI" is one of the nicest features in the developer productivity toolkit since it enables programmers to standardise the various visual confirmation messages that apps display whenever content is added to the clipboard.
iOS
Apple has come with some most useful development kits that streamline development of niche apps. For instance, The StoreKit framework enables programmers to create in-app purchasing experiences and control App Store interactions. The numerous APIs that StoreKit exposes are helpful resources for constructing comprehensive pictures of how customers travel through eCommerce journeys for application developers working on eCommerce products. Apple has added a number of new data points to StoreKit with iOS 16 that might give product teams important information.
A similar and another important development kit is mParticle's iOS SDK that offers developers straightforward APIs for recording and standardising user attributes and behavioural events on iOS applications. With the iOS 16 release, the most recent version of our SDK (8.8.1) is fully compatible with Xcode 13, the most recent version of Xcode 14, the most recent version of iOS 16 have been introduced to SwiftUI, which has optimized the overall maintenance process.
Graphics
Android
With Android 13, the system now supports programmable RuntimeShader objects, which is defined using the Android Graphics Shading Language (AGSL). The syntax of AGSL is similar to that of GLSL in many ways, however it is used by the Android rendering engine to customize canvas painting and content filtering. These shaders are utilised internally by Android to implement various effects.
iOS
Apple uses the Core Graphics framework that is an advanced drawing engine, called Quartz. It offers 2D rendering at a low level that is lightweight and has unsurpassed output fidelity. You can manage path-based drawing, transformations, colour management, patterns, offscreen rendering, gradients, and shadings with this framework. You can also create, display, and parse PDF documents using it.
Foundation
Android
The OpenJDK 11 LTS version and the Android 13 Core Libraries are compatible, providing app and platform developers with support for Java 11 as well as library updates. C++, Rust, Kotlin, and C are other important programming languages, besides Java, that have helped develop code in Android 13.
iOS
Apple has heavily used Swift and SwiftUI binaries in iOS 16, much higher as compared to the previous versions of iOS. Objective C, along with these two tools, continue to remain important in iOS development. The number of binaries that compose iOS continue to increase. With the addition of 665 new binaries, compared to iOS 15, now iOS 16 has a total of 5403 binaries.
Compatibility
Android
Android 13 is a stable version; all Treble-enabled devices officially supported the Android 13 beta. This helps developers who don't have a Pixel device prepare for the new release even though some crucial functions, including phone audio, don't function on these builds.
iOS
The iPhone 8 and later are compatible with iOS 16. Prior to a public debut, a beta version of the upgrade was made accessible to developers and general beta testers. Additionally, reverting back to the previous version, while possible, is a highly complex process.
To Sum Up
Be iOS or Android, both Mobile OS hold their distinctive position. Each is full of interactive features, appealing user interface, apt security, and hence, segregating any one of them would be a bit difficult. Finally, its users' preference that leads to the choice between any of these two mobile OS.
Still, in terms of security, it seems as if iOS scores better. Android on the other hand could be an advisable choice in terms of cost-effectiveness and usability.
As we saw, while globally, Android dominates the market share, in the US it;s iOS that continues to remain the king. So, it all depends on the perception of users towards a mobile US in a particular geography. Both mobile OS continue to strive to remain on top by bringing fresh updates, seamlessly improving developer productivity and in turn enhancing the user experience.
If you are looking to leverage the power of iOS or Android, you can seek our professional consultation. Finoit, is a well-known mobile app development company in the US, holding dexterity in delivering mobile applications on both these widely used mobile OS. We comprise a sizable mobile app development team specifically dedicated to each of the platforms, making it easier for us to abide by the multifarious app development requirements of our global clients.
Feel free to contact us, if you are looking for a suitable mobile app development agency to take care of your mobile development endeavors.
FAQs
How do Android and iOS handle software updates?
Android and iOS handle software updates differently. Android updates are typically dependent on device manufacturers and carriers, which can result in fragmentation and delayed updates. In contrast, iOS updates are directly provided by Apple, ensuring a more unified and timely distribution of updates across compatible devices.
Which mobile operating system offers the best integration with other devices and services?
Both Android and iOS offer integration with various devices and services, but the extent and compatibility can vary. iOS provides seamless integration with other Apple devices like Macs, iPads, and Apple Watches, it allows a unified experience across the Apple ecosystem. On the other hand, Android offers greater flexibility in connecting with a wider range of devices, including PCs, smart TVs, and a variety of IoT devices.
Is it possible to develop app for both Android and iOS simultaneously?
Using hybrid mobile app development frameworks like React Native, Flutter, or Xamarin, you can develop apps for Android and iOS simultaneously. This allows developers to write code once and deploy it across multiple platforms, saving time and effort. These frameworks utilize a single codebase that can be shared between Android and iOS, enabling efficient cross-platform development and maintenance.
Book a Free consultation
Drop in your details and our analyst will be in touch with you at the earliest.
USA
6565 N MacArthur Blvd, STE 225 Irving, Texas, 75039, United States