How Mobile Payment Systems Can Promise Better Security Standards?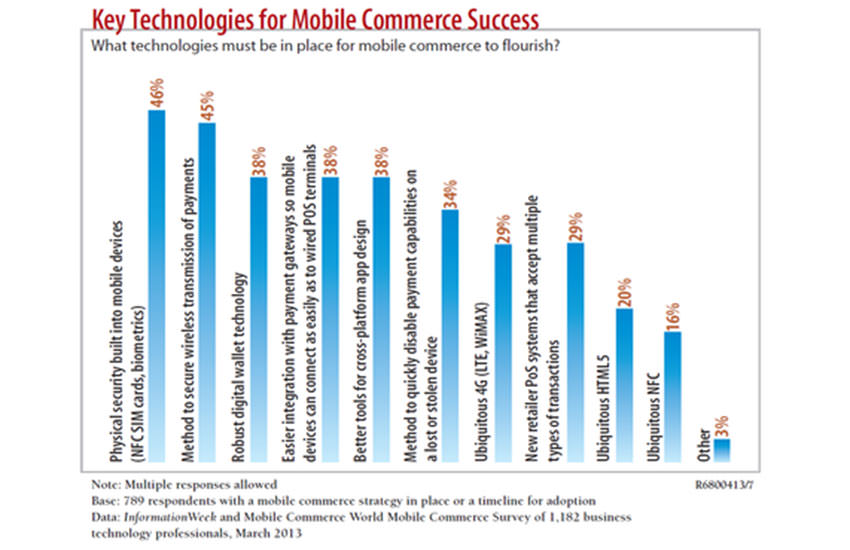 Mobile payment is still considered to be a taboo thing as compared to other popular mobile activities. This is probably due to the rising security concerns in the mobile world. Once this issue is addressed satisfying, with all the pain points being removed from roots, the mobile commerce world could well expect a brighter future. Hence, it is high time that we discuss the concerns related to information security during mobile shopping and find out the apt solution.
Security concerns in mobile payment
Various survey reports implicate the burgeoning growth rate of mobile banking, for example, Information Week's 2013 Mobile Commerce Survey. It states physical security of mobile devices and secure mobile transactions as the foremost necessities for mobile commerce to flourish in the current tech inspired enterprise environment.
According to another survey by SAP, the mobile commerce domain is heavily influenced by privacy and security issues. This anomaly has surfaced due to the accumulation of a bulk of unstructured digital data by retailers. Technically termed as Big data, this information is valuable for retailers in business gains, but is equally harmful for customers.
While visiting an ecommerce site for shopping, customers automatically give consent to share their details with the site's owner unknowingly. However, a feeling of distrust surrounds shoppers when they come to know about any such act on the part of vendor. Evidently, this tends to reduce their interest in mobile shopping.
Intuiting the gravity of the issue, many countries have come forth with strict steps. For instance, The People's Bank of China, which is China's Central Bank has suspended payments through QR code and virtual credit cards. The news was reported recently by Chinese state press agency Xinhua. As per a senior official in the bank, "payments via code scanning and virtual credit cards are closely linked to consumers' personal information, and therefore require further consideration".
"The Consumer View of Mobile Payments" report released by Bain Company in Jan 2014 also discovers similar concerns. The survey took in account the responses of 25,000 consumers from 5 nations including U.S., U.K., Spain, Germany, and France. Some of its important points are mentioned below:
More than 50% overall and above 70% consumers in Western Europe have knowledge about mobile payment options.
Only one-fourth of the interviewed participants wished to opt for mobile payments in stores.
Users making mobile payments spend almost double while shopping through other digital channels such as through internet or mobile web.
The remedy
For sure, the concerns mentioned in the report are fair enough to sense the repulsion of consumer from mobile commerce. But the rising clutch of enterprise mobility and a growing number of people buying mobile devices cannot be sidelined either. Hence, it has become an inevitable necessity to combat the issues related to mobile payments. This can eventually play a defining role in tapping the otherwise uninterested and security concerned customers. Some of the concrete solutions in this regard may include as below:
Near Field Communication (NFC) is posing as a promising technology to ensure security during mobile payments. It is used in most of the in-store purchases and works by establishing communication between NFC enabled phone and cashless POS terminal. However, it is not suitable for remote payments due to the short-range radio signals it leverages.
The Mobile World Congress (MWC) 2014 held in Feb in Barcelona became witness to an important deal between Samsung and Paypal. The deal allows the users to leverage the finger print recognition system of the newly launched Galaxy S5 to make Paypal transactions. This is pretty secure system and could contribute significantly in alluring shoppers toward mobile payment. Notably, Apple was the first to introduce this advanced system in the market.
MasterPass in-app payments from MasterCard was yet another show stopper in the MWC 2014. It vouches for secure purchases significantly and emancipates the users from storing credentials of payment cards across multiple applications. Overall, it lets them benefit from a quick and easy mobile payment experience. With this system, users can pay for their purchases from almost anywhere, whether at home, at checkout, or while on the go. A thick of app providers worldwide have already embraced MasterPass to strengthen their in-app capabilities.
These and myriad other initiatives have worked actively in enthralling the attention of the users toward mobile payment. This has in turn proved as a boon for enterprises in the biz world. With several promising companies investing their time and money in devising even more secure mobile payment modes, the future of this industry, it seems, is flourishing.
To summarize, security concerns have compelled global users to remain stick to their desktops for remote payments, thereby avoiding mobile payments. As an irony, this problem has emerged despite the fact that smartphone is being used religiously for most of the non-payment activities. Slackened payment systems by companies have further kept them aloof of the same.
However, in the wake of growing popularity of smartphone, enterprises now put their best foot forward. They are coming up with foolproof mobile payment systems that could allow the users to pay through their mobile devices, almost anywhere, without comprising on security. This field is all poised to experience a better future provided that the involved companies continue to innovate. Hope we get much secure, safe, and prompt mobile payment systems and apps from these service providers that could care for user credentials like nothing else.
Finoit, the mobile app development company India, is ever ready to embrace advanced trends and technology in its efforts to offer quality IT services to its global customers. We can develop quality mobile payment apps to help user make highly secure mobile transactions. Our expertise in native as well as cross platform mobile development could further prove to be highly productive in this regard.
To know more about our app development services or to avail our cost-effective IT offerings, feel free to contact us at the earnest.
Looking to build a mobile or web application? Drop us an email to [email protected] and we will be in touch to discuss your plans.
Book a Free consultation
Drop in your details and our analyst will be in touch with you at the earliest.
USA
6565 N MacArthur Blvd, STE 225 Irving, Texas, 75039, United States