Fitness App Development: 7 Things to Consider Before Building the App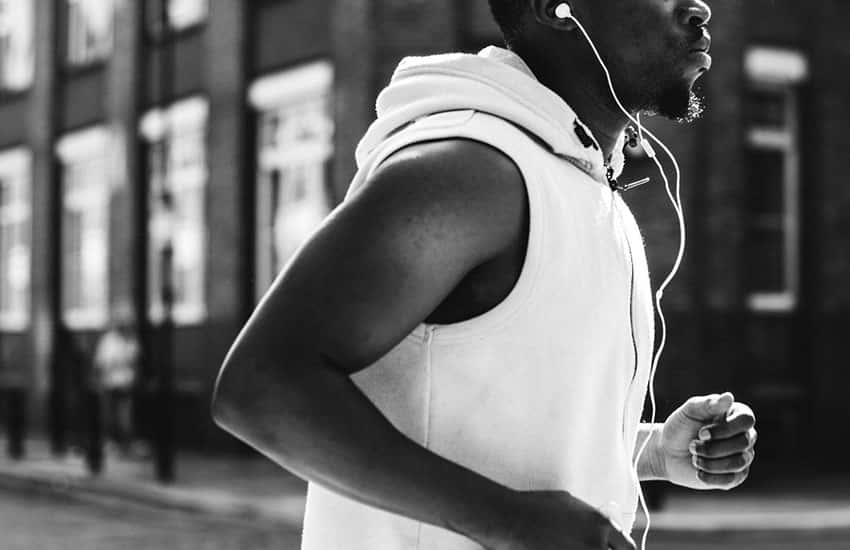 Many of us strive to lead a healthy life but find it difficult to materialize.
Often, we get motivated to be healthier, start working out more, buy quality food, and then all of sudden, lose motivation and fall off the wagon.
Turning to health and fitness apps can help a great deal, from providing motivation to live up the fitness regime to connecting us with a larger fitness activity and engagement community.
Seeing the potential of fitness apps, its surging demand, and growing fitness app development market, many business owners are seeking the support of fitness app development companies to build an app for them.
If you are one of those business owners planning to build a health & fitness app, there are several things that you need to consider before actually getting into the development. In fact, hiring a mobile application development company would be the last thing you would be doing.
Here, we have created a list of 7 things you should consider while engaging in health & fitness app development.
7 Things to Consider When Planning to Build a Fitness App
The global fitness app market is expected to grow at 23% CAGR through the forecast period of 2016 to 2023.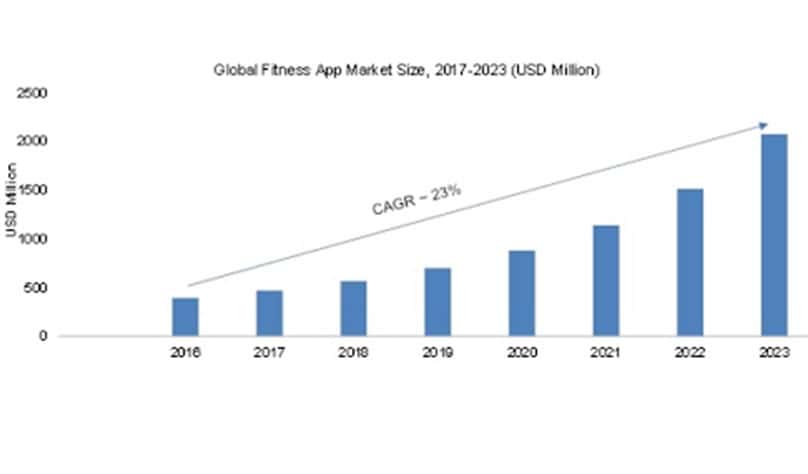 Image Source: marketresearchfuture.com
Today, the workout and fitness app market is dominated by top fitness apps such as Fitbit, MyFitnessPal, Azumio, Appstore, and more. If you are planning to build custom mobile applications for iOS and Android platforms, similar to one of these, below are the 7 things that you need to consider.
1. Type of Health and Fitness App
There are a plethora of fitness apps available on the market to track every aspect of health & fitness. Each type of app has a specific market and caters to the intended audience of the market. Here are the 3 common types of health & fitness app, ranging from highly essential to simply motivational:
Fitness Tracking Apps: It is one of the widely used types of fitness apps, which keeps track of different aspects of health and consumption, such as counting calories, physical activity like steps taken, pace maintained, and distance traveled. Most workout tracker apps are powered by tools to capture data and close the information gap.
Workout & Exercise Apps: A research by Flurry Analytics reveals that workout and weight loss apps account for 73 percent of all health and fitness app sessions. This type of personal trainer apps provides a set of exercises to the users and let them adapt to a training plan. These apps collect users' health and activity related data to provide personalized information.
Nutrition and Diet Apps: This type of apps helps users to track calories they consume and burn and check their nutrition regularly. Nutrition and diet apps are also helpful in letting users monitor their eating habits and motivating them to achieve their diet goals by sending push notifications and various gamification elements.
If you have a specific idea fitness app development other than above types, such as mental fitness app development and yoga apps, you can proceed with it. However, make sure that the information you provide in these apps has credibility.
2. Platform
In the next step of fitness and workout app development, you have to select the deployment and platform, like whether you want to develop a fitness app for Android, iOS or Windows.
Developing Fitness Apps for iPhone, Android, or Windows is an important decision, which can directly impact the app adoption rate among users and ultimately the revenue. For example, if you want to build your fitness app for South American country like Brazil, you must bet on Android to reach out to the maximum number of users.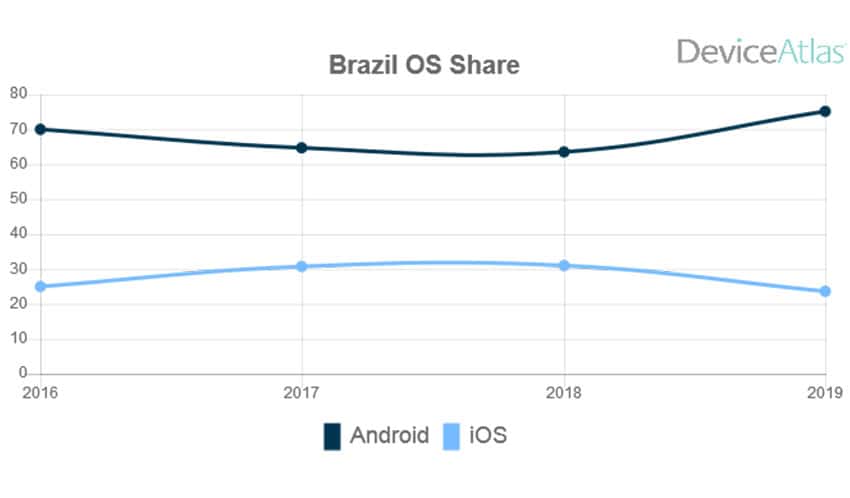 Image Source: deviceatlas.com
Whereas, most of the people in the US prefer iOS over Android.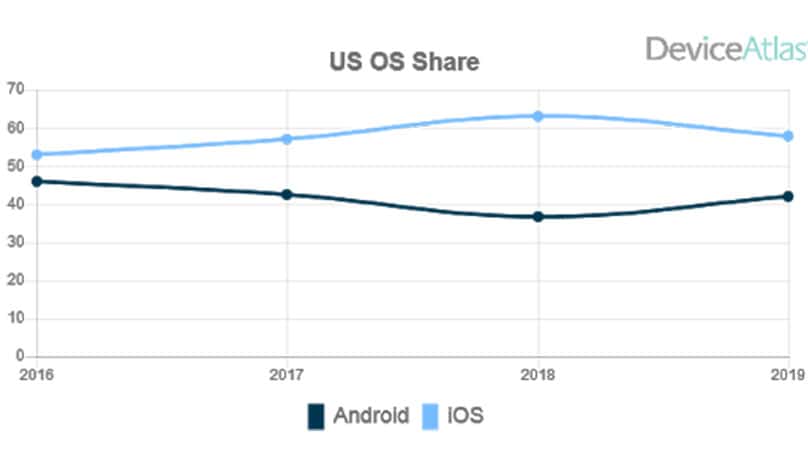 Image Source: deviceatlas.com
When selecting the platform, you need to check out where your audience lies, based on which you can pick the right platform. For that, it is essential to know your workout and fitness log app audience very well.
3. Know Your Audience
Knowing the audience is one of the crucial and complex parts of the fitness app development. If at this stage, things are researched, planned, and analyzed the right way, the road ahead becomes much easier to travel.
You can either create fitness apps directly for the consumers or else for the manufacturers of fitness products, such as sports items, wearables devices, or smartphones.
When it comes to users, you need to find out the age-group suitable for fitness application, their financial status, what do they do, and where do they live. Analyzing your app on these parameters will help you determine what specific features you want in your health and fitness apps for iPhone or Android.
For instance, North America is the dominant market for fitness app, mainly because of the awareness of the people towards health. If your user is North American, you have to consider the climate and food types available in the area.
If you are specifically designing the fitness tracker app for any fitness or sports product, you need to consider factors like the technology used in the device, how your app will address the needs of the users and how you can capture the data and will provide the insight to the users and mobile app owners.
4. Fitness App's Features
Features of health and fitness apps largely depend on the type of app. For example, if you are planning to build a diet based app, you can provide the ability to create customized diet plans and let them decide the recipe. It is important that you choose features wisely, while focusing on the social aspect of fitness and workout apps. Some of the common features could be:
Community building: You can plan out a feature that can help build a community of health and fitness enthusiasts to keep the users engaged and motivated.
Wearable Device Integration: No matter what type of app you are building, allowing the users to connect it with their wearable device will make your app more meaningful. According to the latest IDC forecast, the worldwide wearable market is expected "to grow 15.3% over the previous year to 198.5 million units by the end of 2019."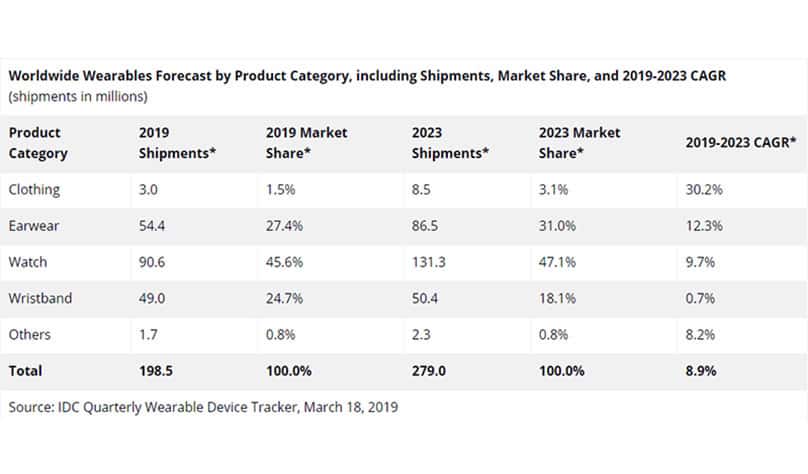 Image source: www.wearable-technologies.com
Fitness app integrated with any wearable could increase the value of the app, while encouraging the users to use the app more frequently.
Track Daily Activity: Letting users track their daily activities, including physical activity, diet, and calorie consumption can make your app an indistinct part of users. Besides, you can use the data to provide insight into related to health conditions and improvements.
When planning for the features of fitness and workout tracker app, you have to take measures to bring more and more people on the platform and keep them engaged and encouraged.
5. Monetization Strategy
Creating a mobile app monetization strategy right at the beginning will help you plan out how to realize maximum benefit out of your fitness app.
Although, app monetization requires extensive marketing support before and after the launch, fitness workout app owners are recommended to create an effective app monetization strategy right at the beginning.
Here are the most common model followed in the mobile app industry:
Paid Model: This is a pay-and-get model and fits for the apps that have high brand recognition and outstanding reviews and ratings.
In-app purchases: In this model, you can sell virtual products within the app while letting the users download the app free of cost.
Freemium: In the freemium model, users can access limited features of the app free of cost and end-to-end features can only be accessed by the users after the payment.
Paywalls: It is a subscription-based model and can be used only after payment for a limited time period. Netflix is the greatest example of subscription-based apps.
In-App Advertising: One of the commonly used app monetization models, it comes in two different ways to promote the app: in the first, the ad is shown at the certain interval and in the second ad is placed in the form of sticker which is visible statically.
To identify which model suits you the best, you have to focus on the purpose of the app and the type of users you are planning to serve. You can also check out which monetization model your competitors are following and also the latest trends in app monetization.
6. Planning a Fitness App Budget
Creating a budget for Fitness App Development is a tough task. Internet is flooded with questions like how much it cost to develop an iOS fitness app or how much it would cost to make an Android fitness app.
When planning a fitness app budget here are a few things that you need to consider:
Identify the need for creating the app
Analyze the platform cost means the cost of building an app for personal trainers, fitness enthusiasts or device manufacturers for a specific platform
Decide whether you are going to build in-house or outsource to a fitness app development company
Precisely evaluate the functionality and features
Submitting the app on the app-stores
Allocating the marketing budget
Once you examine all the cost factors, you can allocate a budget to each of these and finally fix an overall budget for fitness app development. You may explore a few lesser known ways to reduce the cost of application development and prevent budget overruns.
7. Hire Fitness App Development Company
Outsourcing the fitness app development task to a custom mobile app development company will help you reduce the burden of technical complexity and allow you to focus on the core tasks like revenue generation and increasing user retention & user engagement.
Many companies often commit grave mistakes while a technology team for their product development, which could be devastating for the business. When a hiring tech team, you should ensure certain factors such as:
Check Portfolio: Always check the portfolio of the fitness or workout app development company to ensure that they have relevant experience in the domain.
Platform They Most Develop For: By checking the platform they mostly develop for, you gain a general idea of their efficiency and what kind of team they must be having.
Engagement Model: Find out what app development methodology they follow. Common methodologies are Agile software development, crystal methods, feature-driven development, and lean development.
Timeline: Discuss the fitness and workout app development timeline with your fitness mobile app agency and based on that set the milestones for payment.
Final Thoughts
Well, launching health and fitness apps need better planning for the business and precise execution of the app development operations. A reliable Fitness app development company can help you assess possible risks and avoid pitfalls as a team. So when planning to build an app, make sure you take into account crucial factors for successful app development.
Book a Free consultation
Drop in your details and our analyst will be in touch with you at the earliest.
USA
6565 N MacArthur Blvd, STE 225 Irving, Texas, 75039, United States