How Enterprise Mobility Empowers Healthcare Domain?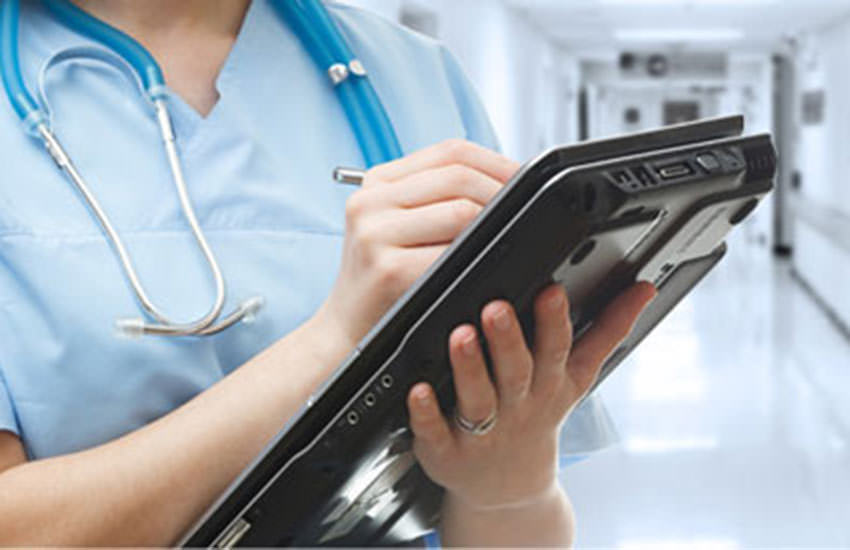 Mobile devices have become healthcare's great equalizer, making it easier to provide and receive medical services, irrespective of traditional constraints. Here, we dig deeper to understand how enterprise mobility is unfolding newer possibilities in healthcare.
Healthcare has witnessed a major overhaul in the past few years owing to the introduction of the latest trends and technologies, spearheaded by mobile computing. Today, technology combines the capabilities of enterprise mobility with healthcare to provide an efficient, cost-effective, and technologically sound medical care environment.
Enterprise mobility and the healthcare industry work together in sync to improve healthcare standards using upscale mobile devices and technology. Better known as mHealth (the term used to indicate the use of mobile technology in the healthcare domain), this phenomenon aims at making healthcare services accessible and affordable worldwide at the minimum possible cost.
However, in the run mhealth keeps on facing and overcoming varied challenges thereby contributing its bit toward making the healthcare domain even more efficient. Let's know about the role of enterprise mobility in healthcare in detail.
Room for improvements in the existing healthcare system
The healthcare domain has witnessed a sea of change across the globe in the recent few years. Not to mention, it has also come across a roster of issues that need to be dealt with strategically. These include:
Coping up with regulatory pressures
Healthcare providers must stay up-to-date with the latest changes in regulatory processes and procedures. Being compliant with existing norms requires them to adopt a vigilant and proactive approach and show readiness to invest in technology.
Continuously improving patient care
Despite having a well-defined protocol to deliver healthcare services, healthcare providers may have to deal with unprecedented challenges when there's a sudden spike in cases. As a result, they need to embrace newer methods of providing care and must continuously evolve their patient care.
Optimizing healthcare procedures
Just delivering patient care is not enough as time-consuming procedures will significantly impact the bottom line. Along with being focused on ensuring that you are delivering care, it is equally important to identify processes that are consuming resources in excess.
Helping patients meet the soaring treatment cost
A major challenge facing healthcare providers is to look at the treatment procedures by being in their customers' (patients') shoes. For high-cost healthcare procedures, healthcare providers should come up with processes that can financially streamline the treatment procedures for patients.
Enhancing preventive care and wellness management
A good healthcare provider keeps its patients informed and updated, suggesting they secure regular checkups and screenings, and vaccinations to get immune to chronic diseases and other health issues. To promote a healthy lifestyle, it promotes patient education. Besides improving overall patient satisfaction, a move from a reactive to a proactive approach enhances overall healthcare efficiency.
Transforming healthcare with enterprise mobility– Where is the promise?
Benefits every stakeholder, including patients, physicians, laboratories, as well as insurance companies that we usually tend to ignore when analyzing the healthcare value chain.
Remote data access and management
Mobile applications have expanded the boundaries of accessing and managing data in healthcare. Today, mobile apps have made it easy for physicians to access and update patient information remotely.
Coming handy, especially in situations where healthcare professionals need quick access to important patient data, mobile apps are proving helpful in dealing with emergency situations. As and whenever required, stakeholders can browse through patient files and engage in real-time communication with other stakeholders.
Earlier collecting data in real-time from patients' bedsides was like boiling an ocean. However, with the coming of mobile apps, it has become a possibility. Mobile apps now enable medical professionals to get vital signs from a patient's bedside in real time. They can track changes in important parameters such as respiration rate and heart rate by receiving the data on their mobile phones.
Prescription management
Persuading patients to strictly follow their prescription regimes, can be, at times, become a major issue for healthcare professionals, especially, when care receivers are elderly or mentally challenged people. For these types of patients, it is difficult to keep a track of the dose of medications.
Mobile solutions are paving the way for resolving the challenge. Through video-enabled prescription management, healthcare providers can assist patients to adhere to medication schedules. They can assist address this issue by linking qualified chemists and caretakers directly to the patient via video to ensure that the prescription is followed.
Testing and Analysis
Providing clinicians with access to up-to-date information on medical conditions, symptoms, and drug interactions, mobile solutions enhance the accuracy and speed of test result analysis in healthcare. Proving to be of great help to faraway patients, remote analysis of test results enable healthcare providers to provide timely and accurate diagnoses and treatments.
Mobile solutions also facilitate collaboration among healthcare professionals in the analysis of confidential test results. For instance, using dedicated applications, pathologists can connect and share information with, and seek advice from experts on complex cases. This collaboration ensures that the analysis of confidential test results is thorough and accurate, which results in better patient outcomes.
Accessibility to essential services
Mobile solutions can revolutionize the way patients access emergency services, enabling patients to call for emergency services quickly and easily. Emergency-specific mobile apps rapidly provide access to medical care, assisting patients to send their location and medical information.
Connected ambulances are one good example of how enterprise mobility proves crucial in emergency cases. Using mobile devices and wireless technology to connect ambulances to hospitals, it enables emergency services to achieve ever-stricter goals and enhance patient outcomes.
During the transportation of the patient, a connected ambulance helps in gathering and transferring patient information to hospitals through mobile apps. The staff at the healthcare unit can remain prepared to impart the right treatment immediately after the patient arrives.
Virtual consultations
Initial screening evaluations, routine checkups, increasingly visual diagnosis (such as identifying dermatological conditions and symptoms), and therapy/rehabilitation sessions can all be conducted using two-way connections between the patient and the healthcare provider.
With virtual sessions patients and healthcare providers can consult with one another without having to travel, which eases the patient's stress and lowers the expense of each appointment.
Here are some examples of how virtual consultations through mobile applications add value to overall healthcare efficiency:
Telepsychiatry services use mobile solutions to connect patients with mental health professionals.
Teleophthalmology services enable remote diagnosis and treatment of eye diseases through mobile devices
Telecardiology services use mobile solutions to facilitate remote diagnosis and treatment of heart-related conditions, enabling healthcare providers to monitor patients' heart rates, blood pressure, and other vital signs remotely.
Expert assistance through remote collaboration in surgical processes
Robotic surgery systems are enabling healthcare experts to carry out an operation from a distance. Though remote surgeries may seem to be overly optimistic, we must acknowledge that patients will eventually benefit from mobile capabilities for surgical processes.
Conceptually, remote surgeries involve specialists watching in on a surgery taking place in real-time. They advise the in-person surgeon, offering the best suggestion, while observing how the process is unfolding. So, with mobile solutions, healthcare providers can leverage skills of experienced surgeons, to carefully drive each step in the process.
What is the Impact?
With the introduction of mobile devices and apps, healthcare has transformed exceptionally, ensuring satisfaction for both organizations as well as patients. Some of its major advantages include:
Better patient care
mHealth sets the patients and medical practitioners free from the obligation of being at the same place for the former's treatment. It is perhaps a blessing in disguise for people living in remote areas who may find it difficult to travel distances to reach hospital while suffering from a severe medical condition.
Better patient engagement
Factors such as high medicine costs, endless queues, complex systems, etc., may bar patients from visiting the doctor. Thankfully, enterprise mobility emancipates people from such testing situations with the help of advanced apps that provide the exact timing of a doctor's arrival in the clinic, reminders for appointments, names of prescribed medicines, etc.
Less healthcare frauds
Mobility could also act significantly in reducing fraudulent practices in healthcare. The sophisticated mobile apps are quite capable of tracking the transaction details, thereby negating any chance of swindling on the part of the seller.
More safety
Specific mobile apps could help patients recall all the precautions and dosage information as instructed by the doctor to ensure a speedy recovery. This comes as a big respite and could provide the patients with even better and safer care.
Minimizes waiting period
Through their mobile devices, patients may make appointments and get reminders, doing away with the need to physically visit the hospital or clinic. In order to save time and shorten wait times, mobile solutions also allow patients to complete medical forms, provide medical histories, and complete other required documentation remotely.
Offloads pressure on frontline workers
Time-consuming manual documentation is no more a headache with mobile solutions, which significantly reduces the workload of front-line staff. In order to eliminate the requirement for employees to put in excessively long hours and the likelihood of burnout, mobile solutions aid healthcare organizations in optimizing their staffing and scheduling.
Provides post-treatment care easily
By logging missed doses, apps aid patients in adhering to their drug regimens. It generates reminders to take medication, and even notifies a carer or healthcare practitioner if a dose is missed, while also alerting the patient.
Mobility Solutions – What are the options?
mHealth
Mobile devices such as smartphones and tablets streamline healthcare using health tracking apps, telemedicine, and remote monitoring of patient health.
Patient care portals
A secured website or platform that allows patients to access their health information, schedule appointments, communicate with their healthcare providers, and view their medical records.
Workforce management apps
Tools that help healthcare organizations manage their staff more efficiently through features such as scheduling, time tracking, and employee performance management.
Chronic care solutions
Digital tools that help patients manage long-term health conditions like diabetes, cardiac disease, and arthritis. Features typically include tracking functionality, medication reminders, and educational resources.
Nursing apps
Specifically designed for nursing staff, these can include functionalities such as patient assessment and patient monitoring tools.
Mobile carts
These are portable workstations used in healthcare settings, typically including a computer, medical equipment, and storage for supplies. They can be used for things like medication administration, charting, and patient monitoring.
Healthcare mobile apps and solutions: Some important facts and figures to look at
As we confirm our trust in how enterprise mobility can benefit healthcare, here are some notable facts that reveal the role of mobile devices in healthcare:
70% of the population find mobile devices worthy of use when it comes to securing healthcare assistance
As per Grand View Research, there are more than 350,000 mHealth apps available across various app stores.
Statista's findings show that more than 54,500 medical and healthcare apps are available on Google Play Store, while more than 41,500 medical and healthcare apps are there on Apple App Store.
As per App Annie, the total number of health and wellbeing apps reached 2.48 billion
Research published by the National Centre for Biotechnology Information has found that 90% of physicians use mobile apps to access information on drugs.
84% of the US population uses some form of healthcare apps, and around 77% of youngsters use apps for healthcare.
As per the University of Michigan National Poll on Healthy Aging, three in ten adults (50-80 age range) claimed to be using at least one mobile app. Sharing health information with their care providers and monitoring health are two important reasons for the use.
On average 250 health apps are released every day reveals IQVIA's research
The British Medical Journal has come with findings that 88% of mobile health apps can collect and share patient data.
A glimpse of future mHealth solutions
"By 2025, 50 percent of all healthcare delivery organizations will bank on digital solutions designed by tech giants such as Alphabet, Apple, and Amazon in their treatment or clinical diagnostic processes," recorded Gartner.
With enterprise mobility already making a significant contribution to healthcare, it is all set to benefit the industry even more in the coming times. While manufacturers are well on their way to customizing mobile devices to perform specific health-related tasks, mobile app developers have also geared up to develop innovative health apps for maximum patient care.
Here we look at how tech giants have begun or are planning to disrupt healthcare through enterprise mobility.
Amazon is experimenting with telehealth, by leveraging Amazon Web Services (AWS) and voice technology capabilities, while launching new healthcare projects.
With the help of its well-liked products like the Apple Watch, Apple is forming alliances with healthcare organizations and clinical researchers. To position the wearable as a clinical instrument for use in medical research, Apple has increased the healthcare capabilities available on the Watch.
Samsung has been consistently promoting health apps to encourage users to maintain a healthy lifestyle. For instance, Samsung Health is a great app for keeping track of your nutrition, exercise, and stress levels. Your weight, heart rate, physical activity, and other vitals are tracked throughout the day by the app, which also assists you in setting objectives. It then provides you with personalized and simple-to-understand insights about your health habits.
Care will not remain confined to medical care centres instead it would cover patients from every nook and cranny of the globe.
Future apps will help people to share all the important health data with their doctors, such as heart rate, cholesterol, body temperature, daily routine, eating habits, etc.
Mobile devices will detect a patient's health for any emergency condition, and intimate local medical service providers instantly.
Not surprisingly, doctors have begun using healthcare apps as an inseparable part of their treatment practices.
To sum up
With great attention being paid to mHealth, it is highly expected to create unprecedented milestones in the healthcare vertical in the future.
While mobile security and data protection will be key, the role of mobile devices and mobile apps in glorifying this phenomenon is worthwhile. As a software company, we are seeing huge demand for offshore custom software development in the healthcare sector. What we observe is that IoT in healthcare and wearables will rapidly change the industry.
Today, there's an app almost for every healthcare process, problem, and disease. Finoit has been engaged in the development of niche apps, thereby catering to the intrinsic need of the healthcare industry. With our experts at your disposal, you can develop feasible, cost-effective, and beneficial healthcare apps to provide medical care a significant boost and diminish the barriers between doctor and patient.
As a mobile app development company, we have developed over 400 iOS and Android apps for 200+ customers helping them drive growth and bring the next level of competitiveness in their business. Feel free to reach out to us to understand how you can leverage the power of enterprise mobility solutions for your healthcare business.
Frequently Asked Questions
What are the key considerations for implementing enterprise mobility in healthcare organizations?
When assessing the viability of a solution, several crucial factors come into play. These factors encompass data security, adherence to regulatory requirements, seamless integration with current IT systems, comprehensive user training, scalability potential, and the imperative need to provide a seamless experience across different mobile devices.
How does enterprise mobility contribute to better care coordination and care transitions?
Enterprise mobility plays a pivotal role in healthcare by bolstering care coordination and facilitating smooth transitions. It achieves this through the seamless exchange of information and secure communication among healthcare providers. By embracing enterprise mobility, healthcare professionals can ensure a robust framework for efficient handoffs, mitigating the occurrence of errors, and ultimately enhancing the overall continuity of care.
What are the potential risks associated with implementing enterprise mobility in healthcare?
There are several potential risks and challenges that need to be considered when implementing enterprise mobility. These include threats of data breaches, device management and security, users' resistance to change, integration with legacy systems, and privacy regulations compliance.
Book a Free consultation
Drop in your details and our analyst will be in touch with you at the earliest.
USA
6565 N MacArthur Blvd, STE 225 Irving, Texas, 75039, United States