What is Off-the-shelf Software: Advantages and Disadvantages of COTS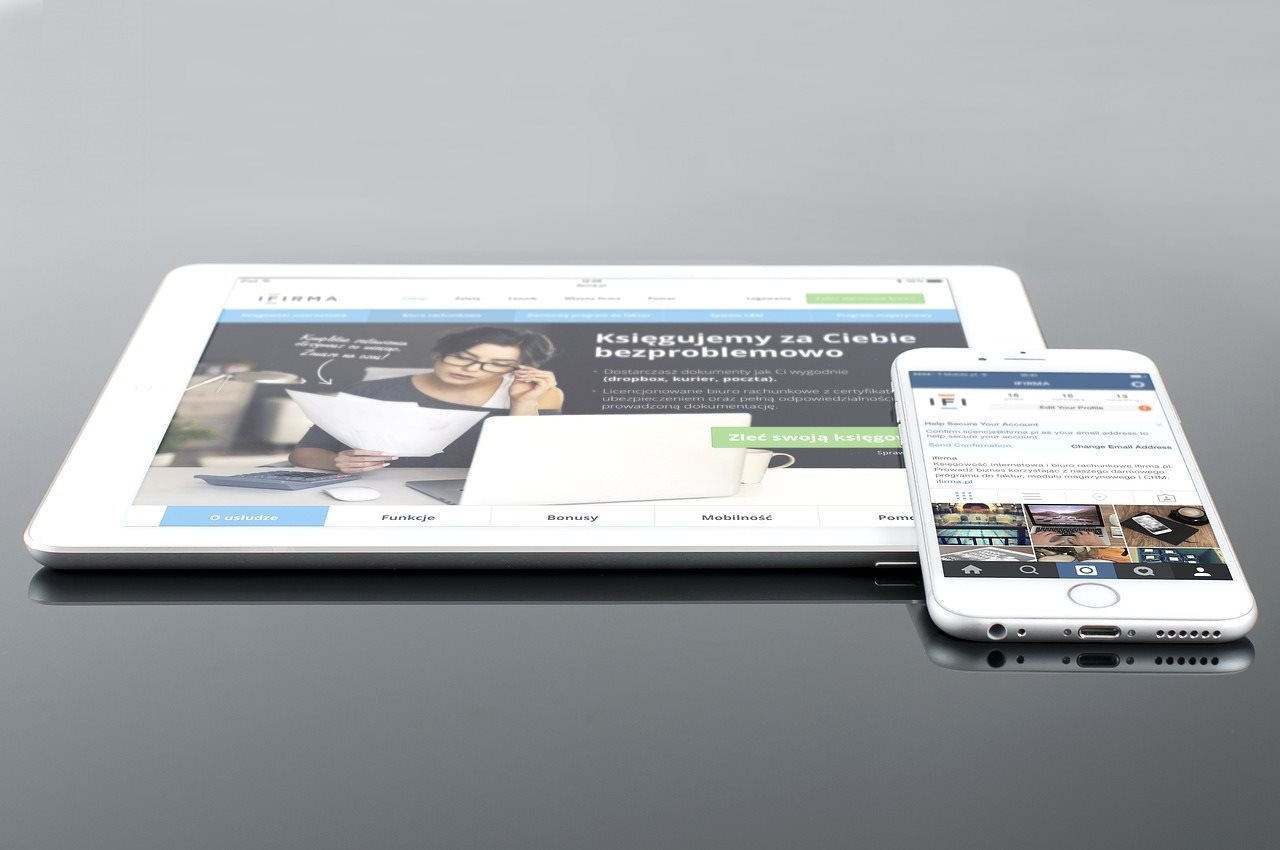 Off the shelf software can handle a wide range of problems. It makes it possible to bundle, market, and distribute it. Simultaneously, custom software development seeks to meet specific needs.
It is essential to spend time researching the right solution, as the efficiency of a company's operations depends on it. First, you must determine your requirements and then decide to invest in the right software to invest in.
You will find the answer and learn what works best for you here. Let's go over the key features of off-the-shelf software and compare it to custom software solutions, which should be helpful.
What is off the shelf software?
Off-the-shelf software is a product that is entirely readymade and has expanded functionalities that satisfy a large number of users. They aren't one-of-a-kind, but they are universal and designed for mass commercial use, so they can usually be easily integrated with existing systems without requiring complicated configurations.
A diverse set of software modules allows you to meet various requirements, but more than standard features are required for complex specific tasks. You can customize them, but most off-the-shelf products can only partially meet particular needs.
Off-The-Shelf Software Examples
ERP software like Oracle's SAP ERP, Microsoft Dynamics, and Sage Intact.
Insightly, HubSpot CRM, and Zoho CRM are ready-made, user-friendly CRM suite solutions.
Gmail and Microsoft are basic and generic software products that provide standard features such as emailing and file sharing. These custom off the shelf software solutions are secure solutions that enable businesses to create private accounts.
Custom software vs off-the-shelf software
Let's start with their essences to see how they differ.
Off-the-shelf software is a ready-to-use solution. These tools are designed for a wide range of audiences and business sectors. They are based on best practices that have been proven effective by multiple users. However, off-the-shelf apps only occasionally meet all of the requirements of a specific task or area.
Well-known examples include Google and Microsoft solutions and CRM systems such as Salesforce, HubSpot, Oracle, and Zoho.
On the other hand, custom software demonstrates the most personalized approach, as tailor-made software can specifically consider business demands. The entrepreneur should assemble or hire a dedicated team to develop an application for specific requirements to obtain it.
Here is a small list justifying off the shelf vs custom software.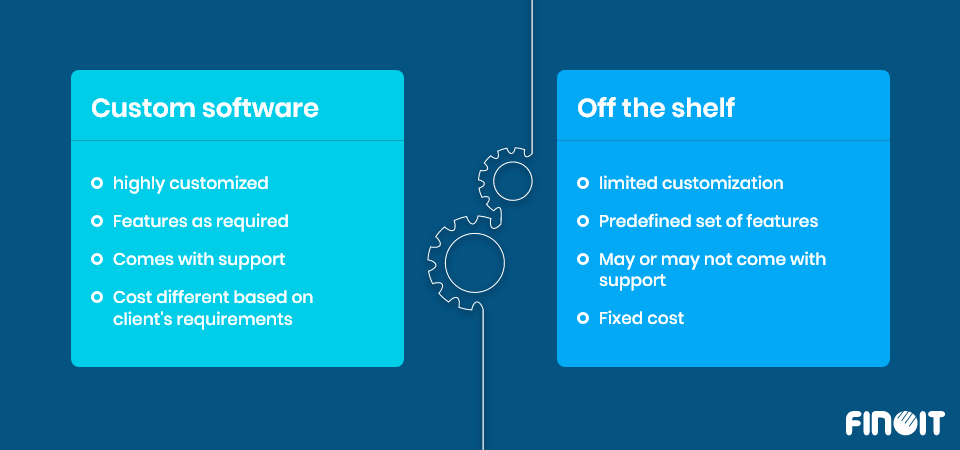 The advantages of off-the-shelf software
1. More affordable… initially
In most cases, the initial investment is less expensive than that of custom-crafted software. Because off the shelf application software is designed for the masses, its costs are distributed across a large number of users. Making the final cost of this software less than that of building your custom software from scratch.
2. Easy to use and quick to implement
You buy the software, download it, and begin using it immediately. There is no need to wait for the software to be developed and executed; it has already been completed. This is your best bet if you want a quick, accessible, and easily implemented solution.
3. A user and feedback community
Because this software is widely used, there is a community of like-minded people who use the same product.
You'll be able to ask questions, see how other people are using the software, and quickly find solutions to common problems or bugs.
Reviews and customer feedback can significantly assist you in determining the best software for your business.
And it could save you a lot of time looking for the right fit.
4. Customer service & updates
Most common software includes some level of support, but not all do so keep an eye out for that.
Support typically takes the following forms:
Direct phone lines and 24-hour call centers
Email correspondence
Customer service representatives are available for live chat.
Forums for the community or the system's internal support web page "Help" functions
In addition to support, you will receive regular software updates that will fix bugs, add new features, and improve the overall user experience.
The disadvantages of off-the-shelf software
1. Cost-cutting measures
Off the shelf computer software is initially less expensive. Still, its underlying costs may accumulate over time due to the need for ongoing service payments, licensing, and the connection of additional users. Expansion of features and migration to newer software versions will undoubtedly raise the cost of your initial tariff plan.
2. A compelled trade-off
Because the available features may or may not fully meet your needs, you lose some flexibility. Workflows must be adapted or drastically altered to fit the software, not vice versa.
3. Complete dependency on the provider
The solution will be updated and changed at any moment its vendor decides to, without the consent of your enterprise modernization plans. Some updates may adversely affect your system. There is also a risk that the software developer may stop supporting the application, and you will have to look for an alternative vendor.
Closing Thoughts
Both off the shelf software and custom software provide users with various solutions and benefits. When you need to implement software quickly, need an all-inclusive solution, and want a readily available and extensive support system, off-the-shelf software is helpful.
On the other hand, custom-built software is best when you want more control over your software, want scalable solutions, and want to differentiate your business from industry competitors.
Finally, your decision is influenced by the circumstances surrounding your business and what you are willing and able to do to ensure its success.
At Finoit, we can guide you through software solutions that are the best fit for all relevant industries and build precisely what you require while ensuring high quality, strict deadlines, and reasonable costs.
Get a free consultation to learn more about the differences between off-the-shelf and custom software and how to find the best solution for your business.
FAQ
1. What is custom development?
Custom development is the process of designing, building, deploying, and maintaining tailored software for a specific set of users, functions, or organizations. Unlike commercial off-the-shelf software (COTS), custom development focuses on a highly specialized set of requirements.
2. What is off-the-shelf software?
Off-the-shelf describes any software solution, usually commercial, developed for the mass market. It is a readymade product you can buy freely, but not created specifically for your needs.
Need Help with Software Development?
Proven
Transparent
Dependable
Book a Free consultation
Drop in your details and our analyst will be in touch with you at the earliest.
USA
6565 N MacArthur Blvd, STE 225 Irving, Texas, 75039, United States