Mobile App Development Company
We build user-centric and scalable mobile apps that deliver growth and success.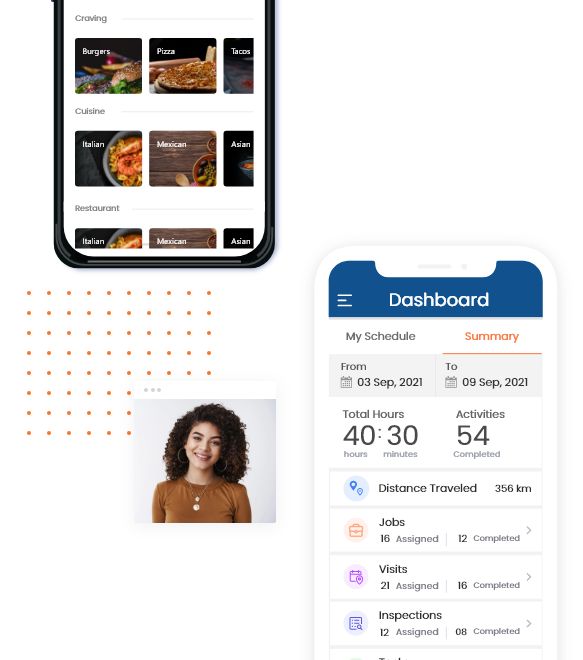 Build | Scale | Disrupt with our Mobile App Development Services
Our mobile app development firm provides full-service app design and development services- from consulting to UX design to development and app support. We take care of it all for you.
Build Your Mobile Strategy
Devise a roadmap based on your specific business goals, challenges, industry verticals, and users to ensure maximum success with our mobile application development agency.
We help define
The framework
Time and cost considerations
Development platforms
Implementation
Native or Hybrid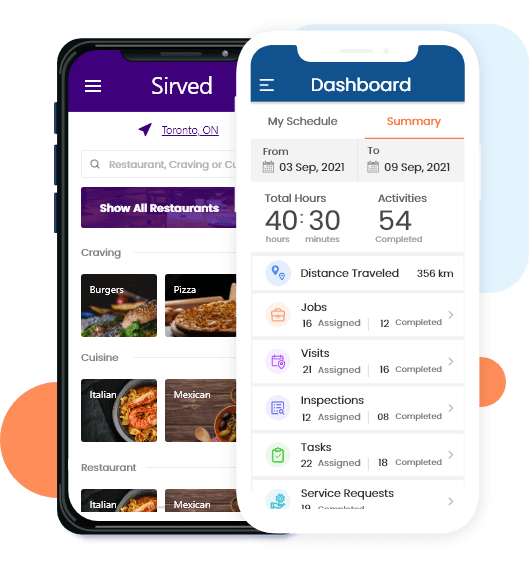 Plan Mobile UX Design
We design every app keeping in mind the target user's motivations, behavior and needs to ensure great experience, high app usage and engagement.
Design components
The framework
Time and cost considerations
Development platforms
Implementation
Native or Hybrid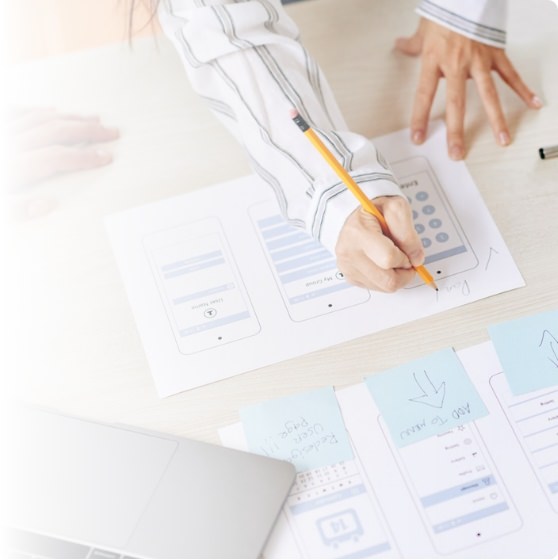 Hybrid or Native App Development- Prioritize Based on Your End Goals
Based on the specific business requirements our app development agency can develop Android and iOS native apps or a Hybrid app that can work on both platforms. While native apps offer more benefits over hybrid, hybrid apps can be cost-effective and can serve both iOS and Android platforms at one go.
IOS Development
Tools: Xcode Technlolgies: iPhone SDK, Cocoa Touch Languages: Objective-C, SWIFT
Android Development
Tools: Android Studio, Eclipse Technlolgies: Android SDK, Android Native Kit Languages: Kotlin, Java, XML
Hybrid Development
Tools: Flutter, Ionic, React Native Technlolgies: Android SDK, Native Kit Languages: Kotin, Java, XML
App Development Process- Simple but Effective
Our mobile development agency focuses on high user engagement, retention, and app scalability.
App UX and UI Design
Get the maximum from our app design agency with
User Research
Wireframes
UI designs
Development
Bring scale and best practices in your development process with our app building company
Front-end Development
Back-end Development
and Integration
Testing & Deployment
Don't leave app performance to chances. Our mobile app development company runs thorough tests before publishing your app
Automated QA
App store deployment or APK
The Work Quality that You may Expect From Our App Development Agency
The following six factors are critical to not only your app's performance but also for compliance and user acceptance. As your app building company, we ensure to follow these best practices so that you can drive growth with your app.
Well Programmed
Structured, properly commented codes
User centric
So that you can engage, retain and convert your users
Secure
Developed with security protocols and guidelines
Scalable
Built for scale to drive growth
Compliant
Compliant with all the rules, best practices and guidelines
Well Tested
Well Tested – Even a single bug is costly. Our mobile development firm doesn't leave it to chances
Trusted by 200+ Businesses as their Mobile App Development Partner
Unlocking value with scalable and secure mobile app development for our customers as their go-to, dependable app development firm
A Certified and Accredited Mobile App Development Company
Leaders across industries recognize us as a premier mobile app development agency for our commitment to quality, professionalism, and strong values.
Being a standard AWS consulting partner, Finoit's list of services include world-class mobile app development services to global clients.
As a Microsoft Silver partner software firm, we deliver high-end software design and development services using various Microsoft technologies
Finoit has been featured as one of the top custom software development companies on Clutch, an independent B2B research agency.
Finoit Technologies received ISO 9001 certification for demonstrating the ability to provide mobile app products and services in accordance with ISO certified standards.
Finoit technologies received the ISO 27001 certification in information security management for the secure and best mobile app development practices we follow.
As one of the fast-growing Nasscom-accredited app development companies, we adhere to the high-quality, industry best practices for mobile application development across various domains.
Get in touch, let's discuss your project
Risk-free, Trusted Mobile App Development Partner
Experienced and Proven

A preferred mobile app development agency for startups, SMBs and enterprises for their app development needs.

Transparent and Dependable

An mobile development firm that startups, SMBs and enterprises rely on for mission-critical app development.

In-budget, On-time

A mobile application development agency that always delivers you app- On time, in-budget.
USA
6565 N MacArthur Blvd, STE 225 Irving, Texas, 75039, United States
FAQs
Why choose Finoit as a mobile application development company over other app development service provider?
With proven experience in mobile app development, our app development agency has succeeded in carving a niche for ourselves for startups and enterprise mobile app development. Some of the reasons why you must consider partnering with us over any other mobile app development company are:
Solution Diversity: We offer a spectrum of mobile app development services which include Android app development, iPhone app development in Hybrid and Native development stacks.
Credible Experience: With more than a decade of experience as one of the best mobile app development company, our 70+ mobile app development engineers have produced hundreds of apps for diverse industry use cases for the past 13 years. With this expertise, we have been able to build a credible reputation amongst startups, SMBs, and large-scale enterprises.
Cost-effective engagement models: Our app building company offers various types of engagement models that offer optimal pricing structure and also deliver quality, which serves as a win-win proposition for both us and our clients.
Leader in tech adoption: We continually upgrade our technology stacks and upskill our mobile app development engineers with the latest technologies to build world-class mobile apps.
The Mindset: Our app development agency's founders are founders of other app products startups themselves and know well what it takes to build successful apps. We use their experience and knowledge while building every app for our customers.
How much does custom mobile app development cost with Finoit?
Could be anything between $10,000- 200,000 or more! Mobile app development cost is a dynamic factor and may depend on multiple factors. The app development process comprises multiple stages and the cost for each may vary depending on scale and complexity.
As an app building company, we first carry out an assessment of requirements and come up with a cost estimate for your project. Here, we consider important factors such as feature and design complexity, functionalities, and resources.
The most critical factor when it comes to controlling the cost when building an app is the planning. More meticulous the planning, better the cost control will be. And that's the reason, as an apps development company, we ensure that we have all the requirements jotted down thoroughly to avoid future negative cost and budgetary implications.
How long does mobile app development take with your mobile development firm?
Generally 4-6 weeks for a small app. If your mobile app is simple, with a couple of functionalities, we may deliver it even in 2-3 months. For more complex apps, it could take anything between 3-6 months considering the end-to-end pipeline of design, development, testing, and delivery.
As a mobile development agency, we commit the timeline to release an app only after a complete analysis of the time that would be consumed by backend and frontend processes.
As a custom app development company, which platform do you recommend for mobile app development?
Which platform to choose for app development generally comes from the use-case, end user, whether it's a business app or consumer app and whether it's an MVP or scaled up app.
We possess strong expertise in various mobile app development platforms like iOS and Android. Also, we have been regularly building cross-platform mobile apps for our clients. Hence, we recommend a mobile app development platform as an app maker company only after fully understanding the requirements of the clients.
Knowing that custom apps call for leveraging diverse tools, we employ a range of technologies to deliver apps that surpass the expectations of our clients.
What kind of apps and features do you have expertise in as an enterprise mobile application development company?
As a mobile development company, we have built 300+ mobile apps for business clients- from various industries, operating across the globe. We specialize in app development real estate, custom app development for field service, fleet management and telematics, BFSI and Fintech and logistics.
We see ourselves as domain experts and not just mobile app development experts. This mindset and approach helps us understand the business process and plan app development differently as an app apps development company.
Does your mobile app development agency support app store deployment and app maintenance?
Deploying an app store and app maintenance is core to our mobile app development services. We deploy Google play store, Amazon App store, GetJar, Aptoide, etc. as our clients require.
With regard to app maintenance, we provide ongoing and on-demand app maintenance services as an app development agency to ensure that apps are running smoothly. Through feedback and app crash monitoring, we continuously monitor the performance of mobile apps. Throughout the app journey, our app design company's experts keep identifying opportunities in UI/UX enhancement so that app users continue to get superb customer experience.