Why Phablet Market Could Anticipate Bright Future?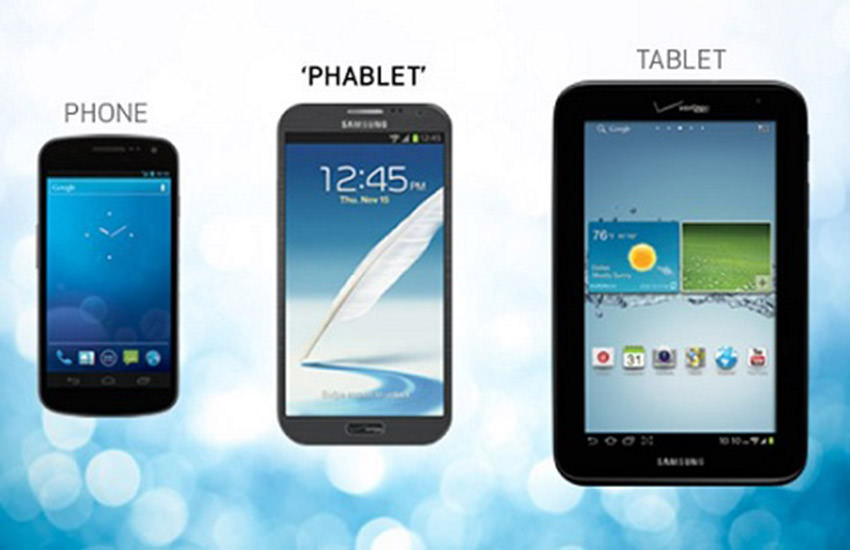 Phablet is a mobile device that has its screen size ranging between 5-7 inches and accompanies the capabilities of cell phones. The phrase through has however not yet been officially accepted globally, but considering its popularity, the gadget has already left a deep impact on the smartphone market. A further insight into this topic would be worthwhile.
The difference
A smartphone offers multiple features such as calling facilities, utilitarian apps, web browsing capabilities, but has smaller screen size (between 3 to 5 inches). Likewise, a tablet owns a touch screen interface, consists of a HD screen (8.9 to 10 inches), high resolution camera, and even stereo speakers in some of them. However it lags behind in the calling feature; even those with SIM can be used only for mobile data and not for calling. Eventually, Phablet answers the shortcomings of the two devices as it combines their best features that include the mobile OS, large screen size for watching videos and photos, calling facility (unlike a tablet), and much more.
The growing popularity
Be it to use it for personal tasks or for business purpose, phablets have become an instant choice for all and sundry. Ever since the maiden launch of Android based Samsung Galaxy Note in 2011, there has been a steep surge in the sales of phablets. While the 2 million units of the initial version of the gadget were sold well within 4 months of its foray into the market, the latest Galaxy Note3 entertained a record sale of 5 million units, in the very first week itself. This popularity has been further topped up by the introduction of advanced phablets time and again from other renowned companies of the likes of Nokia, LG, Sony Xperia and Huawei, HTC, etc. However, Apple has still kept distance from this market so far.
Advantage of Phablets for enterprises and individuals
Phablets combine the communication and connectivity features of smartphone with the large screen of tablets. Indeed, they act as a perfect machine for both the commoners as well as business people as it allows them to:
Make voice and video calls while on the go or in the office.
View content on a bigger area due to high-resolution displays.
Perform daily business tasks such as to prepare presentations, documents, maintain appointments, set reminders for meetings, etc., through the already installed utilitarian apps.
Install important apps through the mobile app store provided as inbuilt facility in the gadget.
Exchange emails, instant messages, text messages, etc.
Secure important business data on the phablet through multiple security checks
The future
Some facts on phablets revealed by authentic survey reports:
Accenture published a report entitled Digital Consumer Tech Survey 2014, which included response from 6000 participants in 6 counties regarding their intentions of buying and using electronic devices. As per the report, of the consumers who plan to purchase a smartphone in the next year, 51% expressed their wish to buy phablet.
Another report by Juniper Research released in January 2014 revealed that the sales of phablets is about to go six times high by 2018. It reported the phablet units to hit 120 million mark by 2018 from 20 million units shipped in 2013. In its findings, Juniper Research considered the screen size at a minimum of 5.6 inches.
Considering these facts, it could well be inferred that the phablets are here to stay for long, along with smartphone and tabs. The big screen they possess has been an enticing factor for consumers as it makes way for a better experience while watching movies, internet surfing, distortion free image viewing, etc. It also enables the users to view and use the apps better.
To summarize, phablets have become a popular affair in the global market owing to their smart features, big screens and utilitarian apps. Moreover, the enthusiasm of manufacturers of the likes of Samsung, LG, HTC, Sony Xperia and Huawei, etc., to come up with brand new avatars of this smartphone-tablet hybrid, would continue to glorify the market of phablets till a long time. It would however be interesting to observe the competitive market if Apple also comes out with its own phablets.
Finoit holds adept experience in developing quality mobile apps that could run perfectly on multiple devices including the in-fashion phablets. We possess a sizable team to develop apps for each of the mobile platforms including Windows Phone, Android, and iOS. To know more about us or to avail our services, feel free to contact us today.
Finoit Technologies is a renowned and respected mobile application development company providing Web and Mobile app development services. We have developed over 450 mobile apps, and have assisted many solopreneurs in their journey of startups by functioning as a tech partner and rolling out their product ideas. For questions/queries, you may write to us at [email protected]
Book a Free consultation
Drop in your details and our analyst will be in touch with you at the earliest.
USA
6565 N MacArthur Blvd, STE 225 Irving, Texas, 75039, United States