FinTech – Is it shaping the future of banking?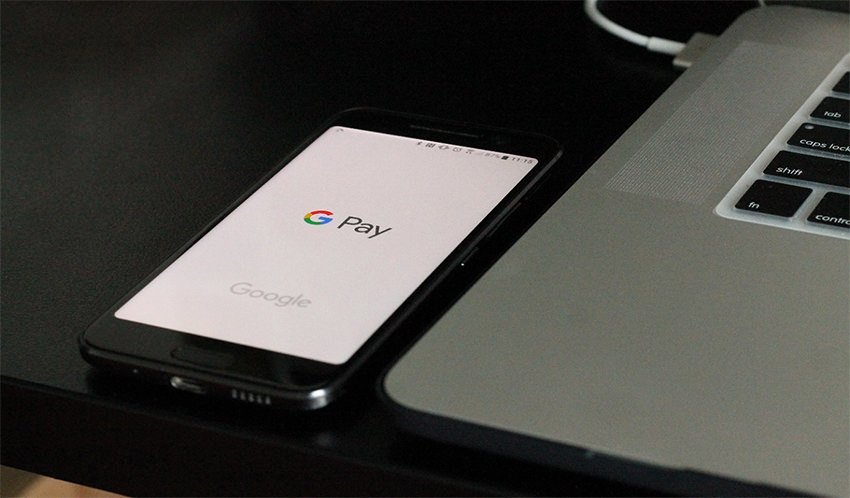 The rise of digitization and technologies like mobile, IoT, AR, VR, Blockchain has revolutionized the global market in each segment. Likewise, FinTech sector is not lagging. As per the current scenario, the FinTech sector is thriving with the rise of digital investment. This clearly is an indicator that soon it will continue to flourish in the coming years.
We all know very well that the digital revolution has transformed the way service providers target the customers and customers now access products and services instantly without any challenge.
On the same lines, digital transformation has evolved the FinTech industry altogether. There had been constant penetration of technology-driven applications in almost every segment of Financial Services. The intersection of finance and technology had led to a phenomenon change that has started to accelerate the pace of change and has reshaped the financial industry's status quo.
What is FinTech?
FinTech is a term for the segment at the juncture of the financial services and digital technology. This basically prompts the use of digital technology that is focused on start-ups and new market entrants pushing to innovate products and services.
Nowadays customers do not go for services being provided by the traditional financial services industry. They seek services that can give them a quick and prompt response based on their query. FinTech is thus gaining significant momentum in the industry and causing disruption to the traditional value chain.
FinTech usually relates to small start-up enterprise that focuses on developing innovative technological solutions such as online banking, mobile payments, big data, alternative finance, and financial management overall.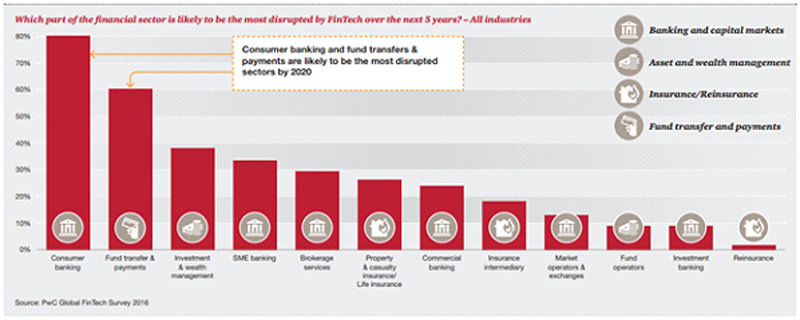 Source: PWC Global FinTech Survey
The FinTech boom is applauded by recent financial services providers since it offers increased efficiency for consumers and lower costs for service providers. The end-result of FinTech push promotes innovation that can easily be accessed by both consumers and retail banking companies.
"Citi projects conducted a study on the expected rise of FinTech industry and found that the FinTech market share will grow to 17 percent by 2023 raising its level of influence considerably."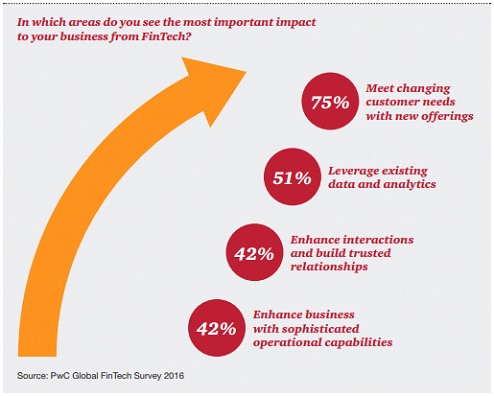 Source: PwC Sweden
Let's understand deeper the aspect of FinTech industry and how it is shaping the future of the banking industry.
Rediscover Customer Service
The banking industry is all about driving higher customer satisfaction and management. FinTech emphasizes on merging digital trends with that of customers' expectation that results in empowering customers digitally. Most of the traditional players are still lunging on outdated customer-oriented solutions, which obviously is not the demand of today's customers.
Related Blog: Key Trends That Will Influence the Banking Industry in 2018 and 2019
FinTech offers 24/7 access to bank customers and offer services that are available via the latest digital channels such as social media, internet, mobility etc. It is estimated that by 2020, social media will become the primary medium to connect, engage, inform and understand customers. It will also be the channel where customers would research and compare banks' offerings.
Smart Solutions
Today, it's all about providing smart solutions to customers. The ever-growing need and no time clause of customers have forced the banking industry to look for solutions that are quick, abrupt, robust and flexible overall.
Having observed the current offerings provided by banks, the industry chose to rely on FinTech solutions to look into urgent and focused need of customers. FinTech solutions have started to develop defined and highly effective solutions for banks that have managed to step into and take over those segments that had been neglected by banks in terms of offerings.
As per the projections by Deloitte, the total investment in the FinTech industry is expected to reach approximately $46B by 2020.
Amplified Reachability
Banks are now focused on increasing the utilization of open development and Software-as-a-Service (SaaS) solutions being offered by FinTech providers. This allows the banks to put efforts to easily integrate and streamline operational capabilities in the banking system and process toward mobile delivery advantage.
The application program interfaces (APIs) enable FinTech to develop value-added solutions and features that can easily be integrated with bank platforms.
Win-Win Partnership
Competition between banks and new entrants in the financial service provider industry paves the way to think of direct collaboration across the FinTech ecosystem.
In such a case, all the parties look for equal profit. The potential opportunities extend from product design and development by the start-ups to distribution and infrastructure capabilities by banks.
The advance implementation of FinTech solutions allows financial service firms look more with a holistic approach to their customers' needs and expectations while developing innovative solutions without losing sight of their core offerings and revenue streams.
Conclusion
From the introduction of FinTech advances, it has continued to shape and build the future of the financial services industries, and companies. It's now a mandate for institutions to plan and invest in emerging technologies that are going to be beneficial for both sector and end users.
FinTech has changed the industry scenario and we can observe one thing that the companies that tend to fulfil the needs of customers digitally are the ones that succeed.
Finoit Technologies is a renowned mobile app development company providing custom software development services and IOT application development services. We have developed over 450 mobile apps, and have assisted many solopreneurs in their journey of startups by functioning as a tech partner and rolling out their product ideas. For questions/queries, you may write to us at [email protected]
Book a Free consultation
Drop in your details and our analyst will be in touch with you at the earliest.
USA
6565 N MacArthur Blvd, STE 225 Irving, Texas, 75039, United States