14 Essential Trends Every Ecommerce Business Must Know in 2023 and Beyond
With 2023 around a corner, businesses have pressure to stay on top of the latest trends to remain competitive. However, not all eCommerce companies are adapting quickly enough. As noted by prominent business leader Jeff Bezos, "In today's era of volatility, there is no other way but to re-invent. The only sustainable advantage you can have over others is agility, that's it."
One of the biggest challenges that eCommerce businesses face is keeping up with the latest technology and consumer preferences. With global eCommerce sales expected to reach $4.9 trillion by 2023, businesses cannot afford to fall behind in this ever-evolving market.
So, what are the latest top ecommerce trends 2023 to watch out for? The rise of social commerce, the growth of mobile commerce, and the increasing importance of sustainability and ethical practices are just a few. But to truly succeed, businesses must not only keep up with these trends but also stay agile and innovative in their approach.
Those who fail to adapt may find themselves struggling to keep up with their competitors and could ultimately risk being left behind. As Bezos noted, "If you're not stubborn, you'll give up on experiments too soon. And if you're not flexible, you'll pound your head against the wall and you won't see a different solution to a problem you're trying to solve."
By following these trends, you can more easily achieve a higher number of sales and create a community of returning customers.
Let's take a look at the top ecommerce trends 2023.
Artificial Intelligence for Personalization
shopping online and having the website or app automatically recommending products that perfectly match your preferences, tastes, and budget. That's the power of AI-powered personalization!
For instance, online clothing retailer Stitch Fix uses AI to personalize clothing recommendations for each customer based on their individual style and preferences. The company's algorithms analyze a customer's previous purchases, feedback, and social media activity to curate a customized selection of clothing options for them.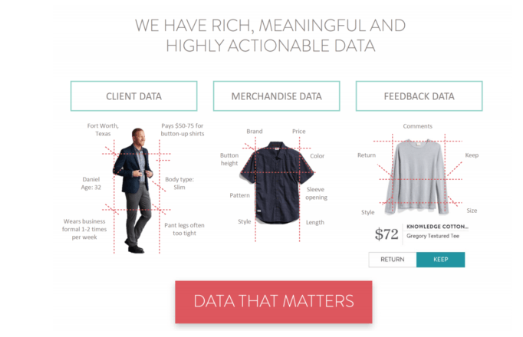 Image source:- harvard.edu
This kind of personalization is highly valued by consumers, with a survey showing that 80% of shoppers are more likely to return to a business that provides a personalized shopping experience. Here are some of the exciting features that businesses can leverage to provide an exceptional shopping experience for their customers:
Advanced algorithms analyze customer data to tailor the shopping experience for each individual.
Tailored recommendations based on browsing and purchase history, search queries, and social media activity.
Enhanced customer experience boosts satisfaction, loyalty, and retention rates.
Cost-effective marketing with targeted campaigns that convert leads into customers.
Increased revenue with personalization encouraging repeat purchases.
The personalization software market is set to grow significantly, with an estimated value of over $5 billion by 2030, driven by businesses using AI to meet the increasing demand for personalized shopping experiences.
Hyper-Mobile eCommerce
As the ecommerce web application development industry is growing, there is a rise in smartphone usage for shopping related queries. The number of people using mobile and handheld devices to browse the internet has significantly increased. In fact, more than half the searches conducted are now coming from mobile and handheld devices.
Read more: Guide to Building Ecommerce Mobile Apps
What does this mean for budding companies? Well, it is necessary to optimize online shops for mobiles keeping in mind the ecommerce trends prevailing currently. Stores that are not optimized for mobile devices can already notice a great drop in sales. Therefore, one of the first things you should do is to get help from an ecommerce mobile app development company to ensure that the buyer's experience is going to be smooth, no matter what device they are using to browse an online shop.
Fractional Ownership & Rentals
Fractional ownership and rentals have transformed the way people think about ownership, providing access to luxurious assets without the need for a significant upfront investment. This innovative business model is rapidly gaining traction in eCommerce, and businesses must keep up with this emerging trend to remain competitive.
According to Richard Branson, "the fastest-growing sector of the private jet industry is fractional ownership." Fractional ownership is not only limited to private jets, but it has also expanded to other assets like yachts and vacation homes, making it accessible to more people.
Businesses need to recognize the potential of fractional ownership and rentals in eCommerce, which is becoming increasingly popular. Companies like Airbnb and Boat setter have successfully implemented this model to provide a unique and personalized experience to their customers.
Social commerce continues to grow and evolve
Brands are increasingly leveraging social commerce to reach and sell to customers in their natural habitat – social media. Consumers are highly reliant on their social feeds for shopping, recommendations, and easy e-commerce purchases. With global sales projected to hit $2.9 trillion by 2026, how can brands afford to ignore social commerce in their e-commerce strategy.
And if we take a live example then Myntra, a fashion and lifestyle e-commerce giant, is an excellent example of how social commerce is changing the game. With over 5 million followers on Instagram, Myntra frequently posts high-quality images of their products and links to purchase them, driving traffic and sales. The platform has become a crucial touchpoint for Myntra's target audience, and they have even launched an influencer program to reach out to their followers.
BOPIS
BOPIS or Buy-online-pickup-in-store emerged as a popular shopping trend during the COVID-19 lockdowns, and it seems like shoppers have become fond of it. By allowing customers to buy online and pick up their items at a physical store location, BOPIS provides a convenient shopping experience.
In fact, BOPIS is projected to be a $703 billion market by 2027, showcasing its growing importance in the retail industry. Big retailers like Target have already invested in flexible fulfillment options such as ship-to-store, ship-from-store, and BOPIS for over seven years, and it has paid off in terms of customer loyalty and sales.
As consumers look for ways to continue buying their favorite products while managing tight budgets, BOPIS is likely to become even more crucial in 2023.
Augmented reality and Metaverse
As ecommerce evolves, video and augmented reality have emerged as game-changers. Demo videos enhance product understanding, while AR lets shoppers visualize products in 3D. And now, the Metaverse takes things a step further, blending physical and virtual realities to create an interactive environment for shopping, gaming, and more.
With consumers engaging nearly 50% more with 3D images than static ones, brands are eager to explore the potential of the metaverse. E-marketer predicts fashion, beauty, and home goods will lead the way in retail metaverse use cases. For example take a look at Ikea Place, an AR app that enables users to place virtual furniture in their homes to see how it looks before making a purchase.

The future of shopping is here, and it's all about creating immersive experiences that bridge the gap between the physical and digital worlds.
UGC: User-generated content
In the world of e-commerce trends, trust is everything. Consumers want to feel confident in their purchases, and nothing builds confidence like authentic user-generated content (UGC). UGC is any content about a brand that's created by its users, rather than the brand itself, and it's quickly become a powerful content marketing tool, especially in the era of virtual shopping.
Why is UGC so effective? Because consumers trust it more than branded content. Reviews, photos, and videos from real customers provide social proof that builds credibility and makes brands more relatable. And in a time when engagement and trust are more important than ever, UGC is quickly becoming a must-have for online retailers.
Payment options
Every customer should have a choice on their hands when it is about paying for the shopping to any online store. Supporting one or two payment options is not enough when you are going to compete with others.
Limited payment options on any ecommerce website only brings less revenue and dissatisfies the customers. Therefore, from the moment you set up your online store, it is essential that you support all the online payment options over your ecommerce website. This will aid in increasing the sales, as more people will find it easier to make a purchase from you.
If possible, allow exchange of goods and services with cryptocurrencies. This ecommerce trend is yet to charm the users as this virtual currency i.e. cryptocurrency is likely to bloom this year. And this can offer added benefits to you. It might be a good idea to start accepting cryptocurrencies in exchange for your merchandise.
Fast and free delivery options
Big companies such as Amazon have set new standards when it comes to offering incredibly fast shipping. Even though many ecommerce web development companies might not be able to deliver that speed, they can always focus on giving the best they have got.
Make sure that your ordering flow is quick, making it possible for you to dispatch all the items as soon as customers purchase a deal. Taking this step will allow you to work with a community of satisfied clients, who will be expecting quality service in all departments.
Live chat implementation
There are countless people who get lost in the checkout process or have an additional question to ask. The implementation of live chat software will help you deal with such customers directly, allowing you to improve conversion rates significantly.
Simply make the live chat accessible in the checkout process, and the customers will contact you if needed. This is a great opportunity for innovative mobile application development services to enhance their offerings and help businesses increase their conversion rates. Plus, you are giving a chance to customers to reach out to you in a completely new way.
80/20 Customer Segmentation
80/20 customer segmentation is among the popular e-commerce trends used by e-commerce businesses to identify their most profitable customers and focus their marketing efforts on them. This principle is based on the Pareto principle, which states that 80% of your revenue comes from 20% of your customers. By focusing on this valuable segment of customers, e-commerce businesses can improve their overall profitability and reduce their marketing costs.
An excellent example of this is Amazon's Prime membership program, which offers exclusive perks to members, such as free shipping, access to streaming services, and more. According to a survey, Prime members spend an average of $1,400 per year, compared to $600 per year for non-Prime members. By catering to these high-value customers, Amazon has been able to grow its revenue and profitability significantly.
Also by identifying and catering to their most growing e-commerce technology trend businesses can improve their profitability and growth potential.
Conversion rate optimization
As an eCommerce business owner, one of your top priorities is converting website visitors into loyal customers. To achieve this, applying conversion rate optimization (CRO) is crucial. The future of CRO is centered around the customer, with a focus on creating the best possible user experience. This means strategizing eCommerce development and optimizing every touchpoint, including landing pages.
Did you know that websites with over 30 landing pages yield seven times more leads? And, by conducting website usability testing, such as A/B testing, you can measure the performance of your CRO strategy. Already, 60% of companies use A/B testing, with 34% planning to implement the method.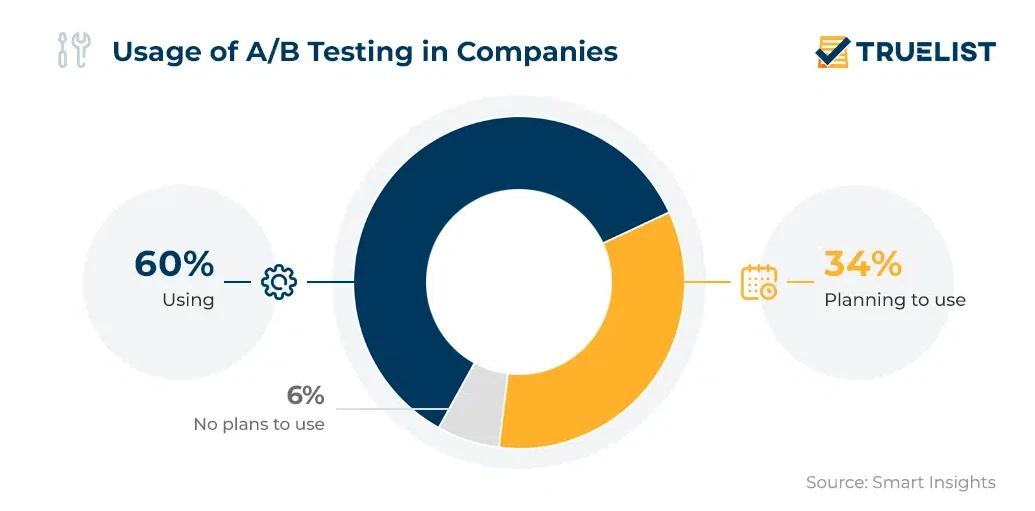 Image source:- truelist.co
The CRO software market is growing at a CAGR of 11.6%, with an average ROI of over 223%. So, integrating a CRO tool into your eCommerce site is a smart move for the future of your business.
Voice and virtual searches
With the rise of AI, the world of eCommerce is becoming more interactive and customer-centric. Innovative technology such as visual and voice search is transforming the way consumers shop online.
AI-powered site search systems utilize machine learning and natural language processing to decipher the intent behind a customer's search query and offer personalized results.
Visual search, in particular, is gaining popularity among shoppers. By allowing customers to conduct searches using images, it offers a more intuitive and efficient shopping experience. According to market research, visual search is predicted to grow at a CAGR of 17.5%, reaching a market value of over $32 million by 2028.
To capitalize on these trends, businesses can invest in efficient android app development services to create visually appealing and user- friendly mobile ecommerce application that incorporate AI-powered visual search technology.
One company that is successfully incorporating visual search technology into its eCommerce platform is Pinterest.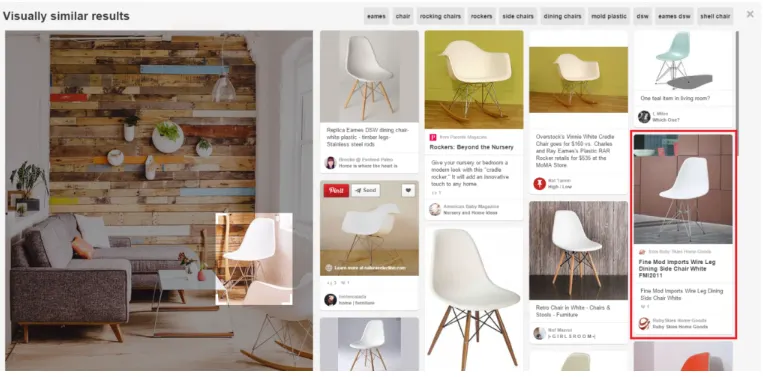 Image:- seerinteractive.com
By using high-quality product images, Pinterest's Lens feature allows users to snap a photo or upload an image and find similar products available for purchase. This innovative feature has helped Pinterest increase its user engagement and boost sales for partnering retailers.
Zero-Party Data
Data privacy is critical in today's digital landscape, with 86% of consumers caring about how their data is used. To stay ahead of policy changes, businesses must collect zero-party data directly from customers through quizzes, polls, or registration. This approach offers a more engaging customer experience while providing valuable insights.
It's important to balance the amount of information collected to avoid overwhelming customers. Staying updated on technical developments, such as Google's recent algorithm update, is also essential for a better page experience and improved search engine rankings. By prioritizing data privacy and collecting zero-party data, businesses can build trust and long-lasting customer relationships.
In the conclusion
As we look ahead to the future of ecommerce in 2023, it's clear that several transformative trends are poised to shape the industry. Mobile commerce will continue to rise, with consumers increasingly trying to follow online shopping trends. Personalized shopping experiences will also become more common, as businesses use data and AI to tailor their offerings to individual customers.
Social commerce will also continue to grow, with social media platforms becoming even more integrated with ecommerce. And with the rise of AI and AR, shoppers will be able to enjoy more immersive and personalized online shopping experiences than ever before.
To stay ahead of the curve in this rapidly changing industry, businesses must be willing to adapt and embrace these trends. That's where Finoit comes in. As a leading provider of ecommerce development services, Finoit can help businesses create compelling shopping experiences that leverage the latest technologies and trends. Connect with our development expert in AI, AR, mobile app development, and more, we can help you stay ahead of the competition and thrive in the dynamic world of ecommerce.
Frequently Asked Questions
How can hyper-personalization benefit eCommerce businesses?
Hyper-personalization leverages customer data like search history, past purchases, social media activity, and preferences and allows eCommerce businesses to provide a tailored shopping experience. This leads to increased customer satisfaction and sales.
What are some emerging payment options in eCommerce?
Some of the emerging payment options in eCommerce include digital wallets, cryptocurrencies, and buy-now-pay-later services. Having multiple payment options helps eCommerce businesses overcome the issue of cart abandonment by giving customers the choice and flexibility to pay the way they prefer.
What is voice commerce, and how does it impact the eCommerce industry?
Voice commerce is a type of conversational commerce technology that uses voice-enabled devices and natural language to interact with customers and facilitate online shopping. It provides the customer with a faster, hands-free, and more convenient shopping experience.
Book a Free consultation
Drop in your details and our analyst will be in touch with you at the earliest.
USA
6565 N MacArthur Blvd, STE 225 Irving, Texas, 75039, United States