On the Road to Digital Transformation—Journey Not The Destination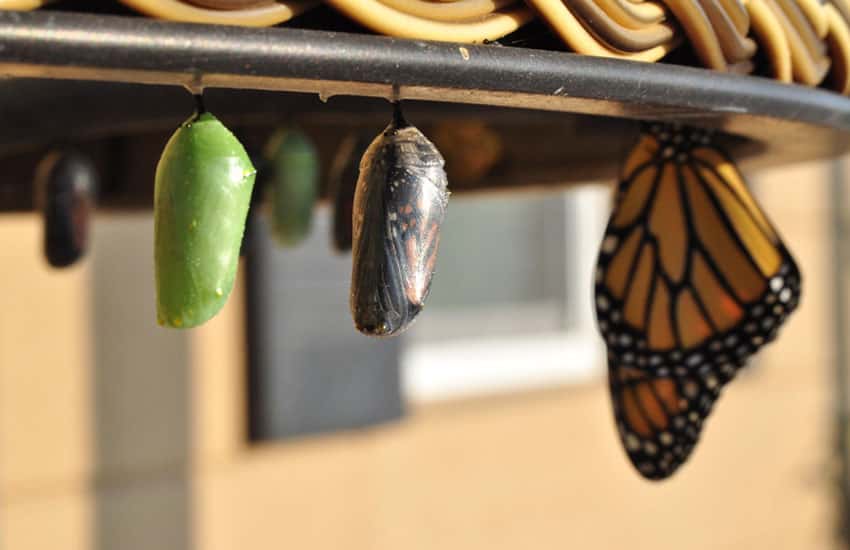 Many organizations often segregate the digital from "digital transformation" and associate it with tools and technologies, while ignoring the "transformation" either simply as a suffix or consider it in context with technology.
If you are one of those organizations, this could prove to be a very costly mistake. As per Statista, the spending on global digital transformation is expected to reach 3.4 trillion USD. If we look at Mckinsey's study, 70% of digital transformation projects fail. So, while there is an urgency to transform, there's still a need to cautiously walk on the path to transform.
According to Don Scheibenreif, Vice President—Distinguished Analyst, Gartner, the biggest mistake organizations make when it comes to digital transformation is "not being clear on what they mean by digital transformation". He elaborates that using technology to "create a new business model or new public services that otherwise could not exist without those technologies" is a digital transformation in its true sense.
Where to Begin
Organizations have to understand that transformation is an ongoing process; it doesn't have any specific destination, rather only milestones, and as the late famed tennis player Arthur Ashe, once said, "Success is a journey, not the destination."
But before you begin this journey, we recommend that you have your digital transformation framework with milestones set, one that has been designed specific to your business goals and processes.
Below are the key milestones of a digital transformation framework.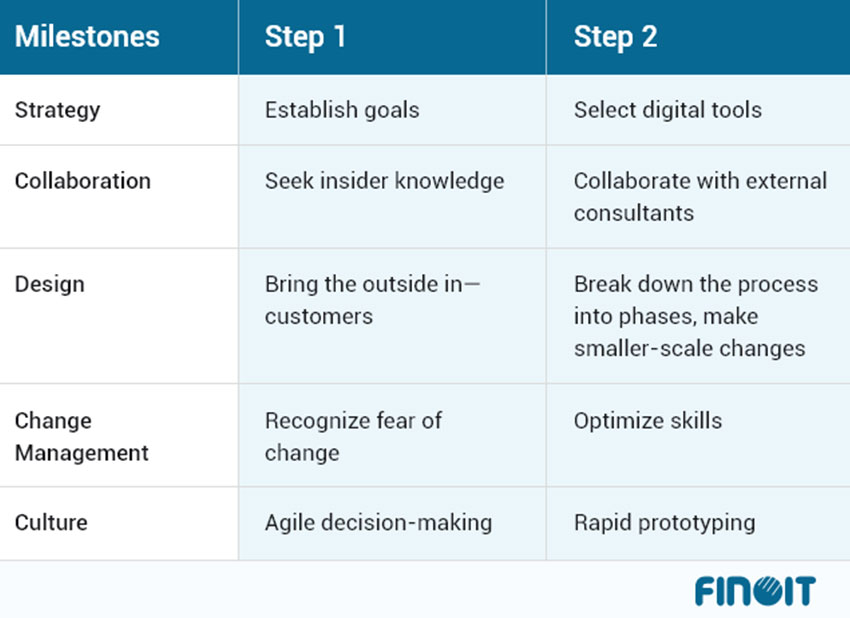 Create Digital Transformation Strategy
Digital transformation journey begins with the creation of a robust digital transformation strategy. This requires strong commitment from senior leadership. CEOs must be very confident about their vision of the organization and become digital-enthusiasts.
According to Andrew Brem, a senior management professional, CEOs must be "single-minded and aggressive" about digital transformation initiatives. He says that "It needs to be provocative, disruptive, ambitious, and often uncomfortable sponsorship to be successful."
Thus, building a robust digital transformation strategy, you need an acumen of a strong leader. Begin by identifying problems and then go on to set the goals.
Setting Goals
In an article, A Roadmap for Digital Transformation, published by McKinsey, three benefits of setting goals have been discussed, which are:
It predicts what digital technology can help achieve
"setting clear targets at the outset prevents back-sliding when the going gets tough"
"it imposes discipline on the process"
Setting goals is the first step to digital transformation strategy, and is highly decisive to the success of the project. Also, based on the goals, decision-makers actually decide the investment they would be needing to complete the digital transformation project successfully.
Align Your Goals with Digital Tools & Technology
As discussed by Don Scheibenreif, you should pick your digital transformation technologies and tools according to the business model and not vice versa. It is possible that a trending technology may not suit your business model, or there are no such immediate requirements of using the specific technology in your digital transformation framework.
Here are the 5 questions you must ask before selecting tool & technologies:
How will the use of the specific digital transformation technologies affect, augment, or redefine the business model?
What will be the role of the team with regard to technology?
How will technology empower customers to take control of their purchase decision?
How will the technology improve the customer experience and integrate with a 21st century mindset?
How will digital transformation technology combat unforeseen challenges?
When you get answers to these questions in positive for a specific technology, you can use it as an instrument to cover your digital transformation journey.
You can see that all these questions are with regard to people and processes, which is the true essence of digital transformation.
Collaboration & Design
Technology affects people's behavior, and that is why new processes are required to comply with the change of behavior—including demand for speed, non-stop connectivity, convenience, and contextualization.
When selecting a digital technology for creating new processes, you will ultimately have to deal with people, as they are the one who follow processes. These people are your employees and customers.
And it is from these people, you will experience the conscious or unconscious resistance. To combat these resistances, you need to work on all the pillars of digital transformation.
Here are the 4 key pillars that you have to effectively analyze from multiple perspectives, as shown in the image: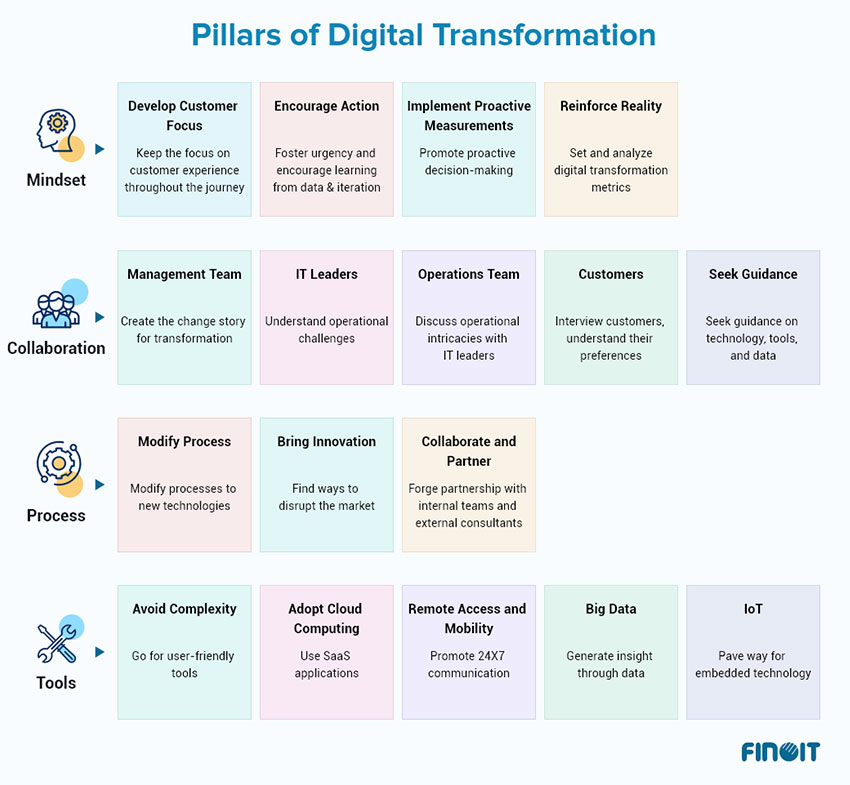 You have to make your digital transformation journey keeping in mind these four pillars of digital transformation project success. While being on the road to transformation, the biggest roadblock you will find is the mindset:
"We have always done it that way"
Being a business leader, you have to consider the opinion of one and all—IT leaders, investors, operations managers, and customers. The one conversation that you have to avoid (or maybe consider with great care) is to a fixed way of doing a task.
We believe, in digital transformation, creating a mindset is much tougher than selecting tools. As when it comes to selecting digital tools and technologies for your business model, you can get a lot of help from digital transformation consulting company that you have partnered with, but the mindset is totally a different ball game, which need courage, strategy and collaboration to master.
Change Management & Culture
If you implement the digital transformation framework effectively, you will be able to create an agile culture within your organization that would speed up the decision-making process and enable you to engage in rapid prototyping so that you can quickly deploy a new solution.
But everyone in your organization will not be able to fit in the new culture. It is possible that your employees start fearing innovation and show resistance. To avoid this scenario, it is crucial that you recognize their fear and provide them regular training to optimize skills.
With time, every technology you implement and the culture you create, will become obsolete. A new technology will disrupt the market and then again, a requirement will emerge to implement the technology.
Digital transformation can help you to break the cycle by alerting you before a technology disrupts a market. It will help you connect with your customers quickly and identify the change in their behaviour in advance and enable you to read the impact of change on your business.
Book a Free consultation
Drop in your details and our analyst will be in touch with you at the earliest.
USA
6565 N MacArthur Blvd, STE 225 Irving, Texas, 75039, United States