Digital Supply Chain in Industry 4.0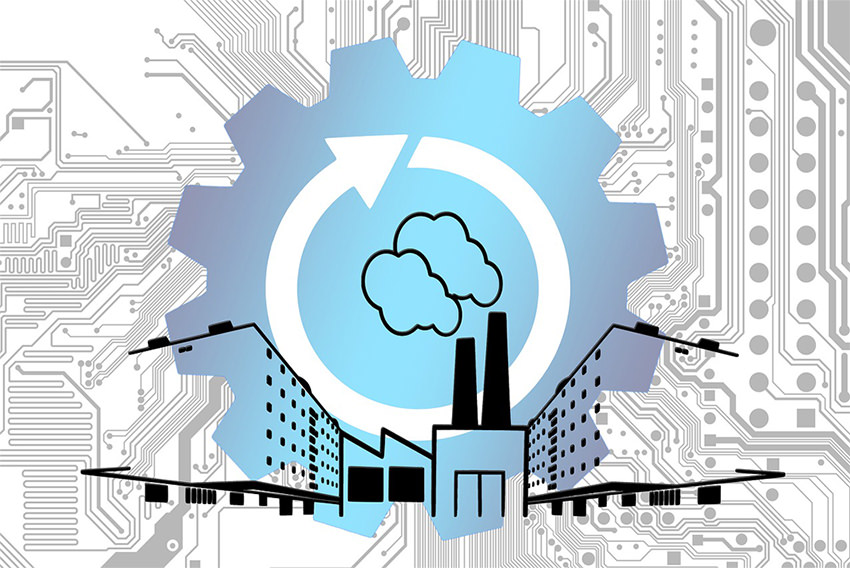 Disruptive revolutions are changing the landscape of many industries and their business models. Because of an increased introduction of digitalized processes and an impressive growth of data and analytics, manufacturing supply chains have been significantly impacted by the fourth industrial revolution.
Industry 4.0 is the term coined for the fourth industrial revolution. However, this revolution was technologically very advanced and different from the previous ones. Industry 4.0 is about more than just the smart factory enablement or the implementation of technologies. A new paradigm shift enabled the introduction of various technologies in the supply chain market – the Internet of Things (IoT) into the production and manufacturing environment. This majorly emphasizes the global networks of machines in smart factories capable of swapping information and controlling each other. This cyber-physical system allows the smart factory to operate autonomously.
For instance, a machine will automatically know the manufacturing process that needs to be applied to a product, along with the type of variation to be made to that product, etc., so that the product is uniquely identified from the rest. The major impact of Industry 4.0 stands when there is a transparent collaboration between all stakeholders in a supply chain, including suppliers, manufacturers, and customers.
Knowing what is Supply Chain Management (SCM)
Supply chain management is a series of processes that starts with steps taken through marketing, product development, manufacturing, and distribution, and finally into the hands of the customer. The process is long and thus there are vast chances of missing out on details that may count as crucial to the production. With the help of digitization, the picture comes clear, and the chain becomes an integrated ecosystem that is fully transparent to all the players involved — from the suppliers of raw materials, components to the transporters of supplies and finished goods, and finally to the customers demanding fulfillment as per demand.
Supply Chain Management in Industry 4.0
With the dawn of the digital supply chain, a transparent visibility is encouraged for the needs and the challenges in the process. Supply and demand in an integrated part of the market. Whenever a demand is made, the market fulfills those demands through effective supplies as and when needed. If at any point supply is not met by the demands of customers, signals originate at any point and start moving immediately throughout the network to keep the situation communicative anywhere across the world.
With digitization, low levels of a precarious raw material, the shutdown of a major plant, a sudden increase/decrease in customer demand — all such information will be visible throughout the system day and night, in real time. Such is the power of digitization in SCM, where advanced information and forecasting can let market players and consumers plan with accuracy.
"According to a recent study by
Pricewaterhouse Coopers (PwC)
on the rise of Industry 4.0, a third of companies surveyed have already started to digitize their supply chains and 72% of respondents that hadn't expected to do so in the next five years. Crucially, companies with highly digitized supply chains and operations can expect annual efficiency gains of 4.1%, while boosting revenue by 2.6% a year."
Role of Industry 4.0 in Supply Chain Management:
Since the beginning, manufacturing supply chains have continued to witness transformation, with Industry 4.0 being the latest in the series of innovations. Let's understand how Industry 4.0 brings in phenomenal changes to supply chain management.
Transparent and productive ecosystem
A typical supply chain has numerous suppliers feeding into the supply chain ecosystem, which automatically makes it fundamental to transparency. A lack of clarity of information could shallow the links and relationships and affect the efficiency of the process.
Complete transparency enables businesses to not only respond to problems in real time but also to anticipate them and react to them ahead of time.
The market today survives on the proactive response so that businesses can always stay ahead of the competition, forecast any potential challenges, safeguard manufacturing processes as per the prevailing condition. Digitization can enable businesses to respond to customer's demands more effectively and quickly as and when needed by the demand generators.
Time player
The major role of the digital supply chain is to open multiple possible networks and provide visibility to every stakeholder. This helps businesses to respond in real time which ultimately improves the experience for both manufacturers and customers. Supply chain processes are extremely intricate and multi-faceted thus making digitization tough with every step.
While different manufacturing companies are already implementing the digital supply chain at varying speeds, levels, and phases, manufacturers who plan to compete on a global scale and secure the longevity of their business shall start implementing the digital at the earliest.
Agile system
With the installation of digitized and a smartly integrated supply chain network, companies are now able to respond to customer demands more effectively, efficiently and instantly on a real-time basis. This has ultimately impacted and improved productivity. Remaining in constant touch with consumers across the globe requires supply chains to rely on effective and streamlined implementation of real-time customer analytics. Digitized supply chain helps achieve in meeting customers needs by reducing machine downtime and improving efficiency, while reducing overall losses.
For example, A few years ago, Essentra Components had 300 machines producing 1.5 million moldings a day at the Kidlington site. Today, there are 120 machines producing 3.7 million components a day. The company leveraged the S099 demand planning platform to streamline its inventory replenishment and planning. It assisted them in devising an aggregated global demand plan for all vendors, providing transparency across the entire business. The result was it improved response to the customer and ultimately helped establish a more efficient and dynamic manufacturing footprint.
Technological advancement
Industry 4.0 allows space for technological advances in the traditional supply chain management process to cope with the disruptive changes in the market. The use of advanced analytics to enter the system to use data to its fullest potential proves that no industry can survive in this era if it has not moved towards the digital change.
Advanced technologies like IoT, Artificial Intelligence, Robotics provide flexibility, transparency, and visibility to respond to changes in planned production. Considering the transformation that these technologies bring, searching for a professional IoT development company has become a priority for manufacturers. Partnership is a proven way to maintain delivery timetables and continued movement of component parts throughout the value chain. Industry 4.0 provides automated technologies to various processes that speeds up and eases the path of segments like job scheduling and management, inventory management, warehouse, and transportation strategy across the entire network.
With digitization being introduced in Supply Chain Management, the process has become:
Faster: Industry 4.0 in the supply chain process has evolved various new approaches to product distribution. This would reduce the delivery time, manage inventories without any loss in the process. Digitization has enabled the use of advanced forecasting approaches, such as predictive analytics of internal data (e.g., demand) and external data (e.g., market trends etc.), to make sure the consumers are supported with their demands that are fulfilled before time.
Example: In Amazon, products are shipped before the customer places an order. The customer order is later matched with a shipment that is already in the logistics network, and the shipment is rerouted to the exact customer destination.
Supple: Digitized Supply Chain process manages real-time planning that allows companies to respond flexibly and be durable to changes in demand or supply, minimizing planning cycles accordingly. Due to such sudden changes in demand, planning becomes a continuous process that can react dynamically to changing requirements or constraints.
Drilled down: The time demands customization as per individual's need. With customers looking for more and more individualization in the products they buy, Industry 4.0 in supply chain allows companies to manage demand at a much coarser level. This is through techniques such as micro-segmentation, niche market description, mass customization, and more appropriate scheduling process.
Efficient: Gone are the days when it was only a physical effort to bring down products to end consumers. With digitization, there is automation of both physical tasks and technology involvement that boosts supply-chain efficiency. Technologies like Robotics, AI, Machine advances are efficient in material handling, automating the process of receiving/unloading, to picking, packing, and even shipping of end products. Even transport has been upgraded with an autonomous transportation system for timely and non-failure delivery.
Conclusion
There are three key main enablers of transformation in the digital supply chain: a clear strategy, new competencies, and an advanced environment. Digital supply chains start with an understanding of the current operation's digital waste. It's important to encapsulate the technological advances, as remaining technological backward can lead to a failed road.
Capabilities regarding digitization then need to be created with planning. The final requirement is the implementation of an advanced technological approach. This combines the advances that lead to a digitally equipped innovative environment ready to penetrate any segment in and out – All for the end consumers.
To craft an IoT implementation roadmap for your manufacturing business, connect with us. Finoit Technologies is a renowned IT solutions provider, offering mobile app development services, custom software development services and IOT application development services. We have developed over 500 mobile apps, and have assisted many solopreneurs in their journey of startups by functioning as a tech partner and rolling out their product ideas. For questions/queries, you may write to us at [email protected]
Book a Free consultation
Drop in your details and our analyst will be in touch with you at the earliest.
USA
6565 N MacArthur Blvd, STE 225 Irving, Texas, 75039, United States