Is Hiring an Offshore Software Development Team Really Worth the Investment?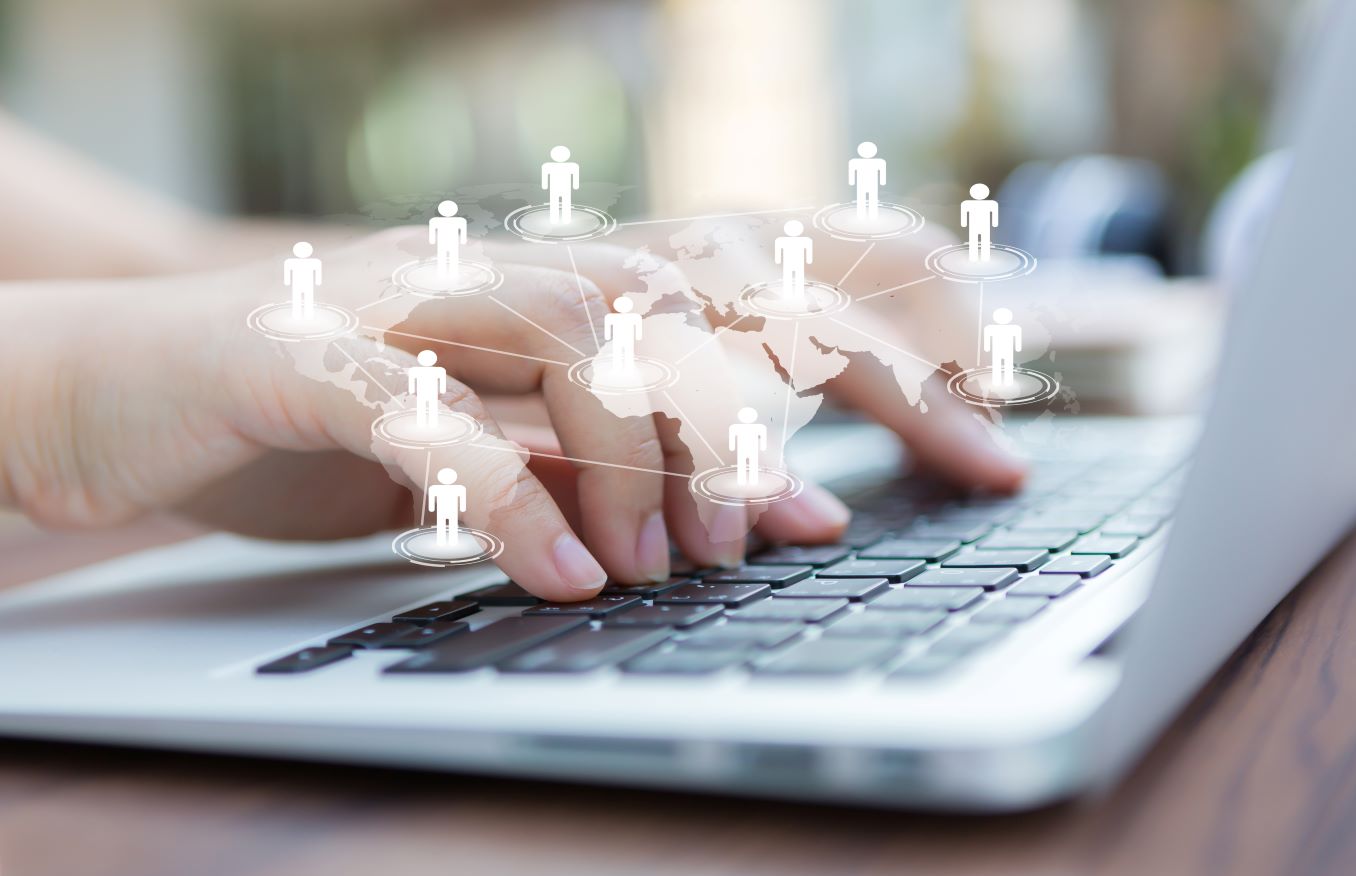 Commencing a software development project by hiring local developers appears to be a fantastic idea initially. After all, who wouldn't want everyone working together? Discussions are more effective, keeping track of several projects is easier, and problem-solving is quicker.
However, most of us are well aware of the challenges associated with hiring local development teams. It's expensive, the competition is fierce, especially for small businesses, and the truth is that there aren't always enough highly competent developers. The great news is that partnering with locals was never the only option.
" People always underestimate the impact of technology. To give you an example: In the 1970s the frontier for offshore development was 200 meters, today it is 4,000 meters" were the wise words of Daniel Yergin, an American author.
So, if you do not have a team of competent developers on board, then leveraging offshore development teams might be your best bet. As per the recent report from Report Linker the global IT outsourcing market was valued at USD 526.6 billion in 2021 and is predicted to reach USD 682.3 billion by 2027, growing at a CAGR of 4.13% between 2022 and 2027. More and more businesses are turning to offshore as the best solution to get elite IT talent.
Let's explore how an offshore team for software development benefits your organization.
Prospective perks of having an offshore team for software development
Without a question, collaborating with offshore teams is becoming a popular choice for organizations all over the world. This is due to the increasing need for technical skills in the competitive market. The reason is simple – there are multiple benefits that come along the way when you hire offshore development team.
Global technology exposure in the economic budget
Want to build software at a minimum budget? Joining hands with an offshore development team is then a must-try option for you. Keep in mind that payroll is only a minor fraction of the overall cost. Workplace, equipment, daily comforts, and other employee perks can all add up. Having a full-fledged in-house team becomes prohibitively expensive as a result.
This is not the case with offshore teams because it is significantly less expensive to have a dedicated development team in another country. According to Stanford University's Research, establishing an offshore development team allows organizations to save more than 30% of the total expenditures involved.
Therefore using offshore agile development, clients can get a better idea of the expected cost and reduce it significantly.
Professional experience at your fingertips
Henry Ford, an American industrialist and business magnate once said "If there is a thing that we cannot do more efficiently, cheaper or better than a competition, there is no point in doing it further – we should hire the one who does it better than we do.
With an overwhelming growth in advanced technology such as blockchain, AI, IoT, and so on, businesses are constantly on the lookout for a team of software developers who can bring in experience and expertise to deliver emerging technologies.
This is when the business owners' primary focus shifts to the offshore development team. A business that chooses to hire an offshore development team gains specialized talent while only paying for their expertise.
Growth that is always sustainable
Many businesses and startups do not closely monitor or follow every phase of the development process. There are two major reasons for this; Inadequate abilities or lack of specific goals. Failure to gauge software success can be fatal for a business. In such cases, most businesses hire offshore developers and delegate them the core responsibilities.
Research by Verified Market Research on offshore software development highlights the importance of offshore development teams. As per its findings the offshore software development market was valued at USD 122,257.5 Million in 2021 and now expected to reach USD 283,457.5 Million by 2030, with an increasing CAGR of 10.13% between 2022 and 2030. This growth is due to more and more businesses preferring to have offshore development teams.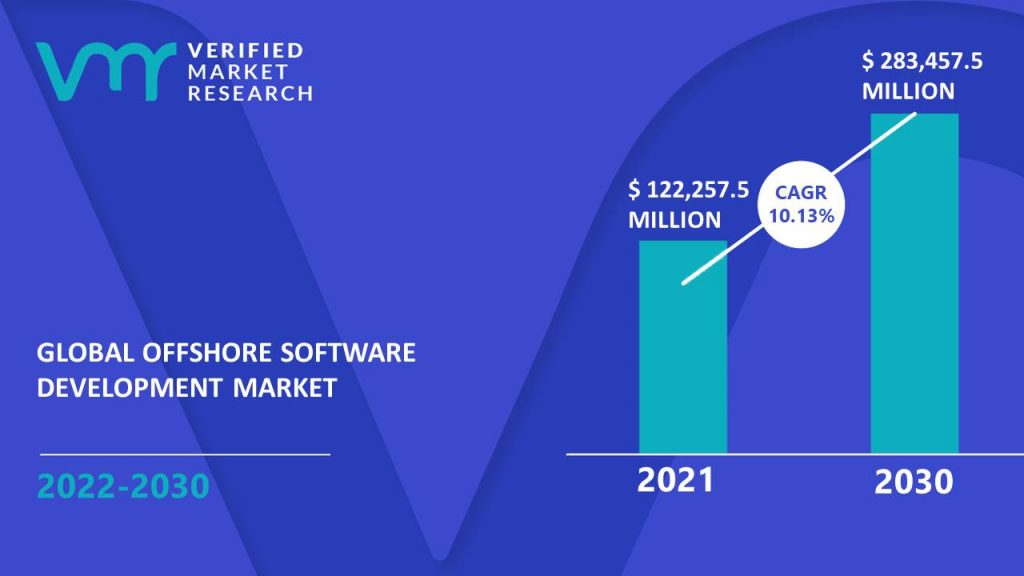 (Img Src: verifiedmarketresearch.com)
Consistent productivity levels
With in-house teams, maintaining consistency levels is a big challenge. However, when you find the best offshore development company and get an offshore team, maintaining consistency no more remains a challenge. A good offshore team empathizes with the client's problem and understands the requirements at each stage. This is one of the greatest benefits of offshore software development teams.
Various technical and non-technical considerations play an important role in ensuring consistency across the project lifecycle. For instance, a development team needs to
Produce a certain quantity of code
Follow a particular code style and technical conventions
Automate repetitive tasks to save time
Optimize designs
Promote code reusability
Promptly leverage version control
Backed with their extensive experience and exposure to diverse projects, offshore teams are adept addressing these niceties. As a result, they can successfully maintain productivity and performance consistency throughout the project lifecycle.
Making more room for new opportunities
When you want to build a software product which needs emerging technologies, finding skilled resources is a big challenge. As against this, offshore development team is a combination of professionals with required skill sets. Finally, you have chosen the team only because the members have expertise in cutting-edge technologies.
For example, In 2013, IKEA announced a collaborative offshore outsourcing initiative. It chose to work with an offshore development team to put up IT solutions for all cash settlement units in all of its outlets. During 2014-2015, the team installed 12 thousand POS systems in 300 IKEA stores across 25 countries. With the support of an offshore team, IKEA not only decreased the amount of work required to run the stores, but also considerably reduced implementation expenses.
Additionally, the beauty of offshore teams is that they provide access to established software development processes, documentation, and quality assurance practices.
Risks are diversified
Software development involves a certain degree of risk, which can arise from a variety of factors. Here, we look at some of the most common risks and how having an offshore development team offers the solution.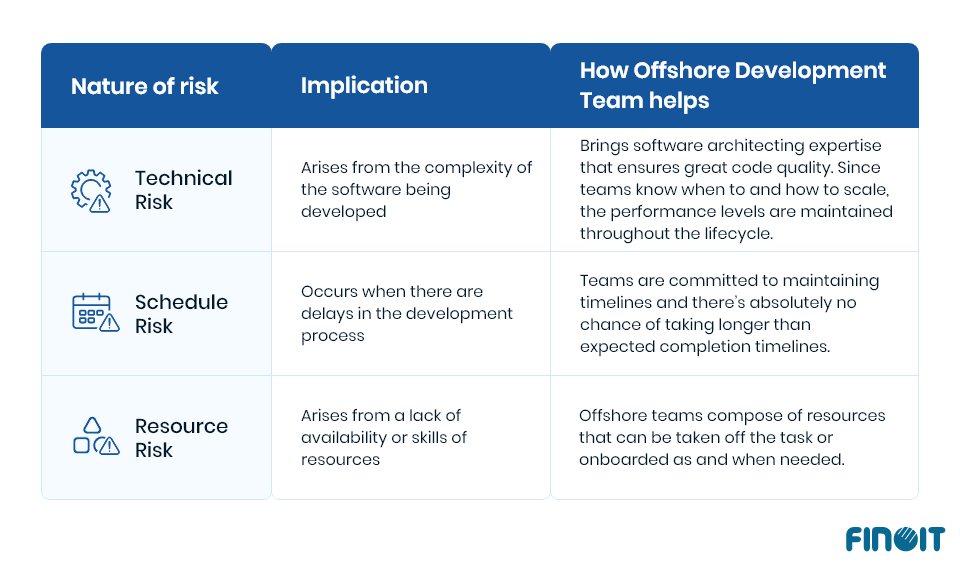 Offload all your recruitment task
Offshoring can indeed be a solution for companies that are facing challenges in recruiting and staffing for their software development needs. With offshore teams, companies benefit from the expertise and specialized skills of professionals who may not be available locally. This can be particularly beneficial for companies that require highly specialized skills, such as for IoT application development, blockchain or artificial intelligence or machine learning-based application development.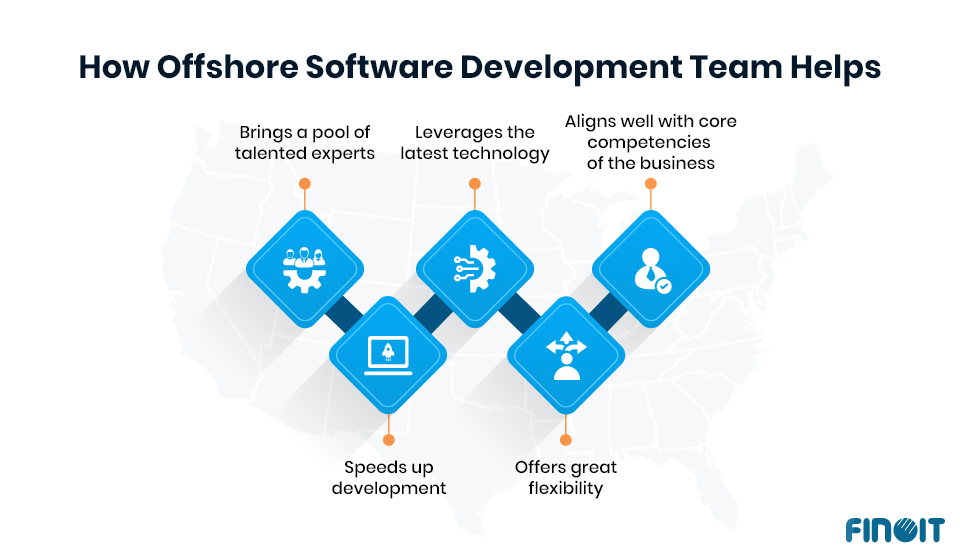 Crank up your Speed
When you open gates of business to offshore teams, it unlocks new ways to scale your business by helping you save costs to be spent on in-house teams in the long run. Your organization will always have a dedicated development team to help you realize what technologies you should invest in, how to stay competitive, and how to improve your marketing and engagement strategies.
Among the examples of offshore enterprises is BigCommerce's thriving experience. It is an IT product company that offers innovative e-commerce solutions.. They wanted to grow, but there was a scarcity of skilled IT engineers in the United States. They decided to have an offshore development team to meet their software development needs. Just in one month they settled in their new office and within six months they had a team of 30 developers. This would have been not easy without choosing to have an offshore team.
Readily embrace time zone differences
Working with offshore software development teams can be advantageous due to the time zone differences between Western and Eastern countries. Many Western countries outsource their development needs to companies in the East, where the time difference can be as much as 10-12 hours.
The overlap between the organizations can be beneficial. If a US-based organization needs an urgent software development upgrade, it can have a team based in the Eastern time zone. Due to the time difference, teams can work on the project while the US organization is closed for the day. The upgrade will be ready when the US organization resumes work the next day.
Regulate burn rate
Money is the fuel for a tech startup. When you run out, you may find yourself trapped in the middle of nowhere with no way of surviving.
According to CBInsights, running out of cash is one of the most common reasons why startups fail. For example, Kite, an AI-assisted coding company, announced its closure in November 2022.. The startup, founded in 2014, was focused on using AI to assist developers in writing code and raised $21 million in investment.
However, a detailed account of the startup's downfall indicated two significant problems that hampered its success: the business entered the market too soon and realized that its product would not monetize. In other words, engineering managers were not obligated to purchase a solution that could assist engineers enhance their code-writing pace by 18%.
Offshoring software development expertise can assist you in enhancing the amount of control you have over your burn rate in several crucial ways. For instance, as a startup, you will be benefited as offshore software development team would
Save the expenses on training.
Help in more effective planning.
Enhance development efficiency.
Well-defined project ownership and well-thought-out approach
Shared ownership of project success can offer several benefits with offshoring software development, including greater alignment, increased accountability, improved performance, and improved communication. By fostering a culture of shared ownership, companies can improve the quality, efficiency, and timeliness of their software development projects.
Hiring a development team provides several benefits, including the ability to free up time and focus on other essential aspects of your business. For example, software development requires significant attention and is often a time-consuming process. When business owners choose to outsource their software development to an offshore team, it allows them to divert their attention to other core business functions.
Keep your competition at bay
Having offshore development teams opens up new avenues for scaling your firm and keeping your competition at bay. One of the top advantages of Offshore Software Development is providing organisations with access to a worldwide talent pool, which can help level the playing field with competitors in terms of acquiring top tech talent and staying current with market trends.
Let's look at a real-world case: prior to the introduction of WhatsApp in 2009, the company outsourced its software development from Eastern Europe.. WhatsApp relied on offshore expertise to handle the backstage, design solutions, and core app development, while their in-house engineers focused on client-related responsibilities like customer service. With the assistance of an offshore team, the messaging app quickly rose to the top of the AppStore and Google Play.
So, with offshore development teams at their disposal, businesses can have a wider pool of competent developers and engineers. This makes them enormously capable of delivering high-quality software solutions.
Final Thoughts
Hiring an offshore development team does more than optimizing your cost. Having a specialised offshore team assists in understanding the product without having to describe it in detail because the blueprint of your idea can help it realise what kind of product you require.
Various global industries have been considering hiring an offshore development team for decades in order to maximize efficiency and harness their amazing skill set to drive the organization's growth.
If you are looking for such a team, working with a custom software development agency can provide you with the best deal in terms of service and price to compete in today's competitive environment.
Book a Free consultation
Drop in your details and our analyst will be in touch with you at the earliest.
USA
6565 N MacArthur Blvd, STE 225 Irving, Texas, 75039, United States