5 Ways to Protect Your Company in a Disrupting Industry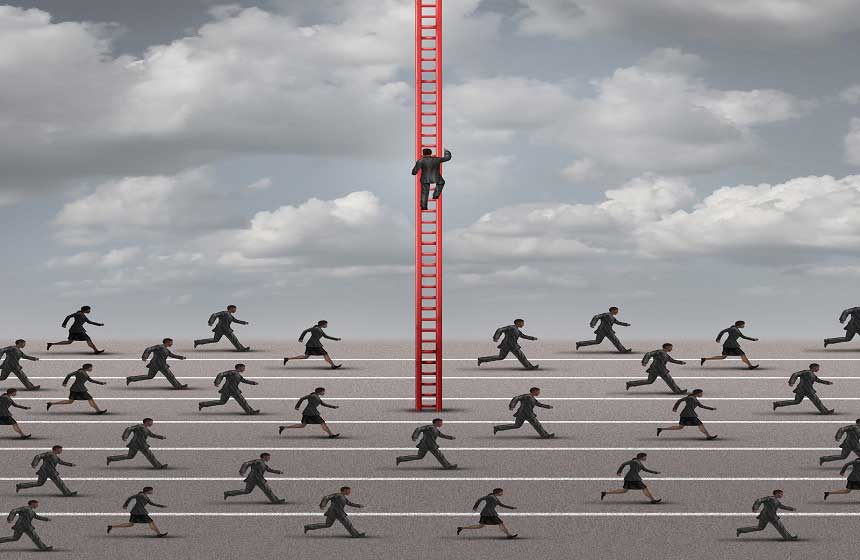 In today's rapidly transforming world, change is the only viable constant.
The question is – will you be the one leading the change, or the one to fall victim to it?
Disruption is not a novelty; though defined as "disturbance or problems which interrupt an event, activity, or process", disruption has both a negative and a positive meaning. Some would even dare explain it as innovation. The two of them have been driving our world forward since time immemorial.
But what happens when you are running a company in a disrupting industry?
Will you even come to know your industry is disrupting?
Can you stay ahead of the curve, and how?
Here's what the history has taught us about thinking like the disruptor.
How Disruption Affects Industries and Companies
Is your company on a brink of disruption? And if yes, how can you tell?
A disrupting industry feels stagnant and fading, like butter scraped over too much bread. It's dominated by long-established companies that, although acclaimed, start to run out of practical solutions and bold ideas. Such industries remain closed to new concepts, and suffer from pain points.
It's like cinema in the age of streaming, or paper in the age of eBooks.
Sooner rather than later, a disrupting industry is doomed to collapse and explode.
The Disruptor and the Disrupted
But why is it then that we talk of disruption in the context of innovation?
According to Cambridge Dictionary, it means "a new idea or method that is being tried for the first time, or the use of such ideas or methods". The emphasis here is on novelty, which disrupts the old and thus allows us to move forward. Innovation always strives for transformation and improvement.
It is the sole obsession of the disruptor mindset, which always triumphs over the disrupted.
Business-wise, the examples of the disruptor mindset can be found with Netflix, Airbnb, Apple, or Uber.
All four of these companies have disrupted their industries, bringing necessary change at the cost of outdated models provided by Blockbuster, Hilton Hotels, Nokia, and London's Hackney carriages, respectively. All the disrupted go to bankruptcy and vanish, while all the disrupters adopt and prevail.
How to Protect Your Company?
It's quite obvious then that the only way of protecting your company is to think like the disruptor.
Learned from the examples of the aforementioned forward-thinking companies, the following tips and strategies should help you change your business mindset and embrace the atmosphere of innovation.
1. Be Aware of Your S-Curve
The S-curve represents a growing process that every company goes through before it finally becomes mature enough to move up to the next phase of development. Understanding that your business has one, and getting familiar with how it works and where it begins and ends is the first step to progress.
The beginning of the S-curve is marked with hard work and slow movement. As you climb the curve, you gain knowledge, experience, confidence and insight, until you eventually land on the high end of the growing process, where things are at first delightfully clear and easy. And then, things turn boring.
The very second your business stops being challenging, it's time to move on to the next phase. This is when you need to start thinking about new approaches and concepts that will lead you to yet another S-curve. It's a good moment to stop hanging out on Facebook, and start devising innovative solutions.
2. Shake It Up Before It's Over
Innovation leads consumer expectations, compelling even the most loyal of customers to admit defeat of their favourite brands that are being disrupted, and move on to their successors, or their disruptors.
But, consumers are not the only ones who desire and expect innovation. The same goes for employees – if they are not encouraged to change, develop and grow out of their current roles, the entire company gets stuck in a rut. It's how innovation gets nipped in the bud, and how businesses dissolve.
It's up to insightful leaders to build cultures of innovation and shake up their employees in due time.
All employees have their own S-curves, and it's your responsibility to stay on top of each and every one of them. Those that have reached the end of their development process in a certain role should be promoted to a more challenging one. It's how you nurture your most valuable asset – a think tank.
3. Embrace New Solutions
In today's fluctuating market, companies should stay open to and seek new solutions, whether in terms of embracing new technology or in terms of coming up with new products and services that would remove customer pain points and thus disrupt the industry. It's not easy, but here's a manual:
Identify the problems, oversights and shortages in your industry.
Think about new viable ways to solve them.
Discover whether your existing customers would like to give it a try.
Or, turn to your followers for feedback, opinions and ideas.
When imagination fails you, crowdsourcing is another great option.
Approach your existing offer from another perspective and pivot.
4. Think Like a Designer
Smart leaders should embrace design thinking and build cultures of innovation that would motivate employees to always go one mile extra, to think outside the box, and to freely express their opinions, thoughts and ideas. If you do so, your company will not stagnate but exceed all expectations.
Typically described as "a method designers use in ideation and development, that also has applications everywhere" design thinking is as closest as we've come to a human-centred approach to innovation that strives towards solving the actual people's biggest pain points. It makes ideas simpler but smarter.
5. Be the Disruptor
To be the one who disrupts the industry takes plenty of courage and strategic risk-taking.
That's why design thinking relies not only on empathy and identification or planning and ideation, but also on prototyping and testing. It's perfect for understanding and tackling unknown and yet undefined problems, and coming up with solutions that reduce complexity in people's everyday lives.
Always use it to make products that are smarter than those we already have. Thinking like the disruptor means staying ahead of the curve even when the curve is still invisible. It's about breaking new grounds and being brave enough to challenge not only your industry, but your business as well.
Destruction is a form of creation, so don't be afraid of it. The only way to protect your business in a disrupting industry is to take initiative and lead it into the future. Never stop reinventing the wheel – sooner or later, it'll take you to the new printing press, new electricity, or something far, far better.
Finoit Technologies is a renowned mobile app development company providing custom software development services and IOT application development services. We have developed over 450 mobile apps, and have assisted many solopreneurs in their journey of startups by functioning as a tech partner and rolling out their product ideas. For questions/queries, you may write to us at [email protected]
Book a Free consultation
Drop in your details and our analyst will be in touch with you at the earliest.
USA
6565 N MacArthur Blvd, STE 225 Irving, Texas, 75039, United States