5 Lesser-Known Ways to Promote Your Consumer Mobile App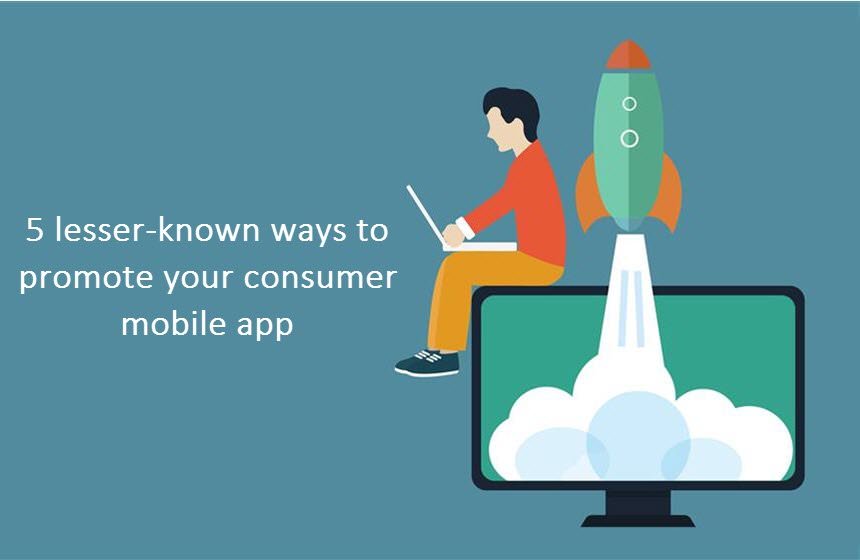 So you've finally developed your mobile app and are all ready to introduce it to users, the world over? Congratulations!
But before you push things live, have a look at these thought-provoking stats:
Leading app stores are, already, bloated. According to statista, there were more than 3.55 million apps on Google Play Store, over 1.6 million on Apple App Store and approximately 476,000 Android apps available on Amazon Appstore. These numbers are pretty overwhelming, and only increasing day in and day out. So just in case you are sitting around at ease, hoping app users will automatically navigate to your app, then, well, give it a second thought!
The intensity is high; there's formidable competition, and it's only going to get strenuous from here on. Unless you efficiently market your consumer app to your target audience, it will be lost in the crowd of other apps out there – no matter how ingenious your product is. That's the reason we suggest having a well-worked-out app user acquisition strategy in effect to launch your app and to treat it like any conventional product launch.
If you haven't done that, need not panic! We've already done the hard work for you. We've been in the game of mobile app marketing long enough to understand what works and what doesn't.
We know you are looking for startling results through promoting your app. So, we bring you 5 ways, which present some key ideas that
As you get keener, here's a list of 5 ways to promote a mobile app for startling results. This list is in no particular order, so you can choose the ideas that best complement your existing marketing plan.
Here we go!
Get Your App Featured on the Amazon Appstore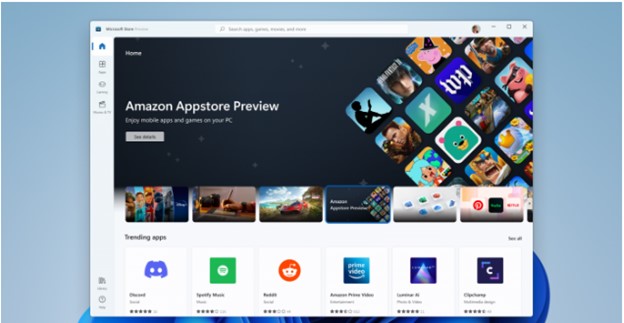 Image source:- Microsoft
If you thought that Android apps could only be found on Google Play, it's time to debunk that myth. Unlike Apple's closed ecosystem, Android offers a multitude of authorized app stores, and among them stands a true titan – the Amazon Appstore.
While Google Play remains the default platform for most Android users, it's essential to recognize the vast opportunities offered by alternative app stores like the Amazon App Store and Samsung App Store.
Although Amazon Appstore comes pre-installed on Kindle tablets, it is also available for Android users worldwide. That's precisely why leading mobile app development company strongly recommend listing your app on the Amazon Appstore. By doing so, you can expand your reach, increase web penetration, and enhance your app's visibility.
Submitting your app to the Amazon Appstore opens the floodgates to a massive exposure boost for your app's listing. In the dynamic realm of marketing, greater exposure equates to higher conversion rates. But that's not all – let's explore the unique and creative benefits of choosing the Amazon Appstore for your app:
High Revenue Potential
The Amazon Appstore offers the potential for higher revenue per active user, attracting users who value quality apps and are willing to spend.
Strategic App Pricing
Experiment with app pricing strategies by temporarily making a paid app free, generating a surge of downloads and fueling excitement around your app.
Go Global
Expand your app's global footprint through international distribution, reaching users around the world and tapping into diverse markets.
Drive Engagement
Allow users to test-run your app, offering a sneak peek that entices them to explore its features, fostering promotion and boosting user engagement.
Developer Support at Your Fingertips
Enjoy fast and responsive developer support from the Amazon Appstore team, ensuring a smooth development journey for your app.
Quality Assurance
Benefit from a thorough app review process that separates your app from spam and low-quality counterparts, safeguarding its reputation.
Seamless Checkout Experience
Unlike some other app stores, the Amazon Appstore provides a great checkout process, reducing the likelihood of users abandoning their purchase.
Targeted Reach
Stand out from the crowd with the Amazon Appstore's ability to help you target specific audiences, increasing the effectiveness of your marketing efforts.
Discover a hidden gem in app promotion
Submitting your app to third-party apk/ipa libraries is a valuable strategy to promote your mobile app and increase its visibility and reach beyond traditional app stores. By having your app listed on third-party libraries, you provide users with an alternative way to access and store your app securely.
So, you should leverage these platforms to tap new audiences, expand your app's user base, and enhance its overall visibility. This approach diversifies your app's distribution channels and allows you to reach users who may not rely solely on official app stores for app discovery and installation. Here is how they can prove vital in promotion.
Third-party websites excel at search engine optimization (SEO), propelling your app's discoverability with targeted keywords.
Infrastructure of third-party sites frees up your time and resources to focus on app development and other crucial tasks.
Users often prefer downloading apk/ipa files from third-party platforms for various reasons, such as device troubleshooting or offline installation.
App Store Optimization – How much is enough?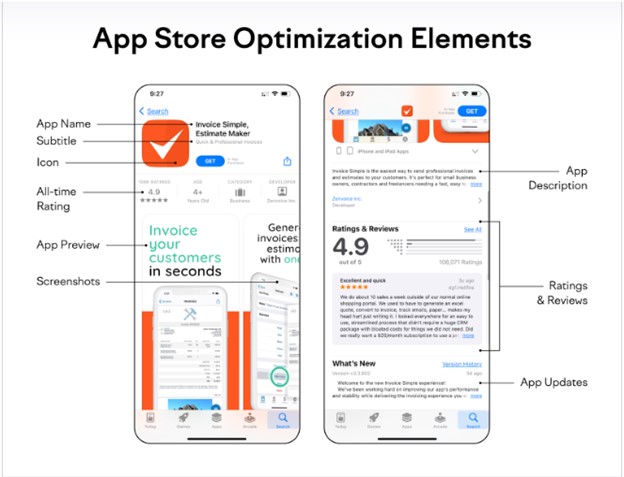 Image source:- Semrush
Master the art of App Store Optimization (ASO) and watch your app soar to new heights. ASO, often referred to as the SEO of mobile apps, is a well-known but often underestimated strategy for app promotion.
Don't Fall Victim to Mediocre ASO – Here's Why It Matters: Inadequate ASO techniques can lead to wasted time, resources, and a dismal app performance. With more than 50% of iPhone users in the US discovering mobile apps through search engines, your app's description plays a pivotal role in attracting users. To rise above the competition and captivate your audience, your ASO strategy must be impeccable and strategic, without breaking the bank.
We delve into the lesser-known nuances of ASO that can make all the difference in your app's visibility and success.
Eye-Catching App Icon
Capture attention of consumer mobile apps with a stunning app icon. Stand out from the crowd by designing an icon that is unique, visually appealing, and easily recognizable. Keep it simple, using limited colors and avoiding excessive text. Let your app icon magnetize eyeballs and entice users to explore further.
Name with Impact
Choose a name that is catchy, memorable, and easy to pronounce. Craft a name that gives a glimpse of your app's purpose, making it easier for users to identify and remember.
Maximize Keyword Potential
Utilize the available character limit for keywords in the app store listings. Research relevant keywords and incorporate them strategically to improve your app's discoverability and ranking.
Compelling Description
Craft a captivating description that sparks curiosity and compels users to download your app. Highlight its unique features, benefits, and value proposition. Make sure the description is well-written, engaging, and optimized with relevant keywords.
Show, Don't Tell
Include high-quality screenshots and videos that showcase your app's key features and functionality. Use visually appealing captures that align with your app's objective and resonate with users.
Localize Your App Listing
Expand your app's reach by localizing your app listing in different languages. Tap into untapped markets and cater to users who prefer apps in their native language.
Build Backlinks and Off-Page Promotion
Strengthen your app's visibility by creating backlinks to your app's product page through off-page promotion. Leverage external websites and platforms to drive traffic and improve your app's search engine rankings.
Platform-Specific Optimization
Recognize the differences between Android and iOS app stores and tailor your optimization strategies accordingly. Adapt to platform-specific guidelines and techniques to maximize your app's discoverability and relevance.
Drive Traffic with App Indexing
Implement app indexing to boost your app's visibility in search engine results pages (SERPs). Drive organic traffic by ensuring your app content is indexed and displayed prominently in relevant search queries.
Encourage Ratings and Feedback
Actively seek ratings and feedback from users. Positive reviews and high ratings boost your app's credibility and attract more downloads. Engage with users to build a loyal user base.
Tip: ASO is not a one-day wonder, it's more of an ongoing process. So, check back often to stay abreast of 'where you stand' and bring in supplementary strategies to earn the ranks and, then, keep improving your position, moving forward.
Get your App's Fame with Collaboration
Ignite your app's success by teaming up with influential figures in your app's niche. Partnering with influencers can be a game-changer, propelling your app's visibility, credibility, and user base to new heights. Discover how influencer collaborations can take your consumer mobile app to the next level. For this
Find the Perfect Match:- Seek out influencers whose content aligns with your app's niche and target audience. Look for those who have a genuine connection with their followers and can authentically endorse your app.
Captivating Collaborative Content:- Handshake with influencers to create compelling and tailored content that highlights the unique features and benefits of your app. Whether it's engaging videos, captivating photos, or informative blog posts, let influencers showcase your app in a way that resonates with their audience.
Sponsored Stories that Spark Interest:-Leverage influencer partnerships to weave your app seamlessly into their content. Craft sponsored posts or stories that not only promote your app but also tell a captivating story, piquing the curiosity of potential users.
Authenticity Breeds Trust:-The success of influencer collaborations lies in the authenticity of the partnership. Encourage influencers to share their genuine experiences and opinions about your app, fostering trust among their followers and increasing the likelihood of app downloads.
Amplify Reach and Engagement:-Influencers have built-in communities that trust their recommendations. By tapping into their network, your app gains exposure to a wider audience, increasing its reach and boosting user engagement.
Giveaways and Contests:- Collaborate with influencers to organize giveaways or contests that encourage their followers to download and engage with your app. This interactive approach generates excitement, fosters user participation, and enhances brand awareness.
Tracking and Analytics:- Monitor the impact of your influencer collaborations by tracking key metrics such as app downloads, user engagement, and in-app activities. Analyzing this data helps you refine your influencer marketing strategy and optimize future collaborations.
Long-Term Relationships:- Cultivate long-term relationships with influencers who have a genuine affinity for your app. Building sustained partnerships can result in ongoing promotion, continuous user acquisition, and brand loyalty.
Micro-Influencers Matter:-Don't overlook the power of micro-influencers. These influencers may have a smaller following but often possess a highly engaged and niche audience. Collaborating with micro-influencers allows for more targeted app promotion and can yield impressive results.
Making a paid app free
From cold shoulder to warm welcome, free trials can significantly affect the decision of users. Imagine captivating the attention of potential users who are hesitant to purchase a premium app without testing its capabilities. By introducing a free, limited-access, or limited-time trial version of your app, you break down barriers and invite users to experience its value firsthand.
Offering free trials can thus be a game-changing strategy of transforming your paid app into a free sensation. By offering a free version, you can tap into a wider user base, entice more downloads, and boost your app's revenue potential. Here, we explore some compelling reasons why making your app free is a smart move.
The Sales Pyramid Effect:- Expand your user base beyond the top tier of paying customers. Tap into the vast majority of users who rely on free trials to make informed buying decisions. By offering a taste of your app's experience, you capture the attention of a wider audience and multiply your chances of conversion.
Fascinating Facts Unveiled:- Research indicates that iOS users have a higher propensity to spend on in-app purchases and generate greater revenue compared to Android users. As you might look to optimize your iOS app, but lack capabilities, one potential way is to partner with a recognized iPhone app development services provider.
App Store Dominance:- Despite the difference in download numbers, the App Store consistently outperforms Google Play in revenue generation. This presents a golden opportunity for app developers to thrive in the iOS ecosystem. By offering a free trial version, you increase the visibility and desirability of your app among iOS users.
Captivate Curiosity:-A free trial version allows users to explore your app's content, features, and overall functionality. It entices them to experience its value and sets the stage for informed buying decisions. Whether it's offering a limited-time trial or locking premium features, intrigue potential users and ignite their curiosity.
Marketing Momentum:- Remember the golden rule of marketing – what gets seen, gets sold. By providing a free trial, you exponentially increase the number of people who download and install your app. This expanded visibility translates into higher conversion rates and more opportunities for in-app purchases.
The Final Verdict
So, this winds up our list of the top 5 lesser-known ways to market your consumer app for startling results. As mentioned at the outset, this list is in no particular order, so pick the tips that make the most sense to you and can effectively complement your existing app marketing strategy. Luck ahead!
Finoit Technologies has developed over 450 mobile apps, and have assisted many entrepreneurs in their startup journey by functioning as a tech partner and rolling out their product ideas. For questions/queries, you may write to us at [email protected].
FAQs
What are some effective strategies to increase mobile app downloads?
Use app store optimization (ASO) like keywords, app description, and screenshot optimization. To reach a larger audience, use social media marketing, influencer collaborations, and targeted advertising campaigns.
What role does social media play in promoting a consumer mobile app?
Social media platforms provide a large audience for promoting consumer apps. To attract new users you can create compelling content, hold competitions and giveaways, engage with influencers, and leverage user-generated content.
How to measure the effectiveness of my mobile app promotion efforts?
Track key performance indicators (KPIs) like app downloads, user engagement, conversion rates, and user feedback using analytics tools. Adjust your strategies based on the data insights.
Book a Free consultation
Drop in your details and our analyst will be in touch with you at the earliest.
USA
6565 N MacArthur Blvd, STE 225 Irving, Texas, 75039, United States