7 Best Practices You Need to Follow When Your SaaS Customers Don't Renew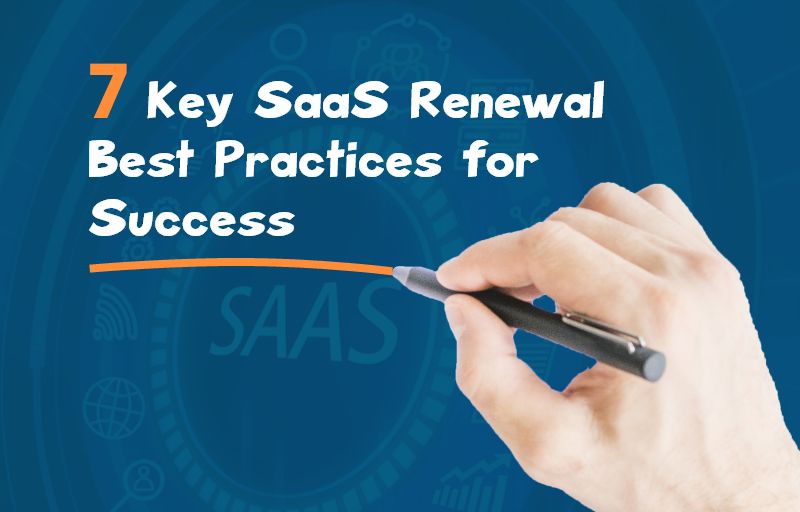 It's no secret that for a SaaS company how important it is to retain customers. However, the renewal process can be challenging, and even the best SaaS companies experience some level of customer attrition. It can be frustrating to see your hard-earned customers slip away, and it's essential to have a well-executed renewal process in place.
Adhering to and implementing SaaS renewal best practices can help you combat this issue tactically. As Mathew Sweezey, Director of Market Strategy at Salesforce, said, "Marketing is no longer about the stuff that you make, but about the stories you tell." Besides the commonly known renewal best practices such as personalized communication, product adoption strategies, and pricing optimization, there are other effective ones that help you narrate a compelling story to your customers and keep them engaged.
By following these best practices, businesses can see a significant increase in profits. Research by Bain & Company shows that a 5% increase in customer retention can lead to up to a 95% increase in profits, so you can make the difference implementing these practices can make to your bottom line.
So, it's time you don't let your hard-earned customers slip away. By investing in your renewal process, you can create a competitive advantage and position your company for long-term success. As Walt Disney famously said, "Do what you do so well that they will want to see it again and bring their friends." Let's explore these renewal best practices together and create a process that keeps your customers engaged, satisfied, and coming back for more.
Saas Renewal Best Practices to Prompt Renewal
Maintaining a successful SaaS business requires effective SaaS renewal strategies to retain customers, create recurring revenue, and cultivate long-term relationships with them. Let's take a look at the SaaS renewal best practices that keeps reviving the renewal process.
Offer an exit survey
Powerful tools like exit surveys can help companies gather feedback from customers who have decided not to renew their subscription. By providing an opportunity to give feedback, companies can understand why the customer made the decision to leave and identify areas for improvement in their product or service offering. This feedback can help the company improve their offering and prevent future turnover. Additionally, an exit survey shows the customer that their opinion is valued and helps in creating a positive customer experience in SaaS. Overall, an exit survey is an effective way to gather insights and improve customer retention.
Provide a customer retention specialist
Appointing a specialist for customer retention as part of your B2B SaaS renewal strategy is like having a loyal sidekick who will do everything in their power to ensure that your customers remain hooked on your product or service. These experts are equipped with the necessary tools and tactics to keep your customers happy and satisfied.
With a retention specialist in your corner, you can keep a close eye on customers or those who might be on the verge of leaving and devise a plan to reel them back in. This personalized approach allows you to forge an unbreakable bond with your customers by gaining insight into their needs and desires. By lending an empathetic ear and finding a solution that works for your customer, your retention specialist can help you reduce churn and increase customer loyalty.
Offer a free trial extension
Sometimes customers need a little nudge to renew their subscription, and offering a free trial extension can be just the push they need. By providing extra time to explore the product or service, you're showing them that you value their business and want them to have the best possible experience. This approach also provides an opportunity to address any concerns or questions they may have, potentially saving the customer relationship. Plus, by extending the trial period, you're demonstrating confidence in your product, which can lead to increased trust and loyalty from the customer.
Create a customer loyalty program
SaaS renewals are critical to business success, and a well-executed loyalty program can make all the difference. Offering incentives and rewards, such as discounts, exclusive content, and early access to new features, is an effective way to retain loyal customers and encourage them to renew. By creating a customer loyalty program, you can strengthen your relationship with customers and provide them with tangible benefits that keep them coming back for more.
Let Social Proof Show You the Way
Renewing SaaS subscriptions can be a challenge, but social proof can be a game-changer. Harness the power of customer testimonials, case studies, and other forms of social proof to showcase the value of your product or service. By sharing the success stories and experiences of happy customers, you can build trust, establish credibility, and inspire confidence in your saas renewal process. Your customers can become your most powerful advocates, so empower them to tell your story and unlock the full potential of your SaaS renewals.
Provide proactive contract management
Proactive contract management is essential for SaaS companies. By monitoring contract expirations and reaching out to customers in advance to discuss renewal options, you can stay ahead of the game and keep your customers on board. Don't wait for customers to approach you; be proactive and offer personalized solutions that meet their needs. This not only helps retain customers but also demonstrates your commitment to their success.
Offer training and education
Offering training and educational resources to customers is a smart way to reduce non-renewals and increase customer loyalty. By providing access to valuable learning materials, tutorials, and support resources, you can empower your customers to get the most value from your product or service. This not only helps them achieve their goals but also strengthens their trust and confidence in your brand. Investing in customer education is an investment in long-term success. So, offer the right training and education to your customers and watch your SaaS renewals soar
Conduct a win-back campaign
Customer churn is inevitable in any business, but a strategic win-back campaign can help you revive lost customers and boost your business. By targeting customers who have churned and offering special incentives or discounts, you can encourage them to come back and give your product or service another try. A well-executed win-back campaign can help you understand the reasons for churn and tailor your offerings to meet the unique needs of each customer.
Closing Thoughts
SaaS renewal is an important part of customer retention. By implementing the right strategies, SaaS companies can improve their retention rates and reduce churn. It's essential to understand the reasons why customers don't renew and take proactive steps to address those issues.
At Finoit, we understand the importance of customer retention in the SaaS industry. As a top SaaS software development company, we can help you develop and implement a robust SaaS product that meets your business needs. Our development experts can work with you to understand your customers, analyze data, and provide personalized solutions to help you retain customers and grow your business. Connect with our development expert today and take the first step in improving your SaaS renewal strategy.
FAQs
What are some strategies to increase customer retention during SaaS renewal?
SaaS providers can improve customer retention by offering personalized incentives or discounts for renewing early or committing to longer-term contracts. Additionally, providing excellent customer support and continuously delivering value through SaaS product updates can significantly impact retention rates.
How to measure the success of SaaS renewal strategy?
Measuring the success of a SaaS renewal strategy is important to understand its effectiveness. Here are some key metrics to measure:
Renewal rate
Churn rate
Expansion rate
Net Promoter Score (NPS)
Time to renewal
Customer Lifetime Value (CLTV)
How can SaaS providers leverage automation to streamline the renewal process?
By leveraging automation SaaS providers can minimize manual tasks, reduce administrative burdens, and create a more efficient and streamlined renewal experience. Here are some of the ways to leverage automation:
Automated email and In-app reminder notifications
Digital contract management tools
Customer self-service portals
Automated Invoicing and Payment Processing systems
Book a Free consultation
Drop in your details and our analyst will be in touch with you at the earliest.
USA
6565 N MacArthur Blvd, STE 225 Irving, Texas, 75039, United States