Top 10 Ways Internet of Things Can Be Used By Restaurants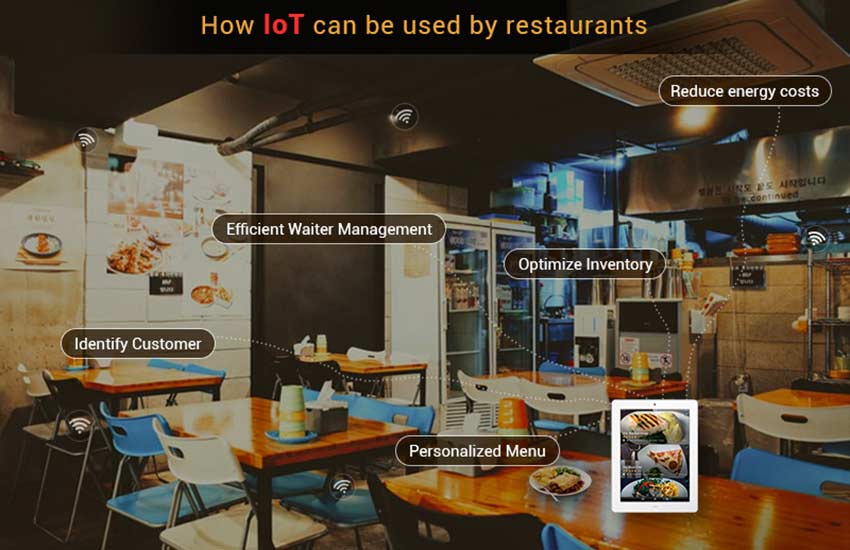 Will you agree if I say what dial-up and MySpace were ten years ago, WiFi and Facebook are today; a few years from now, both will seem just as outdated.
Yes?
So what's prevailing current tech dynamics? IoT(Internet of things), Data science? Artificial intelligence? Answer is probably all of them.
As a concept more than as a reality, the Internet of Things is taking the world by storm. Global connectivism is no longer a buzzword for digital generations, but a social phenomenon we all live by. Sooner rather than later, our homes, cars and offices will develop a mind of their own, thus relieving us of all those tiring, mundane troubles we're often overwhelmed with. And, so will our kitchens.
The Internet of Everything
As the material world around us continues to join the cyberspace, we cannot help but feel excited, bewildered and frightened at the same time. Regardless, the Internet of Things is not a dystopian idea, but a logical civilizational step – we are already empowered by our wearable tech and mobile devices, all of them united into a comprehensive network of helpful utilities and knowledge bases. IoT, and that's the only difference, allows them to act on our behalf instead of waiting on us to reach out for help.
If still unfamiliar with the concept, the Internet of Things is the possibility of connecting anyone and anything to the World Wide Web. Apart from already linked devices like computers, cell phones and hi-tech machinery, the notion now goes beyond, thus including everything from coffee makers to hair dryers.
Simply put, the IoT allows your TV to record an episode of No Reservations while you're away from home without ever being specifically programmed to, and your refrigerator to message you a list of all the ingredients you don't have, but Anthony Bourdain suggests you should.
A Connected Kitchen
Now, imagine the things it can do to your restaurant! With IoT, commercial kitchens will get a new dimension. The industry has already started to embrace this trend, consequently becoming quicker, more streamlined and efficient. Here's how.
Streamlined Operations & Improved Workflow
"Your staff can actually have time to talk go customers, your ownership isn't scrambling…IoT is the fuel that will bring us into a more efficient future and the restaurant industry is now getting to see a glimpse of that and realizing that this making our lives better," remarked Michael Garrity, director of marketing for Brewlogicx, beverage technology company.
Regular control of kitchen appliances is not only obligatory for business success, but is actually legally mandatory in terms of health and safety regulations. Ovens, deep fryers, refrigerators, walk-in freezers and HVAC systems(though managed by HVAC software) require constant monitoring, and restaurant employees are often compelled to check them up on multiple occasions during the day and record data concerning temperature and energy consumption.
And, in a place as frenetic as a prime-time restaurant kitchen is, frequent follow-ups affect productivity, which is, in the long run, reflected in hampered product quality and unneeded expenses.
With the Internet of Things, kitchen technology can do all that on its own. When embedded in equipment, IoT devices and signals pick up vital pieces of information and wirelessly upload them to the cloud, where data is automatically analyzed and sent back to the restaurant manager via mobile app. Not only does such a system improve workflow, reduce costs and maintain quality of products and services, but it eliminates the probability of potentially damaging system failures to a significant degree.
Yummier Customer Experience
At the end of the day, we're all doing it for the customer. The restaurant business is fast, hectic and strenuous, particularly when the food is fresh and delicious. Yet, sometimes, being imaginative and flavorsome is not enough for acquiring and retaining loyal clientele.
A gourmand wants his delicacies to taste exactly like they should, but he never, ever wants to wait for them to arrive. That's why restaurant chains, especially those busy ones with international franchises and partial table service, employ the Internet of Things in order to improve customer experience. IoT in restaurants will result in the makeover of the industry.
When supported by an online ordering app, a restaurant can receive orders ahead of time; though somewhat old news, the digital age has made this system an unavoidable part of any respectful eatery.
And, if a customer actually prefers dining out, the same cloud-based tool can be used for making orders and paying the bill via wireless transmitters on restaurant tables. Similarly, the RFID technology in casual restaurants shortens any extra waiting time by allowing waiters to locate guests with wireless tag-based systems.
Whatever the type of ordering system, solutions implementing IoT for restaurants guarantee not only fast delivery, but less disarray among staff. When organized well, restaurant employees provide swift service and pleasurable experience, both equally important for ensuring the utmost customer delight.
Also Read: Impact of IoT on Mobile Development
Flawless Food Waste Management
Regardless of type or service or cuisine served, all restaurants work with ingredients with relatively short shelf life. Fresh seafood, veggies and fruit are often picked from the market and delivered to the kitchen each morning to be prepared and dished out the same day. Though some sorts can be used the day after, a lot of the unused ones are being thrown out.
Being highly intuitive, IoT-empowered kitchen appliances that regulate storage and inventory levels can conduct analyses of their own, thus preventing food waste in real time. Calculations are sent to kitchen managers for examination, therefore providing a precise actionable insight into ingredient demand. That way, managers are informed of what usually goes to waste, what's lacking and what the kitchen is well-supplied with beforehand.
Safer Cooking Environment
However long the expiration date, restaurant food waste is a reality every manager needs to battle against every now and then. But, besides trying not to waste money on expired cooking ingredients, eateries also have The Food Safety Modernization Act to comply with. Frequent detailed reports on both products and equipment are what makes the flavor business far less glamorous.
As mentioned before, devices connected to the Internet of Things are powerful enough to monitor, record and generate timely reports on both warming and cooling devices used for storage and food preparation, just as well as kitchen ingredients themselves. Apart from being a flawless waste management system, IoT-supported alerts, notifications and reports are brilliant for ensuring food safety as well.
Supplying & Maintenance Automation
Having been improved and perfected in the last couple of years, automatic solutions offer efficiency to all aspiring businesses, no matter the size or niche, and the restaurant industry is no exception. When automated, kitchen equipment needs no human supervision, which makes it that much easier for chefs, cooks, managers and staff to do their job.
And, with endless possibilities that the Internet of Things provides, automatic orders in cases of needed maintenance, parts replacement and shortage of kitchen supplies may be cutting-age, but are available to restaurants all the same.
Kitchen Management on the Remote
The same goes for operating with equipment on the remote. When needed, a kitchen head can turn an oven on, switch a refrigerator off, ask an ice-cream maker for a maintenance report or troubleshoot HVAC problems from afar.
With the appliance lifecycle extended – and let's face it, kitchen equipment is far from being inexpensive – a restaurant is relieved of potential malfunctions that can regress business and increase maintenance costs.
Developing and infusing an application in your kitchen operations however creates a need for specialized talent. This is a niche segment, wherein to rapidly scale your IoT efforts, you can rope in an skilled IoT application development company that has dirtied its hands in similar projects.
Reduced Energy Use & Costs
So, you've closed for Christmas day, but somebody forgot to turn the heating off, or your HVAC supplier hasn't told you that there's a new solution that actually saves energy. When dealing with so many appliances, energy costs can be huge, and you might be wasting money on unnecessary things that you didn't know you could avoid.
Interconnected and linked to the internet in a way that allows an exchange of valuable data, kitchen appliances reduce energy costs. We've talked before about the Internet of Things' ability to manage machines with utmost efficiency, so restaurant owners don't have to, but each of these options, however convenient they might be in terms of the staff's productivity, delivers even greater benefits when it comes to expense reduction.
Data-Based & Actionable Insights
Still, intelligent machines and delightful customer experience is not everything a connected kitchen has to offer. The Internet of Things includes every little speck of information available in cyberspace, which promises invaluable sources of actionable data and powerful analysis methods to translate it.
The restaurant industry is not all about cooking and serving; in order to rise to the top, an eatery needs to make data-based business decisions, establish successful branding and marketing strategies and target, acquire and retain customers. However potent now, the online environment will turn a decision-making process into an infallible one as soon as the internet as we know it fully transforms into the Internet of Things for the future.
Inexhaustible Sales Opportunities
Once that happens, or once restaurant owners choose to connect their kitchen to the IoT network, opportunities for increasing sales through strategies developed according to customer data will be truly inexhaustible.
Leading industry brands are developing far-reaching marketing campaigns and loyalty programs as we speak, but imagine the things you could do with a detailed profile of an individual client that notifies you each time he or she gets peckish and in the mood for your chicken stroganoff. The future really is here.
Staying on Top
Most importantly, being connected implies always staying on top. While there are many restaurant maintenance software that can help you address preventive aspects, predictiveness brings next level of transformation. With your kitchen stacked with intuitive technology, your staff empowered with a flawless management system, your customers enthralled by the level of quality your restaurant delivers every time and every sort of valuable information within arms reach, the sky truly is your limit.
Just imagine the possibilities!
Conclusion
Enabled by the internet of things, the food industry can attain new heights.All restaurants businesses must do is to keep a watch on how IoT applications are unfolding changes, as the cutting-edge technology continues to evolve.
The realization might propel you to build IoT applications for your needs. For your commercial needs, we at Finoit provide excellent IoT development solutions that will boost your company's profitability. As a leading software development company in the USA, we are committed to driving change with our solutions. We have been helping enterprises in planning and implementation of their IoT initiatives.
To understand how IoT development works and to fit it to your project you can connect with our development experts. Or you can also drop an email to [email protected]. Send us your briefings, and we'll get in touch with you right away.
Book a Free consultation
Drop in your details and our analyst will be in touch with you at the earliest.
USA
6565 N MacArthur Blvd, STE 225 Irving, Texas, 75039, United States