Software Development Outsourcing Landscape 2023 – Everything you need to know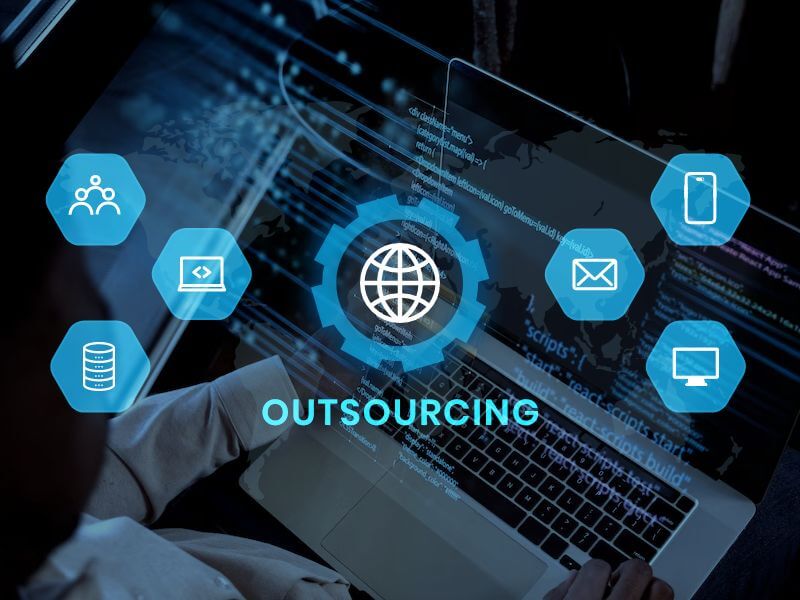 Trends reflect that software development outsourcing and offshore software development is poised for continuing growth in 2023. In this post, we look at the industry landscape by analyzing some key elements.
The prospect of outsourcing software development continues to attract enterprises as the industry continues to surpass the benchmarks it set in previous years.
While outsourcing has always been a tool to gain competitive and cost advantage, recent times – especially after the pandemic, have accelerated the way businesses have adopted it more aggressively as a strategic initiative.
As the recent findings of Statista reveal, the IT outsourcing revenue will grow at a CAGR of 8.07% from 2023 to 2027, reaching a volume of USD 587.30 billion by 2027. As a substantial component, outsourced software development has a significant contribution to this growth.
Overall, outsourced software development is finding a wider play amongst businesses. In this article, we take an in-depth look at how the industry is evolving by analyzing:
The driving forces behind the growth
The trends shaping the industry
Top outsourcing destinations worldwide
We also cover each outsourcing destination's pros and cons and the offshore software development rates these destinations offer. Let's understand these dimensions one by one.
What are the driving forces?
Outsourced software development has been an integral part of the business world, as it offers the potential to achieve operational excellence and business resilience. In financial terms, innovation with outsourcing allows businesses to reduce operating expenses and improve ROI. Today, outsourcing development is an effective solution to leverage technology for advantage and transform digitally. We discuss this at length below by looking at the key driving forces providing thrust to outsourced development.
Rapid business transformation
Chris Howard, Chief of Research at Gartner, noted that the current digitalization is characterized by the pace of adoption and the urgency to act fast in a short time window. True, a fundamental reset is underway in the business world, prompted by technological adoptions, of which software development is one essential element.
Invariably, in today's digital world, outsourcing development fuels digital transformation efforts, as it offers a bigger shift. As a result, third-party software development vendors are more sought after to achieve sustainable improvement in performance at a rapid pace. They ensure that transformation occurs while not disturbing the normal execution of critical processes.
Business continuity amidst tight competition
The business landscape is continuously shifting and is growing fiercely competitive. Just to consider eCommerce, in the US (United States) alone, there are around 250K-300K eCommerce businesses. The frequency at which new entrants are making it into the field is only increasing the need for existing players to ramp up their efforts to sustain themselves.
How is it that businesses can distinguish themselves in the competitive landscape? Through their e-stores, right? A winning eCommerce store, however, calls for a mix of domain, technical, and design skills. With outsourcing, you can easily tap resources with these skills, ensure seamless continuity, and generate a steady and growing revenue stream.

Need Expert
Offshore Developers?
Proven
Transparent
Dependable
Need to catch on with the latest
In today's ultra-digital landscape, software applications do not work on, execute, and serve some mundane functions – as we would traditionally imagine. The landscape is characterized by Artificial Intelligence (AI), cloud computing, the Internet of Things (IoT), and blockchain. These elements work in sync to make today's sophisticated software systems.
So, today's software development experts cannot be just programmers who build logic but must be adept in multiple technologies. It can, however, take significant time and cost to build a team of such experts. Outsourcing development allows organizations to aggregate talent with minimal effort, secure a good developer velocity, and drive innovation rapidly.
Solving niche use cases
"Software is eating the world," remarked March Andreesen, General Partner of Andreessen Horowitz, more than a decade back, while talking about the process of macroeconomic change. It was in the context of how software became a core part of everyday business operations; businesses began looking at taking advantage of specialized solutions rather than having an all-in-one suite.
Businesses across each industry today want to build specialized software. Strong development experience and technical skills do partial work, as in-depth knowledge of underlying processes is equally crucial. Some examples include Automating pipeline scheduling, predicting recoverable reserve volumes in oil and gas, and monitoring grid reliability and carbon footprint in the utility sector. With outsourcing, businesses have the scope to identify a partner who has dirtied its hands in similar assignments, and they can count on it.
Risk Sharing and Management
From poor code quality to poor project management, several factors can give rise to risks in software development. They have negative financial, operational, and security implications. Going unmanaged, these risks result in technical debt and waste around 23-42% of developer time. The Cost of Poor Software Quality in the U.S.: A 2022 Report estimated a whopping $2.41 trillion as the cost of poor quality for the U.S. in 2022.
Specialist software development firms bring a holistic approach to managing risks, including risk avoidance, mitigation, and sharing. They work based on predefined protocols to meet commitments, which shares the accountability to manage risks. In a nutshell, outsourcing helps achieve both objectives – plug risks and build robust applications.
Future-proofing
Since technological transformation is a continuous project, businesses must future-proof themselves with ready access to the right resources to augment the in-house team. Outsourcing development services fills this gap by offering the flexibility to access development resources with expertise across resources on both short-term and long-term.
Outsourcing is a beneficial choice for businesses to scale right from the back end and quickly build a strong team. Beyond just scaling up teams, it allows businesses to implement the latest software development practices and successfully execute their projects.
What are the recent trends in software development outsourcing?
The software development outsourcing market has been made to adapt to changes faster. Despite the challenges brought by the health pandemic, climate change, and power tussle between nations, it remains a fast-growing sector. Amidst this shift, businesses need to understand trends that are unfolding to avail better benefits through outsourcing decisions. Here, we discuss some notable trends in software development outsourcing that may dominate the scene for this decade.
Quality overtakes Cost
Businesses have grown mature in viewing software quality as a compound, not a monolithic concept. The realization that software does not work in isolation but in conjunction with other elements in the value chain is becoming vital. Research by Consortium for Information & Software Quality (CISQ) has unraveled that poor software quality will cost US organizations USD 2.08 trillion in 2020.
No business would want to suffer a loss through their outsourcing decision. So, in 2023, we expect to see a continued shift toward quality-driven outsourcing. The emphasis would be on finding vendors who have robust quality delivery frameworks. The cost factor would thus be relegated to the background when partnering with an outsourced developer.
Co-sourcing and Multi-vendor engagement
Software development is an integral part of businesses as the need to digitize every business process and develop associated applications has become more frequent than ever. Most businesses thus consider the idea of having an in-house team, which, however, struggles to catch up with the pace at which technology is evolving.
Co-sourcing has thus emerged as a viable strategy to harness the power of external expertise and scale. It helps reinforce the internal team and strike a perfect balance when the business is not capable of building large teams.
Added to this is a support of multi-vendor engagement which involves partnering with multiple vendors. This idea is gaining ground as businesses do not want to lose out due to a lack of skills essential for the project and to avoid vendor lock-in.
Outcome-based models
Jeff Patron, the author of User Story Mapping, notes, "One of the common misconceptions in software development is that we are trying to get more output faster. Because it would make sense that if there was too much to do, doing it faster would help, right?"
Measuring output is now an old notion. Businesses are not focused on how much software developers produce; rather, their sole goal is to understand the impact the development makes. For example, no one would count the lines of code (LOC) developers write in a day; instead, the impact the program would make on end-user experience is the ultimate focus.
Capacity building investment on the rise
Software development is an ongoing process. Even when product development is through, the testing, maintenance, and monitoring usually never end. Despite regular upkeep, the life of a software product is not more than somewhere between 3-5 years.
Usually, large enterprises already have resources and processes in place to ensure that product is well-maintained and continuously updated depending on advancements in new technologies.
Startups and SMBs seem to be following the trail post-pandemic, as hiring, talent management, retention, and cybersecurity problems might worsen in the future. "At Finoit, we are receiving more requests from our clients to share our practices for building remote team culture with them. Even clients are interacting with software developers on a one-to-one basis about their role, experiences, and future goals," says the Project Manager.
It gives the impression that startups and SMBs are concerned about business continuity in a crisis that led to a focus on using an offshore software development company as a technology arm. They are thinking from a long-term perspective and are willing to invest in those offshore software development companies that offer various levels of competitiveness and edge to these customers.
Demand for specialized tech skills
Cloud Computing, Artificial Intelligence, Robotic Process Automation (RPA), and DevOps are emerging as top offshore software development trends. As a result, businesses looking to outsource software development are increasingly looking for skills in these areas.
As per tech new platform VentureBeat, 80% of enterprises from the USA have accelerated AI adoption. For cloud computing, the growth of software-as-a-service (SaaS) startups is one key factor offering the boost.
When enterprises are keen to avail benefits of these technologies but are not equipped to implement them, they can repose their trust in outsourcing. Combining software development outsourcing with AI and cloud services helps deliver a scalable solution where enterprises don't have to provision and maintain infrastructure and hire resources.
Tech cum Domain expertise
Developers can build successful applications only when they understand the domain. Businesses thus no longer want superb coders but those who can empathize with the problem they are looking to address with the application.
The preference is thus for developers who carry rich domain knowledge or are ready to immerse in understanding business. The indication is that the product owners and developers speak the same language.
Long-term strategic partnerships
"Surround yourself only with people who are going to take you higher" are the wise words of Oprah Winfrey, the famous American television personality and entrepreneur. So yes, CXOs are realizing why they need to surround themselves with skilled partners for long-term sustainability and growth.
Building long-term partnerships have become a way to shine through in your offerings. In a competitive landscape where a player can move ahead quickly, no enterprise can afford to waste time frequently finding new vendors. Long-term partnerships are thus an important agenda for businesses looking to outsource their software projects.
Sustainability and Green Agenda
Measuring the environmental impact of software development has become one key consideration when building applications. "In most cases, working to optimize for saving money by making code more efficient will also end up saving carbon," noted Adrian Cockcroft, tech advisor and leading voice on IT sustainability.
As a result, environmental sustainability will dominate the future engagement between businesses and their software development vendors. The preference will be for those who will be better equipped to follow environment-friendly practices. These would reflect in the vendor's efficiency in deploying energy-efficient codes and implementing development methodologies that optimize energy consumption, thereby helping the business meet its sustainability goals.
Hybrid work models
In its survey about the success of hybrid work models, Gartner found that human-centric models that offer flexible work design are proving successful. These models bring 3.8 times higher performance when compared to traditional models.
Next, retaining top talent till project completion is paramount for the outsourced provider as well as the business; hybrid models offer work-life balance and flexibility to employees to stay longer.
Hybrid models also offer the promise of contributing to environmental goals. Scholar and thought leader Dr. Gleb Tsipursky reported in his Forbes article, "The Financial Advantages Of A Hybrid Work Model: A Hybrid Work Expert's Perspective," that by adopting a hybrid work model, one of his clients was able to bring down carbon footprint by 30%. Hybrid models can thus serve as enablers for businesses to achieve their environmental sustainability goals when outsourcing.
Focus on User Experience
Investing 1 dollar in user experience (UX) fetches 100 dollars in return, reports, Spiralytics. User experience is one element today's businesses strongly believe can help them stand out. Especially for B2C businesses where applications act as an important interface, UX helps increase user engagement and make them more loyal to the business.
The emphasis on user experience continues to remain when outsourcing development projects. Businesses would thus seek outsourcing partners who can demonstrate proven capabilities in building applications that can deliver exceptional user experience.
Security remains paramount
IBM's Cost of a data breach 2022 has brought some interesting statistics. It says the average cost of a single data breach is USD 9.44 million for the US, while the global average is USD 4.35 million. These alarming figures are sure to drive businesses if vendors do not adhere to accepted security standards such as ISO 27001.
Security remains an important factor in the checklist for selecting software development partners in the future. Undoubtedly, businesses would continue to prefer those vendors that have been audited for security and have robust policies for handling sensitive data.
Analysis of top outsourcing destinations
The search for greener pastures is inspiring companies to explore new offshore locations in Eastern Europe and Asia. Countries like Bulgaria, Poland, Belarus, Hungary, and Romania in Eastern Europe enjoy the benefits of being in the European Union, which translates into good performance on ease of doing business, STEM talent, and social progress factors.
In the Asia region, India dominates the IT outsourcing sector. It is a widely favored destination, mainly because of its wide spectrum of IT companies. It literally means you will find billion-dollar IT service providers with a global network to small companies catering to international startups, small businesses, and indigenous needs.
The Indian IT market is mature, but is exhaustive as well, which has created space for newer locations such as Malaysia, Indonesia, the Philippines, and Vietnam.
In general, to find your ideal offshore software development company in remote location, you must focus on these 5 things:
Talent: IT skills alone won't save your software development project. When hiring offshore software developers, you should also look into communications skills, including proficiency in the language used for official communication. Otherwise, how would the team understand your project requirements?
Time zone: An overlapping of 4-working hours is usually recommended when selecting an offshore software development location. These hours are usually saved for scrum meetings, information-sharing activities, and critical communications such as design changes, and so on.
Business-friendly practices: Explore the regulatory practices in the country to establish a business. Examine how complex or flexible they are. Most importantly, check how intellectual rights are protected and be informed about labor laws, work policies, and fairness during legal entanglements.
Cost-benefits: Perform the cost-benefit analysis for each location, so that business remains on the right track when it walks down the quality vs. price lane. As the market is getting competitive with more players and advancing technologies, user expectations are all-time high; there is no room for buggy software.
Find an offshore software development location that fits into these criteria—one that not only meets your technical needs but also provides business benefits.
As discussed, the Software development market trends are changing drastically, and to an extent, software development rates, too. The compensation for software developers will continue to rise, however, depending on the impact AI and citizen development tools will have.
In terms of technologies witnessing a sharp increase in rates, Python, ReactJS, React Native, and NodeJS, along with traditional heroes, Java & PHP, continue to remain top names.
To offer you a clearer idea, we take you to a granular level by analyzing the landscape of some known countries which have garnered the fame of being the best destinations for outsourcing software development. While we discuss what distinguishes them, we also cover the pros and cons of outsourcing to these geographies.
Asia
Some Asian countries have become favorites of the Western world, as businesses from the USA, Canada, and Western Europe pick them up without hesitation. The primary reason is the best assistance at the lowest cost compared to non-Asian destinations. However, that would be a one-sided way to judge the efficacy of these destinations. So here, we look at the top four countries.
Philippines
Notably, the Philippines ranks first as an Asian country in the EF English Proficiency Index rankings. With a cosmopolitan culture that combines the Eastern and Western worlds and the presence of native and non-native software development talent, the Philippines has established itself as a well-known destination for software development.
Pros:
High English Proficiency
Well-understanding of Western culture
Government support for BPO industry
Cons:
High frequency of natural disasters
Stringent labor codes
Advanced payments for the 13th and 14th months
Vietnam
From time to time, Vietnam has preserved its reputation as a top country for outsourcing software development in Asia and worldwide. Approximately 70% of the country's population is below 35, which is the most significant advantage that it offers. So, you have young engineers to work for your development needs.
Pros:
Consistent record of featuring in various developer skills ranking
Sizeable proportion of young engineers
Stable and open business environment
Cons:
Moderate English Proficiency
Absence of data protection laws
Lack of adequate infrastructure
India
Nearly more than three decades old, India's software development market continues to grow. With some big IT hubs located across Bengaluru, Hyderabad, Gurgaon, Pune, and Chennai, India is witnessing the emergence of new IT hubs in its other cities. The tremendous growth results from abundant software development talent in the country. There's no technological area in which India doesn't excel. Moreover, India's centralized position between the Western and Eastern world makes it a preferable choice for North America and Australian businesses, with Europe having a time-zone difference of a few hours.
Pros:
Highly talented resources available at optimal rates
High English proficiency
A large talent pool available across technological areas
Cons:
Cultural Differences
IP issues
Stringent local legislations
China
Known for its technological innovations, China is a software development powerhouse in Asia. Beijing, Shanghai, and Shenzhen house the country's IT hubs, with some of the biggest ones in Asia in Beijing. China has immense potential for functional programming, Artificial Intelligence (AI), and machine learning.
Pros:
Cost-effective rates
Vast pool of talent for various technological areas
Supportive government policies
Cons:
Language and Cultural Barriers (China ranks low on English proficiency ranking)
Weak IP laws
Subsequent outsourcing that may affect project timelines
Europe
Europe, especially, the eastern part, over a period of years, has emerged as one of the favorite IT outsourcing geographies. In terms of time zone, the region is perfectly placed well to suit the needs of businesses from Western countries. Along with cost, talent, and quality, geographical proximity gives the region an advantage. Here, we tap into information about some favored countries from Europe.
Ukraine
When we talk about Eastern Europe's reputation as a software development outsourcing favorite, Ukraine is the first name that pops up. However, how much a war-ravaged Ukraine has been able to sustain its competitiveness is also an important question to consider. Notably, despite the Russia-Ukraine war impacting the Ukrainian economy, the IT sector in the country continues to remain stable. An important reason is that other Eastern European software development destinations cannot respond to the requirements of the US in full. Therein lies the importance of Ukraine, and despite its offices closing and daily lives getting affected, its IT sector continues to show remarkable resilience.
Pros:
Vast talent pool
High-quality development
Strong IP Laws
Cons:
Lack of soft skills
Wartime instability
Poland
With over 250 thousand developers, Poland is the next big destination to outsource software development needs. Compared to other parts of Europe, Poland has a comparatively low cost of living, and so businesses can get developers at reasonable rates. To give an insight, the cost of living in Poland is nearly 57% lower compared to the United Kingdom (UK), making Poland the obvious choice for outsourcing.
Pros:
Excellent IT talent (Poland ranks third across all HackerRank challenges)
Good software developer base
Booming IT industry
Cons:
Low R&D investment
Shrinking population, which may result in loss of human capital.
Hungary
With a supportive atmosphere and high technological literacy, Hungary is one potential place to consider for outsourcing development in Europe. In recent years, Hungary's high-tech industries have witnessed substantial growth, attracting the attention of business leaders for IT talents. There are around 80 thousand developers in Hungary, which still falls short for meeting soaring requirements.
Pros:
Welcoming business environment
Compliant with European norms
Reliable market conditions
Cons:
Scarcity of talent
Limited number of IT hubs
Czech Republic
With an estimated number of more than 150 thousand IT specialists, the Czech Republic is one good choice for outsourcing development. The 2020 State of European Tech Report found that the country had the largest proportion of freelance developers in the region. Moreover, the Czech Republic also ranks 30th in the World Intellectual Property Organization's Global Innovation Index 2022.
Pros:
Availability of talent
Cost-efficient development
Low attrition rates compared to other European counterparts
Cons:
Poor IP protection
Government does not regulate outsourcing transactions
Romania
Like Ukraine, Romania is a known destination for software development in Eastern Europe. With more than 190 thousand software developers, Romania has good availability of talent across various technology spectrums. Companies like KPMG have ranked Romania as a mature outsourcing market.
Pros:
Strong talent base
English-speaking IT pool
Friendly government policies that favor outsourcing
Cons:
Risk of outsourcing to unreliable services
Cultural gap
Latin America
Latin America is a popular outsourcing choice, especially for North American businesses, due to the region's proximity, strong English proficiency, and minimal time zone differences. The most popular countries in Latin America for the development of software outsourcing services are Argentina, Brazil, and Mexico. We look at them here.
Brazil
With more than 500 thousand developers, Brazil currently boasts the highest number of developers for any country in Latin America. Brazilian professionals are widely sought after by American employers due to their high level of education and expertise. Being close to North America gives Brazil an advantage when it comes to being chosen by North American corporations.
Pros:
Very strong developer base
Proximity to US and Canada
Strong foundation in outsourcing
Cons:
Restrictive financial laws
Political instability
Argentina
Argentina is one of the most developed and most educated nations in the South American continent. Its citizens exhibit good skills in Spanish, German, Italian, and English, which has helped build a cosmopolitan workforce. Over the years, the country has emerged as a potential mobile and cloud development outsourcing destination.
Pros:
Cost-effective development
Good software developer base (estimated at around more than 100 thousand)
High education level
Cons:
Significant time variations for European businesses
Uncertainty about the quality of work
Mexico
With more than 200 thousand software developers and a robust IT business ecosystem, Mexico is a preferable choice for businesses from the US and Canada for outsourcing software development. The average Mexican developer salary is much lower (60%-80%) when compared to its neighbor, the USA. Though a Spanish-speaking nation, its citizens can speak English fluently.
Pros:
Huge tech talent pool
IP Protection
Government support for tech outsourcing
Cons:
Vulnerability to corruption
Political instability
Complex bureaucratic process
In any outsourcing decision, the cost is a predominant factor. So, below, we summarize the estimated range of per-hour rates (USD) for the above countries after meticulously researching various platforms such as Talent.com, Glassdoor, Payscale, and Indeed. Since these are estimates, they are subject to change as governed by multiple factors such as market conditions, global and local economic situations, local policies, and legal norms and regulations.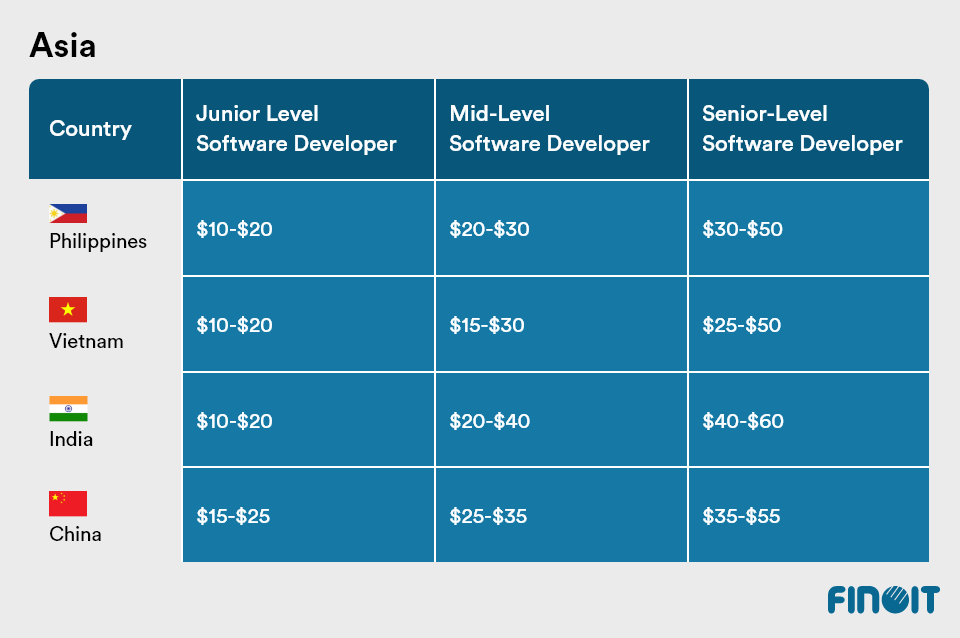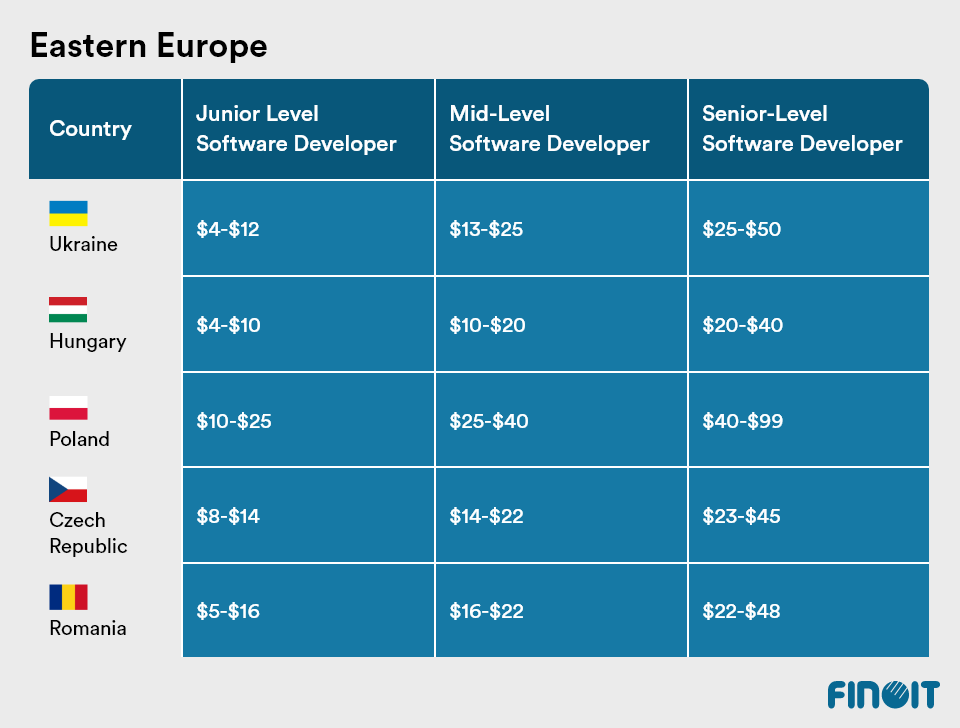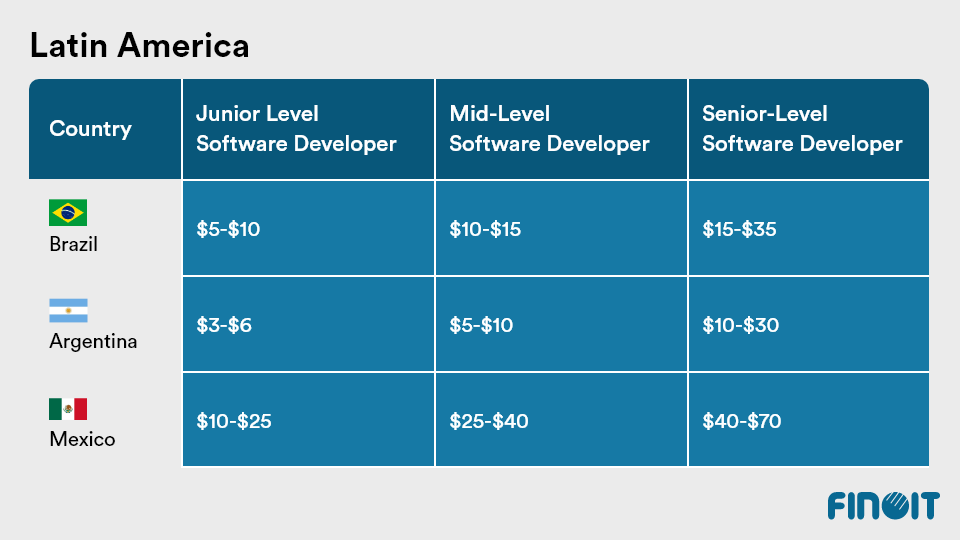 Adopt a gauged approach to outsourcing
The technological ecosystem is undergoing deep structural changes and showing its impact on business value chains. In this transformation, software development plays a pivotal role. To disrupt, differentiate and scale, as well as respond faster to changing market needs, outsourcing is proving to be a smart move.
From startups to SMBs to large-scale enterprises, outsourcing has emerged as an excellent fit to meet stringent requirements. Notably, as per Computer Economics, 60% of organizations realize their software development goals through outsourcing efforts. Thus, the appetite for outsourced development is increasing. Thanks to the mindset shift that is bringing more confidence in outsourcing decisions.
However, with the mushrooming growth of software development providers, the challenges are manifold for businesses seeking outsourced development than the providers themselves. Service seekers must thus adopt a gauged approach to outsourcing to reap the fullest benefits of outsourcing. Businesses that wisely choose a software development firm will only be able to capitalize on the outsourcing opportunity.

Need Expert
Offshore Developers?
Proven
Transparent
Dependable
Book a Free consultation
Drop in your details and our analyst will be in touch with you at the earliest.
USA
6565 N MacArthur Blvd, STE 225 Irving, Texas, 75039, United States