Which Open Source CMS Would You Prefer: Drupal, Joomla or WordPress?
Open-source CMS forms the nucleus for uncountable businesses worldwide. While some corporates prefer them due to their availability as free tools, others embrace them for the ease of use, multiple plugins, themes and templates, high-security standards, etc., they ensure.
Should you wish to avail the services of one such content management system, either on your own or through an open-source web development company, there is no dearth of options. However, it won't leave you scratching your head to know the foremost platforms in this context; merely a little bit of Googling is enough to make you realize the power of Drupal, Joomla, and WordPress – three most used content management systems (CMS).
Let's learn more about the most popular open source CMS and determine which one do you think is the best CMS in 2023.
Topmost Open-source CMS
| Feature | WordPress | Joomla | Drupal |
| --- | --- | --- | --- |
| Ease of use | Very easy | Not too easy | Challenging |
| Support option | Extensive support | Available on the official website | Available on the official website |
| Security | Prone to hacking | Website security can be enhanced with custom Joomla web development | Exceptionally secure |
| Add-ons and themes | Abundant | A bit difficult to find the appropriate one | Limited |
| Multilingual support | Multilingual functionality is possible with plugins in WordPress | Offer a straightforward method for creating multilingual sites | Creating multilingual websites with Drupal is easy. |
Now, we will dive into the details to compare WordPress vs. Drupal vs. Joomla. We would be driving the comparison across multiple parameters to determine the strengths of the tool.
Simplifying Website Creation
For users who aim to build a website without technical expertise, ease of use is crucial. Examine how the best open-source CMS- WordPress, Joomla, and Drupa fare in terms of usability.
WordPress
Installation: WordPress is known for its famous five-minute installation, often accompanied by one-click installation options provided by hosting providers. Getting started with a WordPress blog or website is quick and hassle-free.
User Experience: WordPress offers a straightforward post-installation experience. The user is greeted with a clean and user-friendly interface featuring intuitive menus for creating posts and pages and customizing appearance and themes.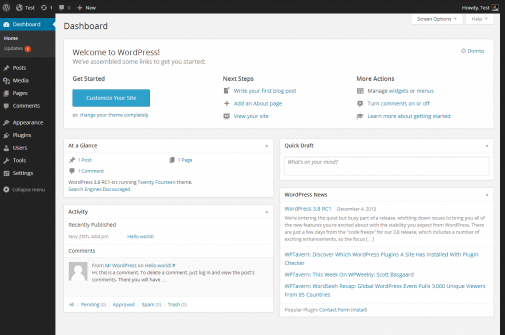 Image source:- WordPress dashboard screen
Joomla
Installation: Joomla installation may require a few more steps than WordPress, but shared hosting providers often offer convenient one-click install packages for Joomla.
User Experience: Once installed, Joomla presents users with a control panel that may not be intuitive for beginners. The multitude of menus can be overwhelming when attempting to customize the website.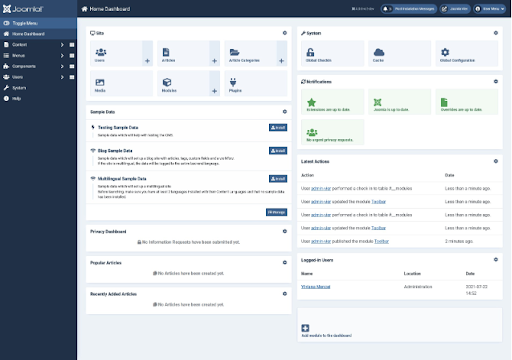 Image source:- Joomla4 Dashboard
Drupal
Installation: Drupal follows an installation process similar to Joomla and WordPress, involving package download, upload, and script execution. Additionally, Drupal offers distributions—pre-packaged bundles with modules and configurations for specific website types.
User Experience: Absolute beginners may find Drupal's post-installation experience more complex. While adding content is relatively straightforward, customizing the website's appearance and adding non-content elements may be less obvious.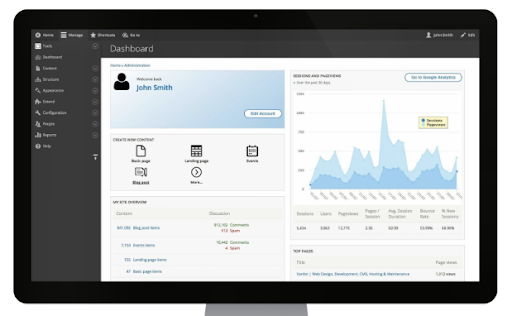 Image source:- Drupal Dashboard
If we compare WordPress vs. other CMS, we can infer that WordPress takes the lead regarding ease of use and beginner friendliness. Its quick installation, user-friendly interface, and intuitive customization options make it ideal for users with no technical background. Joomla offers similar installation convenience but presents a steeper learning curve for customization. While versatile, Drupal may pose more challenges for beginners when customizing website appearance. However, if you find it difficult to navigate these CMS platforms alone, you can always rely on the expertise of offshore custom software development firms. These firms have the experience and knowledge to help you build the best website tailored to your specific needs
Website's Look and Features
These three best open-source CMS platforms – WordPress, Joomla, and Drupal – provide themes and add-ons to help you customize your website. Check out how each CMS performs in this area:
WordPress
WordPress makes changing your site's appearance easy using themes. It comes with a selection of default themes, and you can easily browse and install additional free themes from the official WordPress.org theme directory.
If you're looking for more advanced options, premium themes are also available from third-party theme shops. The real power of WordPress lies in its vast plugin library. You can choose from over 59,000 free plugins in the official WordPress plugin directory, allowing you to add new features and functionality to your site with just a few clicks.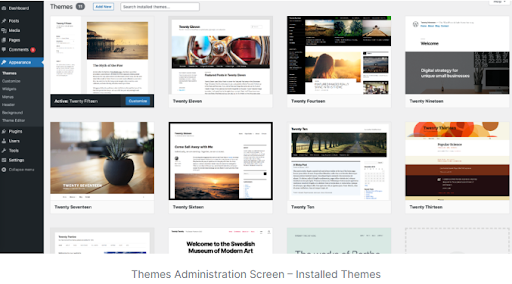 Image source:- WordPress Themes
Joomla
Joomla also offers templates and extensions to customize your website. While various extensions are available for different purposes, the number of templates and extensions may not be as extensive as WordPress. Finding the perfect template and extensions might require more effort.
By default, Joomla doesn't have a built-in feature to search and install extensions or templates directly from the administration area. However, you can add an extension that enables an "install from the web" feature for extensions. You may still need to search for templates and manually add their URLs for installation.

Drupal
Drupal faces similar challenges regarding theme and module availability. Users need to search for desired modules and themes outside their site, locate the project's zip file URL, and then enter the URL in the Modules or Themes page to install them. While fewer modules may be available compared to WordPress, Drupal offers a range of modules for various functionalities, and new modules are regularly added.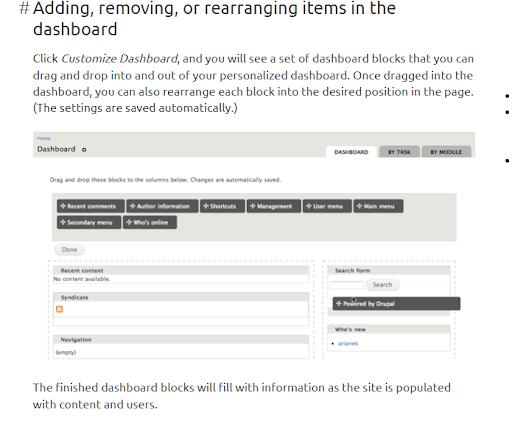 Image source:- drupal theme
Getting Help When You Need It
Getting help when you're stuck is important, especially if you're new to website building. Let's explore the support options available for each CMS:
WordPress
WordPress has a friendly and helpful community. You can find support on official forums, where you can ask questions and get answers from experienced users. Plenty of tutorials, videos, and articles are available online, specifically designed for beginners. You can hire WordPress professionals from platforms like Codeable, UpWork, or Fiverr if you need more personalized assistance.
Joomla
Joomla also has a supportive community. You can find help on forums, mailing lists, and user groups, where users are willing to offer guidance and advice. The Joomla website provides extensive documentation and resources to help beginners. However, finding affordable help specifically for Joomla may be more challenging than WordPress.
Drupal
Drupal has an active community. Support can be found on forums, mailing lists, and chat rooms, where users are ready to help you. The Drupal website offers comprehensive documentation and resources to assist beginners. It's worth noting that finding affordable Drupal developers may be more expensive compared to WordPress.
Building Multilingual Websites
Many website creators today require the ability to build websites in multiple languages or support different locales. Explore how each CMS handles localization and multilingual support:
WordPress
While WordPress doesn't have built-in multilingual support, it provides excellent plugins that make it easy to create multilingual sites. With these plugins, you can effortlessly add multiple languages to your WordPress site. WordPress is available in over 57 languages, and you can install new languages with just a click in the admin area. Many popular themes and plugins are also available in multiple languages. Thanks to the efforts of developers who actively translate their packages. Overall, WordPress is a great choice for building non-English or multilingual websites.
Joomla
Joomla offers out-of-the-box capability to handle multilingual websites without additional extensions. You can add content languages and create multilingual content on your website through the language manager. Translations for the admin interface are also available in many languages and can be easily installed from the admin area. Joomla simplifies the process of building multilingual websites right from the start.
Drupal
Drupal provides built-in support for non-English and multilingual sites. You can handle multilingual content on your Drupal site by enabling the locale and content translation modules. You can add site and admin interface languages from Drupal's configuration section. With these features, Drupal empowers you to create websites that cater to different languages and locales.
Security
Choosing a CMS that prioritizes protection against potential threats is crucial regarding website security. Look how WordPress, Joomla, and Drupal handle security:
WordPress
With popularity comes a higher risk of cyber attacks and threats. WordPress is a highly used CMS, so websites built using it are vulnerable to hackers. However, its secure code and quick vulnerability response make it a reliable choice. WordPress has an auto-update feature that ensures your website stays up-to-date with the latest security patches.
Additionally, you can enhance security by enabling automated backups, using two-factor authentication, and the recommended security practices. Themes and plugins also receive regular updates and help address security issues promptly.
Joomla
Like WordPress, Joomla actively addresses security vulnerabilities and releases patches to safeguard websites. However, maintaining and updating your Joomla site is your responsibility. To boost security, consider using backup extensions and implementing security best practices.
Drupal
Drupal takes security seriously and promptly publishes vulnerabilities and patches. While it may not be as popular as WordPress or Joomla, it has a reputation for strong security measures. However, regular updates are essential to ensure your Drupal site remains secure.
Cost
Are you curious about the cost factors when choosing an open-source CMS development? Let's compare the cost considerations for WordPress, Drupal, and Joomla to help you make an informed decision!
WordPress:
Software cost: Free to download and use, with no licensing fees or subscription costs.
Hosting cost: The cost of hosting will depend on the chosen provider and the specific hosting plan selected. Various options are available to suit different budgets.
Maintenance cost: The maintenance cost will depend on the level of service required, such as regular updates, backups, and technical support.
Joomla:
Software cost: Joomla is open-source and free to download and use, allowing users to modify and distribute the software without licensing fees.
Hosting cost: Similar to WordPress, the hosting cost will depend on the chosen provider and the hosting plan that fits the website's requirements.
Maintenance cost: The maintenance cost will vary based on the level of ongoing support needed for updates, security, and troubleshooting.
Drupal:
Software cost: Drupal is also open-source and free to download and use, providing users with the freedom to customize the software without licensing fees.
Hosting cost: The hosting cost will vary depending on the chosen provider and the hosting package selected to accommodate the website's needs.
Maintenance cost: Similar to WordPress and Joomla, the maintenance cost for Drupal will depend on the level of ongoing support required for updates, maintenance, and technical assistance.
Check their Market Shares
Have you ever wondered which CMS platform is the most popular? To better understand, let's compare the popularity of WordPress, Drupal, and Joomla.
WordPress
WordPress is incredibly popular and widely used, with a market share of over 29.36% among the top 1 million websites in 2023. It has a massive and highly engaged user community, so resources, tutorials, and support are available. You'll find a vast selection of third-party resources like plugins, themes, and integrations to enhance your website.
Drupal
While not as popular as WordPress, Drupal still has a significant user base, with a market share of over 2.72% among the top 1 million websites. The Drupal community may be smaller, but they are known for their technical expertise and dedication. You'll find various third-party resources like modules, themes, and integrations to customize your site according to your needs.
Joomla
Joomla falls slightly behind WordPress and Drupal in popularity, but it still has a respectable market share of 1.39% among the top 1 million websites. The Joomla community is active and enthusiastic, although smaller than WordPress. You'll find a decent number of third-party resources like extensions and templates to add extra features and customize your website.
Conclusion
Open-source CMS or frameworks are the best alternatives to core website development. While they allow the users to use the sites without prior knowledge, such CMS also enables the developers to customize the sites using the latest plugins, add-ons, templates, and themes. As seen above, all three CMS discussed above differ in features and functionalities, but they all serve the same purpose, assisting in high-quality and cost-effective web development solutions.
Finoit, an experienced software development company, provides quality web development solutions using open-source CMS. We possess credible experience in utilizing the capabilities of open-source frameworks like Drupal, Joomla, WordPress, and Magento to develop the most feasible solutions. Our clientele represents a thick of verticals worldwide, for whom we have implemented these CMS. To know how we can assist you, schedule a discussion with us.
Book a Free consultation
Drop in your details and our analyst will be in touch with you at the earliest.
USA
6565 N MacArthur Blvd, STE 225 Irving, Texas, 75039, United States