Enterprise Mobility: How it Benefits the Education Sector?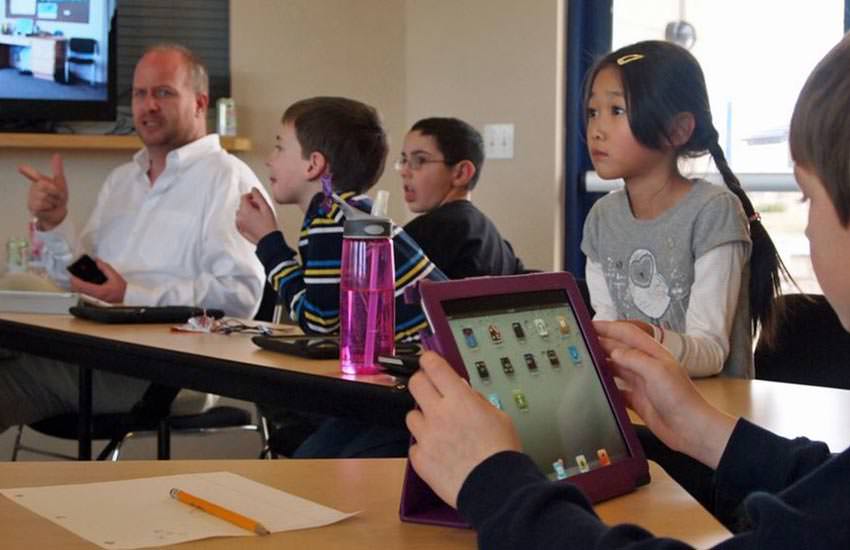 Enterprise Mobility has worked wonders in streamlining complex processes for a range of verticals, resulting into swifter communication, accentuated business gains and exponential revenues. Its contribution in the education sector is no different, with both the teachers and students now finding it far convenient to acquire and impart education, respectively. Evidently, the role of various mobility components, i.e., mobile devices, mobile applications, wireless networks, etc., in enhancing the education standards have been significant. Let's delve deeper into this topic and know the reason behind the ubiquitous bond between enterprise mobility and education landscape from close.
Why enterprise mobility for Education?
As they say, "Education is universal, it shouldn't be confined", enterprise mobility has helped people associated with this industry raise a concrete step toward realizing this very universal truth. The phenomenon has infused new life in the learning sector, with educators reaching out to students located elsewhere through upgraded business models, strategies and operations. Many learning facilitators have used software company for custom LMS development while some have used vendors to use digital tool for imparting learning and development. In a nutshell, Education has gained from Enterprise mobility in terms of:
Transformation: Teachers or institutions seek the assistance of mobile technology to device social CRM strategy and implement constructive steps to boost interactions with students.
Back-office support: Educators respond to students' requirements instantly by availing the services of back-office systems and implementing ERP, data warehousing systems, etc.
IT Infrastructure: With transformed IT infrastructure, mobility has resulted into a total overhaul of the education sector, resulting in improved learning, prompt decision-making and more efficient institutions, all at controlled operating costs.
Publishing: Be it to deliver education content online or to make the content readable on upscale mobile devices, the modern day publishing modes, which could be termed as beneficial bi-products of enterprise mobility have cast a magical spell.
Contributions of corporates in Education
Big enterprises, primarily associated with the mobile technology such as Apple, Google and Microsoft, etc., have made immense contributions toward giving education a better, more prolific and far productive environment in the recent times:
Apple: The trend of using tablets as a learning tool in schools has been catching pace reapidly. Teachers nowadays prefer using iOS devices and iOS software such as iBooks Author, etc., to educate students. Capitalizing on this virtue of enterprise mobility, Apple has surpassed $1B mark in Q3, 2013 from education sales. Many iPad app development companies have flourished and Apple's iPads alone grabbed 94% of the total market share, making it the best quarter ever in education. The company also allows pre-teens to buy learning stuff from iTunes and iBookstore. Moreover, it has managed one of the schools in Netherlands to replace the age old textbooks with iPads. This step further aggrandizes the essence of mobility in education sector.
Google: Android app development especially for learning and training delivery has been up significantly and Google Play has launched its Education section in November 2013 that aims at extending help to schools and k-12 teachers. The new category makes it simple for educators to discover education apps that could help them teach students the better way and ease out their administrative responsibilities. 'Google Play for Education' also lets educational institutes to order Android devices in bulk. It ensures quick disbursement of educational contents such as apps, videos, etc., on the students' mobile devices through cloud. Alongside, Google also encourages developers and content providers to come up with beneficial apps and ideas in the learning domain. With this move, it expects prompt purchase for their creations by interested schools. Apps of the likes of Socrative, Explain Everything, Nearpod, and Class Dojo have already entered the list of most discovered apps on Google Play for Education.
Microsoft: In the recently launched Student Advantage program and probably to compete with Google Play for Education, Microsoft has introduced Office 365 ProPlus for students. It is available free of cost for educational institutes and teachers who already possess licensed Office Professional Plus or Office 365 ProPlus. The software offers all the useful facilities including Word, Excel, Powerpoint, OneNote and more, and is already being used by above 35,000 educational institutes across the globe. In addition to the application, Microsoft is also recommending Office 365 A2 package to schools that is well equipped with a slew of important education related capabilities Office Web Apps, SharePoint Intranet, 25GB SkyDrive Pro storage, 50GB email storage, web conferencing, Active Directory integration, anti-spam and anti-malware.
Mobile device and app usage trend among students
A survey was conducted at University of Central Florida (UCF) in 2012 regarding the ownership of mobile devices and their use among students. It asked several questions regarding mobile ownership, usage, etc., from 1082 respondents, included 809 undergraduate and 133 graduate students from 84 courses and 12 colleges of UCF. The findings are as below:
Above 91% of 1082 young participants (i.e., 849) owned Android, iPhone or iPod Touch.
37% (290 students) owned tablets like Android tablet, iPad or Kindle Fire
27% (186 students) owned e-book reader like Kindle or NOOK.
58% (629 students) said that they use mobile devices for academic reasons.<
82% (314 students) of the 383 tablet owners used the device for studies
64% (172 students) of the e-book owners also used it for education purpose.
Though these are the facts derived from a small sample of respondents, they still depict the overall picture of the mobile device popularity among students, especially for education purposes. Anticipating the inclination of modern day youth toward upscale gadgets, this trend is only expected to thrive prolifically in the forthcoming times.
To summarize, like all the other domains, enterprise mobility has proved its mettle in the education sector as well, with educational institutes, teachers, and students benefiting significantly from this uber popular trend. Sensing the gravity of its essence, big companies of the IT sector have also made noteworthy contributions, helping educators to make the most of education apps, software and mobile devices in imparting knowledge among the students. It is indeed the magic of mobility that has inspired the young ones nowadays to use modern gadgets like Android smartphone, iPad, iPhone, tablets, etc., for learning purposes alongside studying the traditional textbooks.
Finoit is an experienced service provider of interactive mobile learning solutions and quality e-learning application development devices and OS including android, iOS and Windows Phone. Not surprisingly, our development expertise in this vertical has managed to enthrall the attention of educators and students worldwide.
We extends our cordial support to all your mobile app development and education app development endeavors. Contact us today to avail our valuable services in this noble domain and make the most of the enterprise mobility trend.
Book a Free consultation
Drop in your details and our analyst will be in touch with you at the earliest.
USA
6565 N MacArthur Blvd, STE 225 Irving, Texas, 75039, United States