Top 10 Software Development Companies for Startups
Doing research, compiling the list of top software development companies for startups, and arriving at the right choice is a time-consuming and effort-intensive process. Here is a ready-to-refer list that shakes that burden off your shoulders.
Software development has made its foray into startup ecosystems, as product development has become a cornerstone of startup success. Across verticals, startups are banking on software to define winning strategies and refine the existing ones.
For instance, in
Fintech, applications drive digital payments, help manage financial plans, streamline trading, and guide individual investors.
Agtech, mobile apps keep farmers updated with weather information and streamline farm management.
eCommerce, online stores keep apparel and footwear of choice constantly at customers' fingertips.
Riding services, and mobile apps connect users with the nearest taxi/cab/rider to reach their destination.
For startups, investing in product development is thus investing in growth!
But when venturing to build an in-house team, along with focusing on core strategies, startups also have to burn the midnight oil for hiring the best software developers.
Outsourcing software development has emerged to be a smarter choice for startups, as it fetches the advantages of cost-efficiency and faster go-to-market, amongst many others.
If you are thinking of finding a partner that could help you build your dream products then here is a well-researched list of the top 10 companies that specialize in helping startups with their software development needs. Choosing any of them will help you offload the crucial tasks of building your own in-house software development team.
Which are the 10 best software development companies for startups?
With hundreds of firms claiming to be the best in offering software development solutions for startups in the US, it was quite a tough task to shortlist just ten names. We considered multiple factors and did extensive research to arrive at this ready reference list of the best vendors in the category.
Finoit
A known software development service-provider from the United States (US), Finoit offers solutions across a spectrum of areas, including Mobile App Development, Web Application Development, IoT (Internet of Things), and Digital Transformation and Technology Consulting. It has worked with successful startups cutting across domains and has enabled them to shape their strategies with its solutions.
With over a decade of experience in software product engineering, Finoit has worked with more than 250 clients. Working on diverse projects, the company has delivered scalable products and intuitive digital experiences to clients across North America, Australia, and Europe.
The company operates from its offices across India and the US and has a vast client base that continues to expand. Due to its quality-centric attitude and delivery excellence, Finoit was featured as one of the top B2B companies in India by Clutch.
BoTree
Offering a range of solutions in the space, BoTree has been in existence for less than a decade. Some of the services offered in the space by the agency include mobile app development, web app development, full stack development, and Product Engineering.
With a team of 70 people, the company operates from across the USA and India and has worked on close to a hundred projects. Some of the industries for which BoTree has served include Healthcare, Finance, and Travel and Entertainment.
Prismetric
Founded in 2008, Prismetric positions itself as a mobile app development agency, with development centers in India and the US (United States). Most of the company's services are centered around the mobile ecosystem. This we see in its service areas that include apart from mobile app development, embedding technologies like AR into mobile apps. Web development and eCommerce development are other offerings that it provides.
With a team of 60+ developers, Prismetric has developed solutions for its clients spread across various geographies. From time to time, the agency has been recognized as one of the top mobile app development vendors in India by various agencies such as GoodFirms.
Orases
Headquartered in Frederick, MD, Orases has been a dedicated partner to many startups. Some solutions provided by Orases include mobile app development, UI/UX design and development, and maintenance and support.
With over two decades of existence in the development space, Orases has scripted many success stories. For its remarkable delivery of quality solutions, it has garnered many recognitions. It has been featured in Clutch's list of Top B2B Companies in Maryland. It was also featured in Find Best Web Dev Best Custom Software Development May 2021 Top 10 list.
Saritasa
Since its inception in 2005, Saritasa has grown into a trusted name as a provider. It offers development services in the areas like mobile development, AR/VR development, web development, and database development.
Headquartered in Newport Beach, CA, Saritasa has delivered hundreds of successful solutions. Currently, it has a team of 140+ professionals that continues to serve startups across verticals like healthcare and heavy industry. Regularly receiving recognition, the agency was featured by Clutch in its list of top software developers and Techreviewer's list of top software developers.
Praxent
Founded in 2000, Praxent specializes providing solutions in Finance and Banking space. As a result, with its core competency, it has developed solutions for several startups across Fintech, Insurance, Lending, and Wealth Management. The service offerings include mobile app development, web portal development, and front-end and back-end development.
Recently, Praxent has been recognized as one of the best places to work in Fintech by American Ranker. Likewise, Built In, a community of startups, featured Praxent as one of the best places to work in Austin, Texas, where the firm is headquartered.
Emergent Software
Headquartered in Minneapolis, Minnesota, Emergent Software has been offering services for startups since 2015. It offers a full range of software-based services from custom development, website development and design, and SharePoint services to ongoing maintenance and support.
The agency is a sister concern of Presidio (erstwhile Emergent Networks), an IT-managed services firm from Twin Cities, Minnesota. Some of the notable achievements of Emergent software include getting featured in Inc. 5000, Clutch's top 1000 companies, Clutch's top B2B companies in Minnesota, and Software World's top-rated development companies list.
Launchpad Lab
Web app development, mobile app development, and salesforce development are some solution offerings that Launchpad Lab, the Chicago-based firm provides. Heroku and Salesforce are two platforms that it uses along with a couple of frameworks like Ruby on Rails.
Currently operating with a team of 70 team members, Launchpad Lab has earned a place in Inc. 5000 and Best Places to Work by Built In lists. Clutch also mentioned the agency in its list of top B2B companies from Illinois, and the top 1000 global companies.
Sidebench
Sidebench is another known name in the space. A HIPAA-compliant company, it offers solutions across mobile and web app development, UI/UX design, and systems integration. For a decade now, it has been catering to some innovative startups providing solutions through a mix of its offerings.
With a small team of 50+ employees, Sidebench has developed custom business applications, user experience designs, and product strategies for various clients across the US. Due to its work in digital innovation, it has been regularly featured by Forbes, ScienceDirect, and MedCity News.
Appinventiv
Appinventiv was founded in 2014, and in a span of just eight years, it has gone on to become a known company that provides services to startups. Its myriad range of offerings includes mobile app development for Android and iOS, web development, OTT app development, and business intelligence (BI).
Appinventiv is a recognized partner by companies like Cloudera and has developed and delivered more than a thousand apps to date across a gamut of industries like aviation, agriculture, travel, and finance.
Factors that Startups should look for in a their Development Partner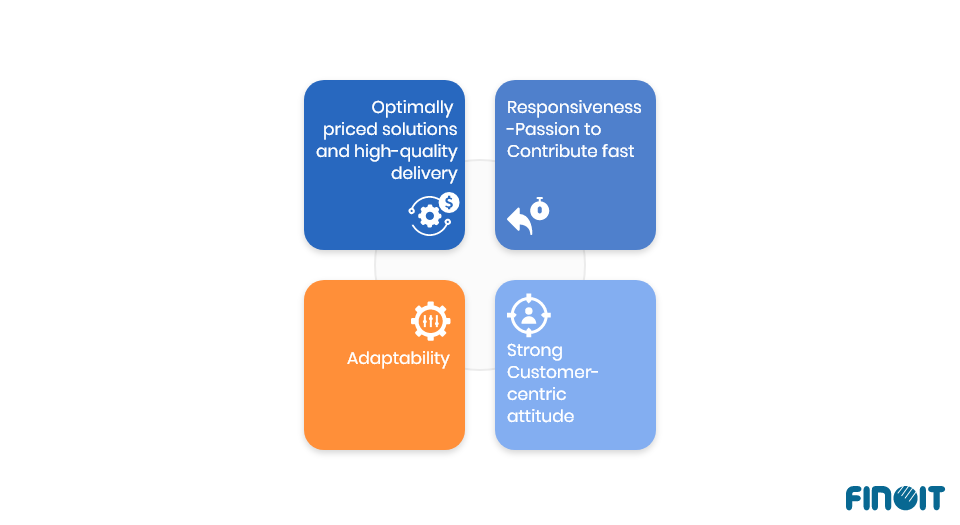 Engage with a software developer who understands your strategic pulse
Crawling through multiple lists, doing vigorous searches across search engines – not just Google, and carefully screening social media presence is what it takes to find a company that offers quality services for startups. However, these are just a few steps in the process, and we have saved you from all of them.
Nowadays, most software dev vendors invest significant efforts in owning the best talent and state-of-the-art technologies. As technology partners, they help startups graduate into mature enterprises. So, a successful partnership with a recognized provider can promise more customer engagement and clearly visible results in the ROI.
Instead of addressing their short-term goals, startups should look to forge a long-term partnership with a reputed and proven company. Undoubtedly, they should invest efforts to analyze the capabilities of a software developer and evaluate its fitment for their projects.
Book a Free consultation
Drop in your details and our analyst will be in touch with you at the earliest.
USA
6565 N MacArthur Blvd, STE 225 Irving, Texas, 75039, United States