State of the Global IoT & IIoT Market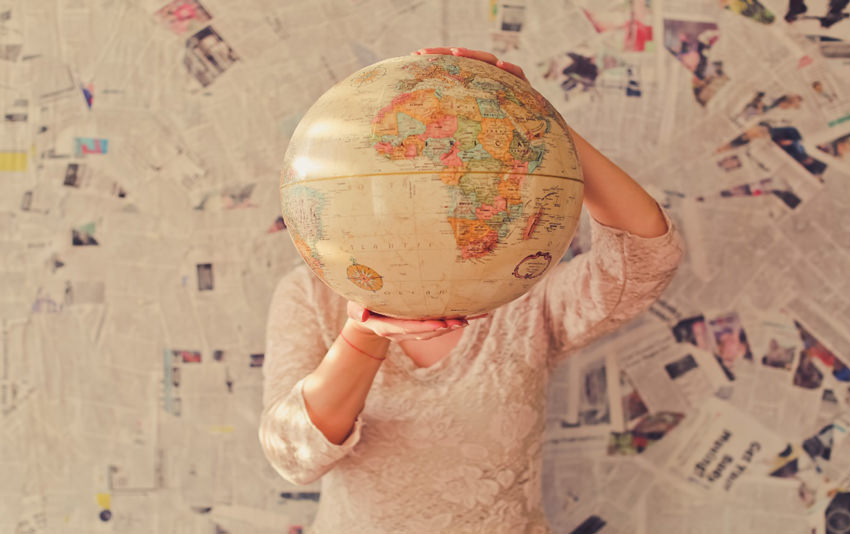 Global businesses are tossing over digital transformation. They are seeking new technological models to create a connected initiative for merging operational, informational and predictive departments of the industry. This transformation is forecasted to improve the overall production, enhance operational efficiency, improve transparency, and reduce the bugs, errors, and complexities of different processes at different stages in the industry.
The emergence of IoT development companies have played a major role to reduce costs in the industrial sector. However, there are some other added incentives as well that have boosted IoT adoption in industries. Such as increased productivity, process automation, and real-time data. Such inclinations have bought fundamental justifications on why IoT is the best embracement in manufacturing industry overall.
Deployment of the Internet of Things (IoT) in industries to streamline manufacturing processes is referred to as Industrial Internet of Things (IoT). Among many enterprises globally, IoT development companies are the proof of collaboration of technical advances with the manufacturing industry.
Fondly known as IIoT, it improves connectivity, remote handling, data collation, improved security and incline towards cloud for data storage. IIoT has disseminated low-power hardware devices, cloud integration, big data analytics, robotics & automation, and smart sensors that are changing the face of manufacturing industry.
"The global industrial IoT market is expected to reach USD 933.62 billion by 2025, according to a new report by Grand View Research, Inc."
IIoT incorporates digital technologies like machine learning, Big Data technology, machine-to-machine (M2M) communication, sensor data, robotics, artificial intelligence and automation technologies with manufacturing industry. The collaboration has evolved the segment to reduce costs and increase productivity simultaneously.
Large collected data in the past now helps in predictive maintenance which generates savings overscheduled and planned repairs. This overall leads to a reduction in maintenance costs and downtime from machinery breakdowns. Rising adoption of IIoT by the transportation sector is also driving the market to the next level of growth. Nonetheless, a major challenge of IIoT is maintaining the security and privacy of the data which leads to loss of physical systems and data security.
"The global Industrial Internet of things market is anticipated to expand at a CAGR of 24.3% during the forecast period (2018-2026) and is expected to reach US$ 991,562.0 Million by 2026.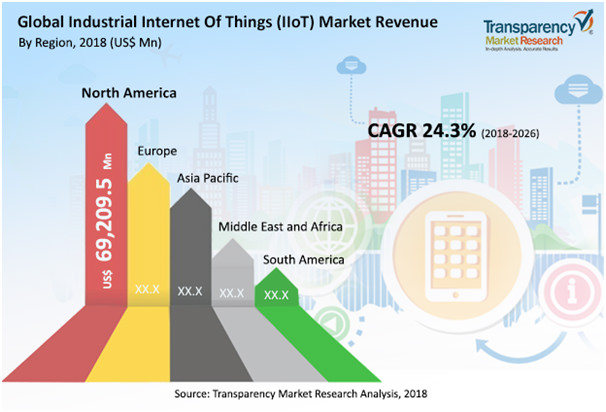 Image source: Transparency Market Research Analysis, 2018
The end-user segments of the IIoT market globally are aviation, oil & gas, transportation, power generation & utility, manufacturing, healthcare and others. Manufacturing alone is expected to account for market share close to 35% of the global industrial Internet of things (IIoT) market due to the larger adoption of IIoT in the manufacturing industry sector.
The market is embellished with some players in the global IIoT market with significant digital developments that have been listed in the digital transformation reports. Such companies are standing tall with IIoT enablement such as IBM Corporation, Intel Corporation, Schneider Electric SE, General Electric Company, Emerson Electric, ABB Ltd., Accenture PLC, Tech Mahindra Ltd., Softweb Solutions Inc., Sasken Technologies Ltd., ZIH Corp., Siemens AG, Robert Bosch GmbH, and NEC Corporation.
Geographically, North America is projected to be a major player in gaining market share to IIoT followed by Europe and the Asia Pacific. Europe is also foreseen to witness fast growth due to digital advancements initiatives were taken by the government during Industrial 4.0 in the respective region for Industry 4.0 (the fourth industrial revolution).
The Middle East and Africa (MEA) are planning to place themselves in the global market already. Since IIoT has already proved to be the path that encourages slow expenses and more technical skills, there had been a trust built for the involvement of IIoT in global markets. "The Asia Pacific region is expected to witness the highest CAGR in the global IoT industry and this comes in primarily due to large-scale industrialization in Asian markets like China, India and Japan."
Conclusion:
Many companies are switching to IoT with the support of an IoT application development company. Growing need for IoT integration in manufacturing industry itself has paved the way for IIoT. The need for big technologies is expected to lower down the cost and increase productivity at each level. IIoT has enabled technologies like cloud integration, big data analytics, robotics, and automation that drive the global industrial market.
It has not only allowed accessing requirements remotely but also prepared the industries for any foreseen expected challenges. Having mentioned very few global impacts of IIoT, there are plenty of reasons why the global market is taking a curve towards IIoT. The growth is immense and trustable. It has begun a new industry of technological revolution.
Finoit Technologies is a renowned mobile app development company providing custom software development services and IoT application development services. We have developed over 450 mobile apps, and have assisted many solopreneurs in their journey of startups by functioning as a tech partner and rolling out their product ideas. For questions/queries, you may write to us at [email protected]
Book a Free consultation
Drop in your details and our analyst will be in touch with you at the earliest.
USA
6565 N MacArthur Blvd, STE 225 Irving, Texas, 75039, United States