Top Pre-Launch App Marketing Strategies for Maximum Success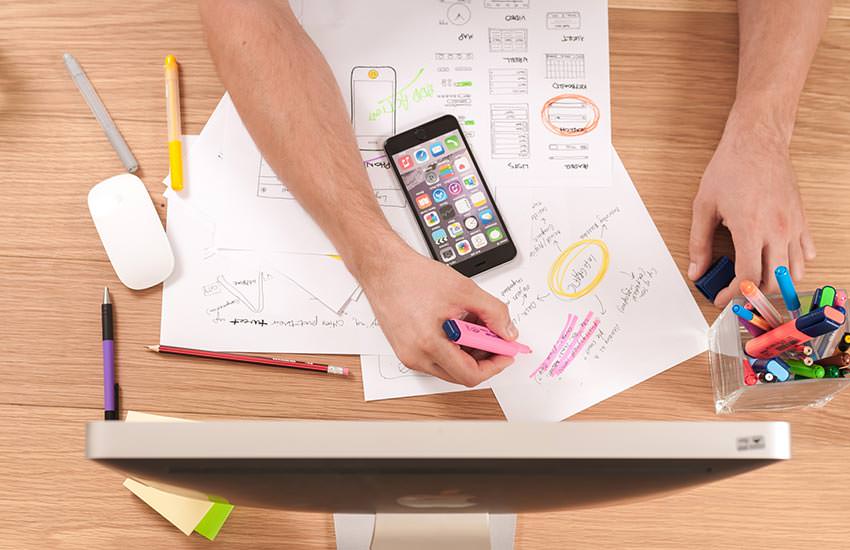 Creating an app and relying only on word-of-mouth to help you get your app off the ground and provide it with the buzz it needs to become successful is simply not enough. You need to take certain pre-launch app marketing strategy to make sure your app generates broad appeal and ensure lasting success.
What will help you launch your app in an effective way is a good marketing plan. Implementing proper marketing strategies into your pre-launch marketing plan is crucial for the success of your app. Marketing will help you attract more people and spread the word about your new app, so you need to take certain steps to ensure your plan reaps the most benefits.
However, before making your marketing plan, you need to set clear goals so that you'll know whether or not your plan is effective. How will you measure the results if you have no idea what your ultimate goals are and whether or not you have reached them? Therefore, setting your goals is a vital step to make before you even start planning your pre-launch marketing campaign.
In order to make sure you reach a great number of users and raise awareness for your app, use the following guide and take every step outlined below, since they are essential for your pre-launch marketing campaign success.
Engage Potential Users on Social Media
Social media offers you the best way of reaching a large number of potential users who are interested in what you have to offer. You can very easily engage many people by sharing information about your app on various social media channels. However, don't try to be everywhere at once. Choose the channels where you can find your target customers and focus your every marketing effort there.
Furthermore, check out where your competition is and promote your app on those channels as well. It's important to analyze your competition and show your target customers the benefits of using your app. Show them exactly why your app is better than your competitors' apps and why they should use it.
It is extremely important to engage people on social media to let them know about your app. You should always respond in a positive manner to every feedback you receive and the important thing is to take the time to thank those who share your content. Don't forget to retweet users when appropriate, as well as thank them for their tweets and retweets.
Communicating with your potential users is the most important thing for ensuring the success of your marketing campaign, as that will show them that you care about them and satisfying their needs, instead of only caring about your app and generating income from it.
If you already have some other apps, you can tap into your customer base and reach out to your existing fans and users. You can even encourage them to spread the word about your app. Leveraging your existing community can have an immense impact on your app launch and guarantee its success.
Start Blogging about Your New App
If you already run a blog, you can use it to update your readers about the development of your new app. If you don't have a blog, it's never too late to create one and grow your customer base. Blogging provides you with an excellent way of growing your fan base and promoting your app.
It's crucial that you create content that your potential app users actually want to read, so make sure you target relevant keywords and create high-quality content, as well as link to other influencers in the industry, because all of that will increase your blog's visibility in search engines, thus raising the awareness of your brand and helping you boost your reputation. With the content of higher quality, your readers will have better user experience, which will increase your SEO rating.
Something that will help your blog become more visible in search engines and reach more visitors is video content. Therefore, make sure you create a video that will showcase your app's interface and capabilities. You need to create a video that will perfectly demonstrate all of your app's features and its workflow.
What's great is that you don't need to hire a production team to help you create your promotional video. You can use a smartphone screen emulation, which will help you easily create a high-quality and professional-looking video that will ideally showcase everything the user needs to know about the app and help you show your app in the best possible light.
Make sure you share both your visual and textual content on social media, as that will help you drive more traffic to your blog and reach out to quite a large number of people who are interested in your new app.
Create a Sneak Peek for Your App
A great sneak peek can help you engage your potential users even more. Sneak peeks are great because they introduce something new and engage viewers in a matter of seconds by showing them something interesting, but they leave them with the expectation of something more. They leave them wondering what is going to happen next.
It's just like watching a teaser for a movie. You watch something exciting and see the actors participating in a few explosions and boom – you're hooked, but you have yet to see the most interesting parts once the movie is out.
By creating a sneak peek that will show screenshots from your app, a promotional video or even just a text introducing your app, you will hook people in and they will definitely want to find out more about your app.
Reach Out to the Press
You certainly want to create a buzz around your app the moment it launches, which is why it's important to let the press know about your app in advance, so that they will be able to create and publish content about your app. Reach out to reporters and bloggers and present them with a preview of your app, as that will help them create more informed and in-depth articles about it.
Make sure you inform the press about the exact date and time your app is going to be released and take the time to answer their question. You should also make sure you are available to them the day before your app launch, as well as on launch day. On the day you launch your app, however, you should be available to the full list of your researched reporters, so that you can make sure the word about your app is spread on all fronts.
Be Part of the Inner Circle
One of the best pre launch marketing plans is to offer exclusive access to a select group of individuals, such as influencers or beta testers. This strategy can help create buzz and generate excitement before the official launch, setting the stage for a successful launch and sustained growth.
By offering exclusive access, you can build a sense of exclusivity and scarcity, which can help drive demand and create a sense of urgency among potential users. It also allows you to get valuable feedback from early adopters and make improvements before releasing the app to the wider public.
In addition to providing feedback, beta testers and influencers can also help spread the word about your app to their networks, increasing your reach and visibility. This can help generate buzz and create a sense of anticipation among potential users, ultimately leading to more downloads and higher retention rates.
Host a Contest or Giveaway
If you're looking for a creative and effective way to generate buzz and expand your app's reach before its official launch, hosting a contest or giveaway is an excellent app launch marketing plan to consider. By offering incentives that appeal to your target audience, you can encourage potential users to participate and share your app with their network, creating a viral effect and increasing your app's visibility.
To create a successful contest or giveaway, it's essential to offer prizes that resonate with your target audience. For instance, if your app is a food delivery app, you can offer a free meal voucher or a discount on their first order. This will attract foodies and incentivize them to participate and promote your app to others.
For promoting your contests or giveaways, use various channels such as social media, email marketing, and online ads to reach a wider audience. Encourage participants to share your app with their network, creating a ripple effect and increasing your app's visibility.
Apart from increasing visibility and downloads, contests and giveaways also provide valuable insights and feedback from potential users. You can ask participants to share their thoughts and suggestions on the app, which can help you improve and refine your app before its official launch.
Lights, Camera, Action
When it comes to pre-launch app marketing, creating a demo video can be a powerful tool to captivate your audience and build anticipation. A visually compelling demo video can convey your app's unique value proposition, highlighting key functionalities and demonstrating how it can solve your target audience's needs and pain points.
To make the most of your demo video, optimize it for multiple channels, including social media, your website, and app stores. This multi-channel approach helps your video reach a wider range of potential users, creating a buzz and generating organic interest. Don't forget to add relevant keywords to the title, description, and tags to boost discoverability.
Attend Industry Events
Attending industry events and conferences is a powerful pre-launch app marketing strategy that can help you get noticed by potential users and investors. By networking with key industry players and showcasing your app to a targeted audience, you can build buzz, generate interest, and lay the foundation for a successful launch.
Industry events and conferences provide a unique opportunity to showcase your app's unique value proposition and establish thought leadership in your industry. By presenting your app at a booth or during a speaking session, you can attract potential users, investors, and media attention, leading to increased visibility and credibility.
Moreover, attending industry events and conferences allows you to learn about the latest trends, best practices, and challenges in your industry. By staying up-to-date with the latest developments, you can refine your app's value proposition and differentiate it from competitors, leading to a more successful launch.
Implement App Store Optimization
App store optimization is a crucial pre-launch app marketing strategy that can significantly impact your app's visibility and download rate. By optimizing your app store listing with relevant keywords, a clear description, and eye-catching visuals, you can increase your chances of reaching your target audience and standing out from competitors.
One of the essential elements of app store optimization is keyword research. It's crucial to identify the keywords that your target audience is using to search for apps similar to yours and strategically incorporate them into your app's title, description, and tags. This will help your app rank higher in search results and attract more potential users.
Additionally, your app's description should be clear, concise, and highlight the key features and benefits that differentiate your app from others. Using engaging visuals, such as screenshots and videos, can also help convey your app's value proposition and provide a sneak peek of what users can expect. Regularly monitoring and updating your app store listing can also improve its visibility and download rate. Analyzing user feedback and making.
Last Few Words
Although this list of steps you need to take to create a pre-launch app marketing plan is not so exhaustive, these strategies are the most basic and crucial ones for ensuring your marketing plan is effective. There are certainly a lot more strategies you can incorporate in your marketing plan, such as implementing different email marketing tactics, but taking these basic steps will definitely provide you with a better chance of succeeding and potentially becoming the next big thing in all of the app stores.
So if you are seeking to streamline your business operations, enhance customer engagement, or boost productivity, then Finoit, a leading provider of cutting-edge mobile app development services, has successfully assisted numerous enterprises in transforming their field force into efficient, proactive, and technology-driven powerhouses.
To know more about how Finoit can help you achieve your mobile app development goals, feel free to reach out to us at [email protected] . Our dedicated team is here to address any queries or requirements you may have.
Book a Free consultation
Drop in your details and our analyst will be in touch with you at the earliest.
USA
6565 N MacArthur Blvd, STE 225 Irving, Texas, 75039, United States