How Compliance is a Critical Consideration in Cloud Development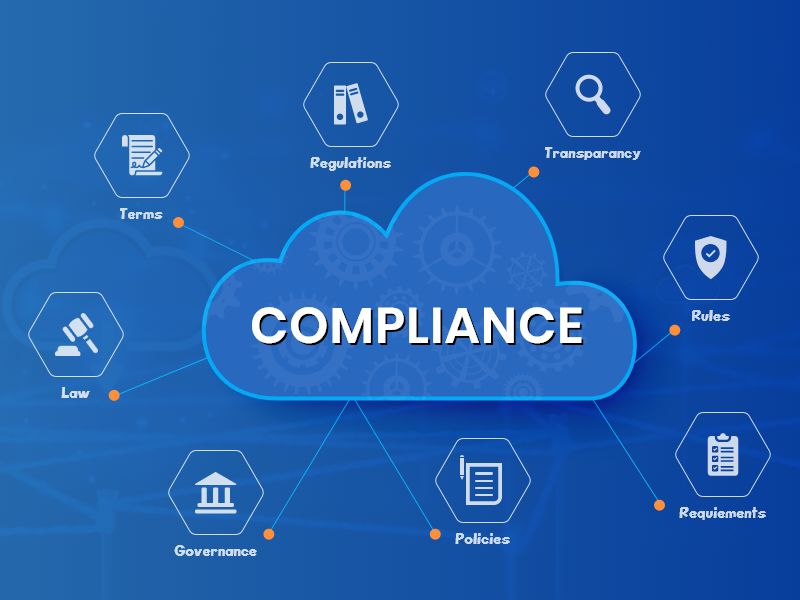 As cloud technology continues to revolutionize the way businesses operate, compliance in cloud has become a critical consideration in app development. According to Markets and Markets the global cloud compliance market is expected to grow USD 59.1 billion by 2027 at a Compound Annual Growth Rate (CAGR) of 14.5%.
With a growing number of regulations and security threats, ensuring compliance is no longer just a "nice-to-have" but a "must-have" for app developers. Also William Saito, Forbes Technology Council once said "Cloud computing has undoubtedly transformed the IT landscape, and yet with this transformation comes a growing need for regulatory compliance"
Thus, many startups and organizations are unaware of what is cloud compliance, but don't worry as in this blog we will discuss compliance and why it's critical consideration and how it can affect cloud development.
Understanding How Compliance is Pivotal in Cloud Development
Cloud Compliance's major purpose is to discover and eliminate potential red flags in the app development process. Hence, if you're pondering why compliance in the cloud is important, explore the following reasons.
Stand out from the crowd
Compliance in cloud development is important for a variety of reasons, one of which being market differentiation. When a cloud application adheres to compliance rules and regulations, it communicates to users and stakeholders that the application is trustworthy, reliable, and secure. This distinction allows the application to stand out from competitors in the market and earn a competitive advantage.
Dropbox, a cloud storage and file sharing service, is a notable example of market differentiation through compliance. Dropbox has achieved compliance with a variety of industry standards and regulations, including SOC 2 Type II, ISO 27001, and HIPAA. This compliance enabled them to stand out in a congested market, and as a result, they achieved substantial growth and success.
Distress all legal liabilities
No one wants to face legal challenges as a result of noncompliance with the law. To be legally compliant, it is critical to connect with the leading cloud consulting company to successfully apply the applicable legislation.
Creating a credible public image is an effective strategy to advertise your application. It is crucial to remember that your clients' trust and loyalty are critical to your company's success. Addressing cloud compliance application development might help you avoid legal obligations and protect your company's brand.
Get ahead of the competition
Compliance is one of the best cloud compliance solutions as it can help achieve a faster time to market and obtain a competitive advantage. By conforming to compliance requirements and standards, developers may ensure that their cloud apps are developed to meet industry standards and best practices.
As noted by the CEO of Cryptzone, "Compliance doesn't have to be seen as a roadblock to innovation. In fact, with the right mindset and approach, compliance can help organizations move faster, more efficiently and more securely."
This illustrates how emphasizing compliance in the app development may actually improve development pace and quality, resulting in a faster time to market and a better competitive position.
Secure your app's uptime and data
An important factor is cloud compliance software, especially when it comes to minimizing downtime and avoiding data loss. Noncompliance has high costs, with Gartner estimating that organizations might lose up to $5,600 every minute of downtime.
Businesses can ensure that their applications are secure and resilient by adhering to compliance in cloud development, lowering the risk of downtime and data loss. Hence, if you want to stay ahead of the competition and keep your cloud development operating smoothly, make sure your compliance procedures are top-notch.
Stay compliant, reduce unforced errors
Unforced errors are the most common threats, and compliance can assist prevent them. Too many people consider risks in terms of external forces that can have an impact on a business. They are concerned about con artists and swindlers, client expectations, funder and stakeholder needs, natural disasters, and large economic trends and forces. But, the majority of dangers and opportunities are developed internally.
This is also one of the key findings of Capital One, an American bank holding company faced a data breach in 2019, in which the personal information of over 100 million clients was compromised. One of the significant challenges in this breach was a failure to comply with security standards in app development. As a result of this breach, Capital One enacted a number of compliance measures to prevent future unforced errors.
Strengthen public relations with top-tier compliance
Compliance in cloud development is more than just a legal requirement. It can also have a significant impact on public relations, as businesses seek to build and maintain trust with their customers.
By prioritizing compliance, organizations can demonstrate their commitment to data security and privacy, which can improve their reputation and enhance customer trust. In fact, a survey by Cisco found that 80% of consumers are more likely to do business with a company that prioritizes data privacy.
Conclusion
So, here you have come to an end and realize how compliance is a critical factor that cannot be disregarded in cloud development. If you also want to create a cloud application then consulting with Finoit technologies can bring your notion to life. We always emphasize that to adhere with compliance, so you will not only avoid legal and financial ramifications, but you also acquire your customers' trust. So what are you waiting for to connect with us to improve cloud application adoption and success.
Book a Free consultation
Drop in your details and our analyst will be in touch with you at the earliest.
USA
6565 N MacArthur Blvd, STE 225 Irving, Texas, 75039, United States