Car Health Diagnostic & Fleet Management Solution
Business Objective
Customer is a renowned name for its car entertainment systems and accessories, specializing in the design and manufacturing of a range of equipment. They planned a system that brings cars diagnostics and Maintenance on the user's smartphones and facilitated a clear view of fleet to fleet management companies.
They wanted to build a setup which provides an ease in driving and maintaining vehicles. For that, customer introduced an OBD (On-board diagnostics), a hardware for bringing data of the vehicle on the cloud. Client was facing many challenges from their agency and wanted a new partner:
With prior experience in IoT space and fleet management
Who could understand, structure and devise system architecture leading to scalable mobile, web and head unit applications and sync them with OBDs
Who could develop a system that produce effective diagnostics and reporting outputs
Having rich experience in design and development of mobile and web application with Bluetooth
Who can provide long term development and enhancement support
Challenges
The existing systems includes mobile application for iOS and android, head unit app, its admin panel and a web panel for fleet management. The primary requirement of the mobile and head unit application was to have an offline support and hardware connection establishment. Features needed from the technology ecosystem:
Vehicle tracking
Improvement in UI
Analytical data of vehicle
Server management and migration
FINOIT recommended phased approach to meet the requirements of client in developing the whole system.
Solution
In this project, the data of vehicles is dependent on a hardware called OBD. Once the OBD is installed in vehicles, it sends the data traffic to mobile applications (iOS & android), head unit (if available) and to the admin panel.
Another web application manages fleets. This web app is for users who have multiple vehicles and drivers. With this application, users can check the status of vehicles and analytics, driver assigned and vehicle condition.
To develop these mobile and web application, phased approach was followed and all these applications are being developed in parallel. We have delivered phase 1 for this, functionalities developed in this phase:
Functionalities
Mobile and head unit application

App establishes Bluetooth connection with OBD installed in car, receives data from it, process the data and shows appropriate analytics on the mobile. Mobile apps are available in iOS and android both. The application has following features:

Safety inspection

Safety inspection checks vehicle's condition and displays result after completing inspection whether vehicle is in good condition or not. If vehicle has any fault, then it would notify about the fault.

Current data

Realtime data and Summary data of the current trip which includes:

Current driving analytics
Trip summary
Fuel consumption
Trip time
Mileage and other analytics

Driving data

Graphical analytics of driving data which includes:

Fuel consumption
Mileage
Rapid increase or decrease
High speed

Maintenance:

Maintenance records can be added in list which will further sends reminders for the same.

Driving history:

Trip history of each trip is recorded and data is saved under this section. User can check the details of each trip from this section.

Contact list:

List of contacts could also be maintained in the application notifications.
A high level information flows between the systems is presented in the illustration below: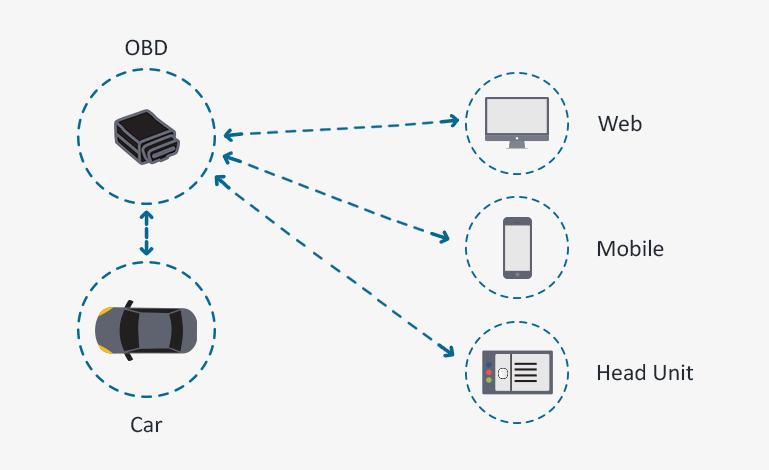 Phase 2 and 3 (ongoing)
Tire Pressure management system
Serial Port Communication
Integration of all protocols of OBDs
Fleet Management
Impact
A stable and scalable complete car health diagnostic solution leading to improved strategic positioning of customer.
Improved vehicle health with early warnings for defects and diagnosis.
Improved enterprise wide transparency and performance due to features such as route mapping and tracking and overall fleet management.
More sales for customer due to increased satisfaction of their product's buyers.
More acquisition of dealers and distributors.
Book a Free consultation
Drop in your details and our analyst will be in touch with you at the earliest.
USA
6565 N MacArthur Blvd, STE 225 Irving, Texas, 75039, United States