The Digital World and Its Impact – A Look Back at Top Companies by Market Cap in 2007 vs 2017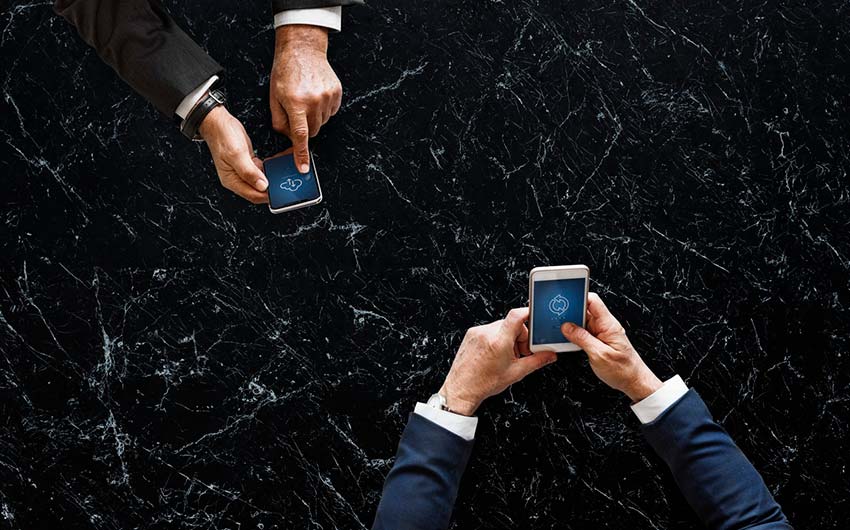 The digital era has not only reshaped our lives but it has also affected the global market. Cutting-edge technologies enabled businesses to grow and develop. Those that didn't catch the opportunity to ride the digital wave risked a lot in terms of staying competitive.
The digital world has had an enormous impact on the world's top companies. To help you understand its power, we have decided to put together some information and look back at the top companies by market cap in 2007 vs 2017 to see what has changed.
Top 10 Companies in 2007 & 2017 by Market Cap
According to the Financial Times, 2007 was the year of oil and gas corporations. The digital world in 2007 was in the making. There were only a few companies closely related to the digitization process. Microsoft and General Electric were the only two corporations oriented on information technology and the digital.
China Mobile, a Chinese state-owned telecommunication corporation and AT&T, an American multinational telecommunications holding company, were also in the top 10, thanks to the popularization of digital communication and mobile phones.
By 2017 the digital world had bloomed. Cutting-edge technologies completely reshaped the market as we knew it. In fact, the tides had so dramatically shifted that just looking at the top 10 companies by market cap in 2017 list published by PWC makes you wonder what in the world had happened.
This list showcases the impact of digital on the world: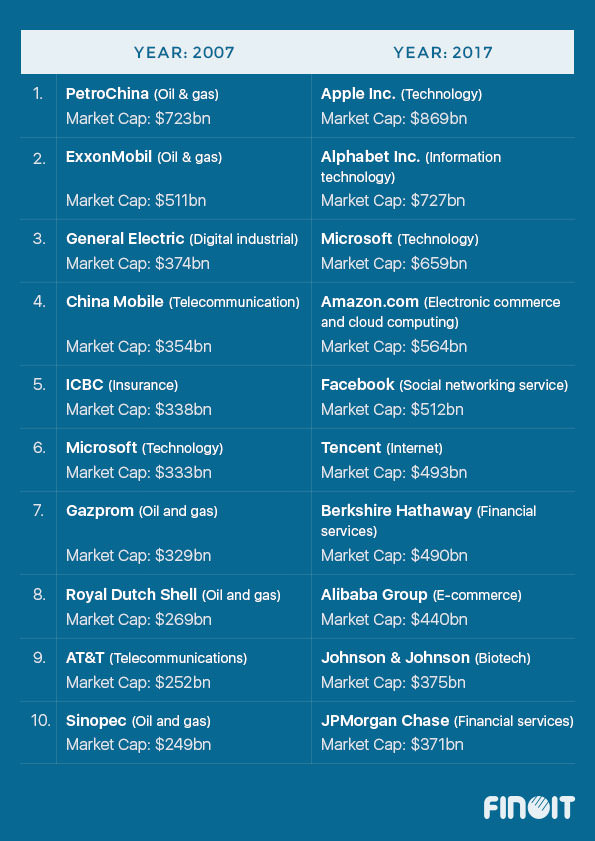 How Digital World Impacted the Business Dynamic
Comparing these two lists does make you wonder. Where did all those oil and gas companies go? What's going on with all these technology and e-commerce companies?
The digital world has definitely changed the global marketplace, enabling the new companies to significantly increase their market cap. It appears that people are spending more on digital services than on anything else.
The Internet alone has enabled so many companies to generate revenue. The popularity of this network has created completely new markets – people started using it to shop, communicate, and have fun. Just take a look at Alibaba Group. It is an online store with a $440 billion market cap. Let me underline it once more – an online store is one of the 10 world's wealthiest companies.
What Can We Learn From The New Market Distribution
If nothing else, the newest market distribution has one thing to teach us – there are no guarantees out there. But by looking at the current market dynamics and distribution, we have to admit that there is nothing on the horizon that can jeopardize the success of companies who embraced the digital.
The success of the digital world doesn't lie in creating new needs for people and thus forming new markets. It's quite the contrary, the digital world has enabled us all to streamline dozens of tasks and processes, making everything easier for us.
The digital era is far from coming to an end. By looking at the current developments it's safe to assume that the top 10 chart is likely to change in the next decade but not as dramatically as it did in the 2007–2017 scenario.
Finoit Technologies is a renowned mobile app development company providing custom software development services and IOT application development services. We have developed over 450 mobile apps, and have assisted many solopreneurs in their journey of startups by functioning as a tech partner and rolling out their product ideas. For questions/queries, you may write to us at [email protected]
Book a Free consultation
Drop in your details and our analyst will be in touch with you at the earliest.
USA
6565 N MacArthur Blvd, STE 225 Irving, Texas, 75039, United States