User Experience Trends Driving Healthcare Digital Transformation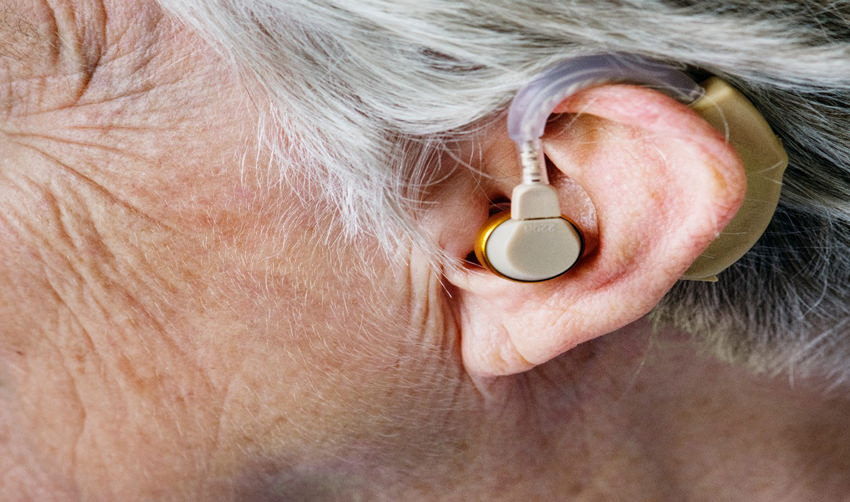 Healthcare industry is one of the most vital industries standing in the market. An economy's high expectancy lies in the growth and maintenance of the healthcare industry. It has always been prone to creativity and innovation. The agenda of transformation has been to achieve greater life expectancy with the quality of the healthcare services regularly checked and improved.
All the big players in this healthcare biome are pushing and pressing for the need for digital transformation. However, the success of this mutual effort heavily depends on the gigantic reach of the digitization technology in tossing user experience.
However, the higher we plan for the top-notch quality of health care services; it becomes directly proportional to the healthcare expenditure. Though everyone wants to be digitally equipped with digital healthcare advances, expenditure has become one major problematical challenge for all the countries around the globe.
Digital transformation in the healthcare industry is one solvable solution to reduce the excessive healthcare expenditure. A complete refurbishment of healthcare's digital user experience is emphasizing on to bring forth high-quality and innovative care.
It is well known and defined that the healthcare industry will improve with digitization. Before planning for transformation in the healthcare industry, one needs to understand the in-depth of digital advances. This supports the idea and enhances the overall outcome of the execution overall.
Digital transformation is not only about buying and purchasing new technologies and tools that can be easily implemented in the healthcare procedures, but it is also about changing the functional and operational process in the healthcare sector thus promising to make it more automated and efficient.
Healthcare industry is not only about technologies merging with the life of patients. It focuses more forecasted approach and relies heavily on information handling. A thorough study reveals that if the information and data gathered from the digital devices can be channelized and stored effectively, it becomes easier to structure the facts and gain automated comebacks for the current and upcoming health problems.
Such transformation looks for support of the leadership management who is efficient in understanding the current scenario, forecasting the expected set-up, plan the blueprint, assemble skilled resources and execute efficiently. This then becomes the responsibility of a well furbished IT team that could enable technology amalgamation with healthcare management.
In some parts of the world, digital engagement with healthcare industry has already started to produce effective results.
"According to HBR, 97% of patients surveyed were satisfied with their first telehealth experience. And 74% of patients felt that the interaction improved their relationship with their provider."
2017 has seen the advent of new technology – mostly the explosion of wearable devices and the exploration of blockchain in securing healthcare IT.
Let's explore on how digitally transformed healthcare industry has evolved the user experience and both industry and customers are beginning to get satisfied with the combination.
Cloud Computing
Registration through papers and maintaining patient records has become a past story. Today, hospitals and all doctors are storing and managing the patient records over the cloud. This allows them to relate to medical data and test records 27/7 and access it as per their convenience.
Since it's all about the data nowadays, the cloud computing technology has revolutionized the way data is stored. The cloud technology has increased the information accessibility for both the patients and doctor alike thus streamlining the process. This has benefited the patients in a way that they can now avail their test results on the cloud without going through lines and pain of waiting in line.
"In some developed countries, it is expected that by 2018, more than 60% of the interactions with the healthcare experts and facilities will take place using mobile devices."
Power of Mobile
Mobile is well known to every single person these days. Banking, calling, purchasing, booking etc. all can be easily done by a mobile. The same advantage has aligned with healthcare as well. The involvement of medicine with mobile technology is called telemedicine. It involves the use of telecommunication technology that remotely diagnoses and treats the patients. It's a lifesaver practice when the patient could not reach to doctor's vicinity and needs urgent attention.
"In a survey back in 2016, it was found that doctors consider telemedicine as a better way to treat chronic diseases.
With the power of mobile technology and a good internet connection, patients now receive the best possible healthcare on a real-time basis, thus saving them from the tiresome process of visiting doctors. It has proved to be saving time, effort and money for both the doctor and the patient. Telemedicine has already been declared as an enormous success in the field of health care. It is equally applicable for patients who need instant emotional support, they find quick easy access to therapists on just a tap of the button at a much-reduced cost.
Artificial Intelligence
As already stated, data is the king in the digital world. Data management has become a revolutionary act as it proposes the base of digital transformation in the healthcare industry. It requires proper channelization to get exactly what is needed from the gigantic hue of the repository.
Nonetheless, one major advance being bought up in the trend is Artificial Intelligence. It ranges from measuring customer satisfaction to identifying various risk factors for the patients. Internet of (Medical) Thing (IoMT) is marking its way in the industry already. Under this concept, mobile devices, wearable health check-up devices are connected to work as a unified collaboration that caters to create medical health reports and data.
AI plays a brilliant role in calculating a person's real-time basis basic health update. It varies from blood pressure to sugar, stress level, calories count, oxygen level, weight, pulse check etc. Apart from being helpful for the patients in reflecting the health update, this data also helps in forecasting ongoing and upcoming health trends in any part of the world. Now just with a little pro-activeness and minimized effort of patients, the technology can reduce the risk of any superior diseases like heart stroke, lungs failure etc.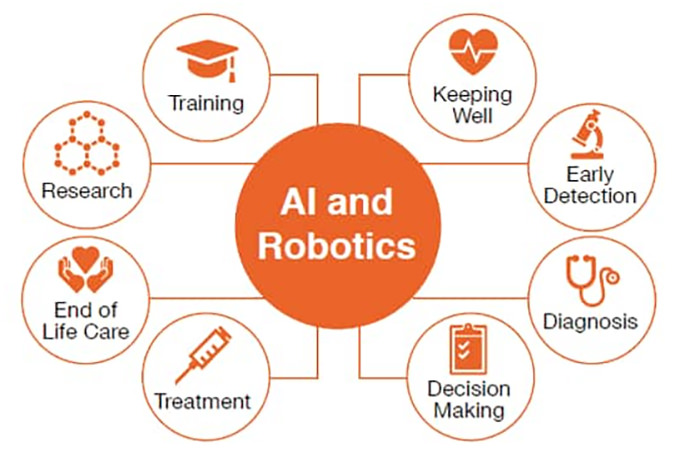 Image source: PwC
Robots in Healthcare
Robots have already been part of the healthcare industry. They have been involved in certain areas where human efforts go in vain. With the change in technology, there is always an upgraded and advanced version of robotics technology standing each year in the market. Robots are the future of the medical industry.
It helps by giving additional time to medical personnel other than their routine tasks which eventually takes way most of their time in the hospitals. This also helps in making medical procedures safer and less costly for patients. Robots are well programmed to perform small surgeries accurately in tiny places and transport dangerous substances needed in the patient's body without any fuss.
"According to IDC, by the year 2019, there will be a 50% increase in the use of robots. These robots will do automated tasks of delivering medications, food, and medical supplements."
IoT Expansion
The "internet of things" is one influential technology changes that have benefited almost everyone in the healthcare industry. It is fundamentally changing the way people live.
"As IoT continues to spread globally – market intelligence firm IDC expects nearly $1.4 trillion in global IoT spending by 2021 – its expansion will continue to drive proliferation and diversification of medical device innovation and the associated challenges."
Every day, IoT development companies are introducing new and fresh IoT platforms, solutions and protocols. Such high-end IoT advanced devices promise in-depth insight into patient's health index, physical and mental performance and monitoring vital signs, either in hospital premises or at the patient's home.
To incorporate IoT in organizations, management must acknowledge IT section to be ready with a planned and operational business case that promises and ensures observation of connected IoT equipment and sensors reliably.
Conclusion
Technological advances in the healthcare industry have already given a glimpse of the latest and upcoming field of medical digital transformation. The transformation seems to be beneficial for both patients and hospitals. It's the introduction of mutual benefit that promotes growth and harmony amongst both the parties.
It is believed that if the digital transformation takes full force over the healthcare industry, then the patients could drive their health on their own and seek physicians help from the comfort of their home. Also, the digitization will lead them to a better road that allows full access to quality doctors in no time and healthcare facilities at a very affordable cost easily without any pain.
Book a Free consultation
Drop in your details and our analyst will be in touch with you at the earliest.
USA
6565 N MacArthur Blvd, STE 225 Irving, Texas, 75039, United States