Siri vs. Google Now: Which Personal Assistant App Wins the Tight Competition?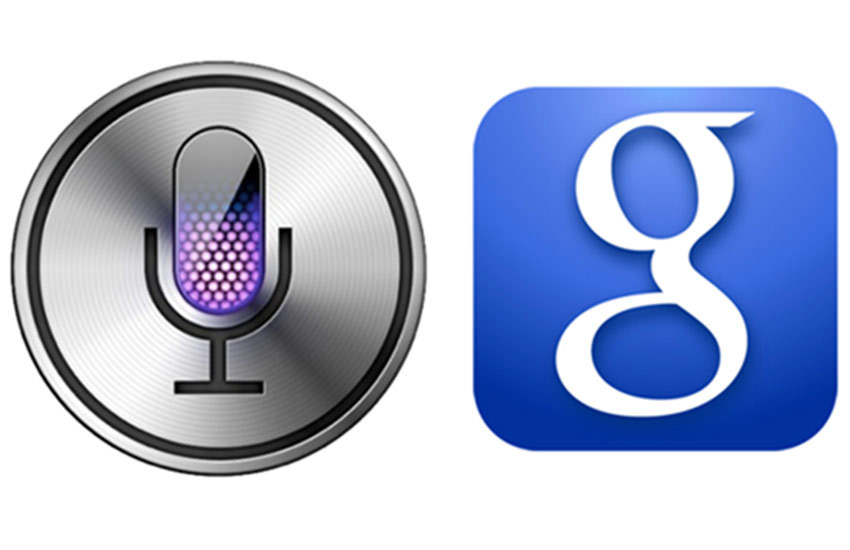 The mobile world has gone viral, people love spending time with their sleek and seductive smartphone more than they would like enjoying a burger at McDonald. The choice to be dependent on their devices for local/global searches, daily tasks and business therefore becomes obvious. Sensing the mood of the tech savvy consumers on a larger platter, big daddies of the IT industry of the likes of Google and Apple Inc. are at loggerheads to provide the users with as much simplified search options as possible, right on their smartphone. Consequently, Apple came up with Siri and in response, Google developed Google Now. Let's check out which one of these two personal assistant apps leads in the race to prove supremacy.
Siri-The personal assistant app from Apple
Apple just hit the right chord to identify the taste of its customers with Siri, the multipurpose capability available as a built-in feature in iPhone. It was introduced in the App Store by Siri Inc. and made its foray into iOS devices with iPhone 4S. Later on, after the acquisition of Siri Inc., by Apple. The advanced voice search feature became a regular on Apple devices from iOS5 onwards. In its latest avatar, Siri offers multiple features:
Multi-tasking: It lets you make hands-free calls, set reminders fix meetings, send messages, etc. Al you need is to speak out, and let your iPhone hear your voice.
Relevant searches: It finds out the most revealing answers to your queries with the help of genuine sources such as WolframApha and Yelp
Dictate your words: Whatever you speak, Siri converts it into text. Hence you can now update your Tweets, Facebook posts or maintain notes, do web searches, etc. just by speaking. No more typing!
Set your eyes free: Apple has joined forces with several car manufacturers to integrate the voice control system right on your vehicle. It will assist you play music, find directions, make calls, etc. The best thing- you need not to take away your eyes while driving, leading into minimum or no distractions at all.
Google Now- The personal assistant app from Google
While Siri is proving online search as no less than a cakewalk for the users, Google Now is poised to offer even better facilities, such as:
Know what you want to: Be it to know weather status of a place where you are about to go, or to get the score of a soccer match, whether you want transit information to reach a destination or wish to check out the recipe of a popular dish, with Google Now you can do it all.
24 by 7 assistance: Google Now organizes all the information related to your search and preferences in cards that pop up whenever you want them to. It lets you spend less time researching, giving more time enjoying life.
Most relevant info: The Voice assistant filters out unwanted information to provide you with only genuine info. It fetches out the most relevant data depending on the card you choose, hence enabling you to make the most of it.
Siri vs. Google Now
Source: Blogsbarrons
Overtly both the facilities look lucrative and quite helpful in simplifying the daily tasks of the modern day mobile user. The two applications:
Act as intelligent personal assistant app.
Are capable knowledge navigators.
Use natural language user interface.
Are helpful for businesses and individuals in multiple ways.
However, covertly, there are certain differences between the two applications as well, which got reflected in a research work by Piper Jaffray, the analyst from Gene Munster.
He asked responses for 800 questions from both the digital voice recognition technologies to test their performance. The results received were positive, but still he suggested rooms for improvements for both the applications. Some important extracts of the findings:
Both Google Now and Siri responded correctly to 94% of the 800 queries made, irrespective of the environment, whether silent or noisy.
While Google Now maintained 81% accuracy in understanding the queries, Siri was slightly better with 83% accuracy for the same.
On checking the 'Net Ability' of the applications both answered 79% of the total queries correctly.
Though Google Now showed improvement in performance as compared to previous test for voice control, still it lags behind in following OS commands. Siri is perhaps a better option in this context.
Siri has managed to nearly get away with the Google results for its searches. In the recent few years, online services such as Wikipedia, Bing and Wolfram have replaced Google, which gets manifested in the decrease of answers from Google in response to queries through Siri from time to time.
Siri itself improved its ability to translate better in noisy surroundings, i.e., from 88% in Dec 2012 on iOS 6 to 94% in Dec 2013 on iOS 7.
Google Now has recorded better performance in its navigation, information and local abilities.
As compared to the last year reports from Piper, Google Now has recovered significantly to secure C+ from D-. Siri also improved its grade from C last December to C+ at present.
Additionally, Google Now is available both for iOS and Android devices, Siri is available only for iOS devices, thereby limiting its users and giving Google Now a slight edge.
How they are helpful for enterprises?
Be it Siri or Google Now, each personal assistant app has come as a respite for service seekers as well as service providers. Users prefer to search for a nearby restaurant, government office, any educational institute or simply the shortest route to a place using any of the two capable search assistants. Likewise, service providers make their best attempt to provide maximum information over the web so as to get searched instantly on the same. Enterprises also prefer integrating their services with such search applications. For example, Singapore Airlines (SIA) is making efforts to innovate its services by integrating all its website information into Google Now.
To summarize, In the new millennium, tech friendly customers hold a firm belief in smart work rather than hard work and this is the reason why digital voice assistant applications such as Google Now and Siri have been doing rounds across the globe. While both provide more or less equal facilities, Google Now, at times holds little edge over the other owing to its larger reach and better response to queries. In  a nutshell, both personal assistant apps enjoy their respective consumer base and having said that, it is the end user who is the major beneficiary in this healthy competition.
Finoit holds credible experience in developing utilitarian apps that could comfortably access the facilities of device hardware. Evidently, it can also develop applications that could utilize search features of android and iOS devices to perform flawlessly.
Finoit can develop interactive and intelligent personal assistant app that could leverage search capabilities of mobile devices. To know more about our services in this domain, feel free to contact us anytime.
Book a Free consultation
Drop in your details and our analyst will be in touch with you at the earliest.
USA
6565 N MacArthur Blvd, STE 225 Irving, Texas, 75039, United States