10+ Years of Journey – How iPhone Has Impacted the World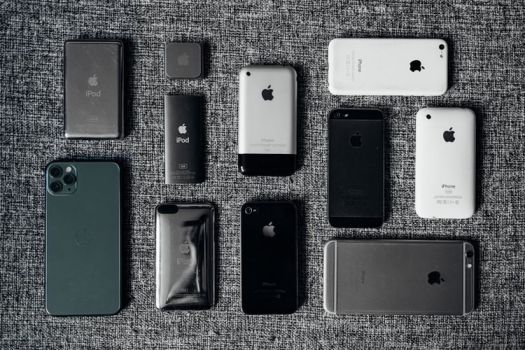 This year's June 29 marks the eleven year anniversary for the world's leading smartphone trailblazer. In celebration of the date, the tech community recalls the time when iPhone almost didn't happen and reflects on the ways that this new generation of mobile phones has changed the world as we knew it.
Raise a glass for Apple as we examine its huge impact on the modern-day society.

The Story of Apple
Full of eccentric personalities and exciting breakthroughs, the story of Apple begins with its main character, the iPhone. On June 29th 2007, Steve Jobs introduced the world to what will, as promised by Apple's leading idealist, become "a revolutionary mobile phone and internet communications device".
Nothing's been the same since.
Over the course of one decade, Apple's business grew about ten times bigger. In 2017, the company earned $45.6 billion of profit on $215.6 billion of revenue, with the iPhone amounting to 63% of its total sales. For comparison, Apple's worth in 2006 was $1.9 billion of profit on $19.3 billion of revenue.
Thanks to the iPhone, a game-changing device that was almost never to see the light of day, Apple is now hailed as the world's most valuable company. It hasn't only disrupted its industry, pushing Nokia and BlackBerry out of the picture, but it has also changed the way people communicate, work and live.
Not bad for a garage startup.

Her Majesty the App
One year after the launch of the first ever iPhone, Apple introduced the first 500 apps on the App Store. Today, this store counts around 2.1 million bite-sized software and digital goodies, but it's not only its gargantuan growth that speaks of the influence this company has left on today's mobile users.
Much more importantly, the App Store set a standard for how apps are built and distributed.
Sure, iOS is still clashing with Android, but they're not exactly equal even though their fight remains epic. In many ways, iOS is responsible for Android's existence. Apple's revenue still trumps that of Samsung, for instance. Without iPhone, companies like Samsung would hardly ever know what to do.
And need we mention the impact of these apps on our everyday lives?
Simple software transformed our phones into Swiss knives for the modern age, equipping us with everything from flashlights, maps, and calculators to photo and video cameras, mobile banks, and lifestyle gurus. The iPhone has paved our path to Uber and a whole myriad of other on-demand marketplace apps that we use not only for facilitating day-to-day work but for earning money as well.

Easy Holistic Tech
The most obvious impact, however, was on the business world.
According to Euromonitor International market research, gum sales have dropped 15% in the ten-year-long aftermath of the iPhone launch in 2007. Apple's tech has apparently made us phone-addicted, so much so that we no longer pay attention to little things around us, not even to the checkout line gums.
What iPhone took away from brick-and-mortar businesses, it gave back to digital moguls such are Facebook and Google. In 2018, mobile marketing is expected to surpass desktop, with around 3.7 billion people moving away from their desktops to be promoted to unique mobile-first internet users.
In other words, the iPhone has prompted the entire business world to move online.
The connection between these two is not far-fetched; "a revolutionary mobile phone and internet communications device" has delivered upon its promise, entirely changing our everyday habits by making mobile devices user-friendly and holistic. Mobile tech is now all-inclusive and effortless to use.
Who cares for checkout line gums, when we can shop from the comfort of our chairs?

Visual Communication
Rising in parallel with social media, the godfather to all smartphones initiated an exciting new era for multimedia artists and enthusiasts. This year, 85% of all photos will be taken on phones, while consumers of contemporary content will continue boosting video as the most dominant online format.
A research on the link between modern technology and psychological aspects such are self-image or social anxiety can also be traced back to the iPhone and the rapid popularization of selfies. Taken together, selfies and emojis are building a whole new communication system for future digital natives.
All this is to say that Apple has helped reshape the way we express ourselves and interact with others.
The same can be said about how we interact with media. In the post-iPhone launch world, radio and newspapers have both gone obsolete – the global population spends 164 minutes on TV, 122 minutes on the phone, 35 minutes on the computer, 51 minutes on the radio, and 9 minutes on newspapers.

The World in an Instant
Unlike these, some consequences of the rapidly-transforming world sped up by the technology we carry around in our pockets have not been measured yet, nor have they been traced back to the arrival of the first iPhone. Nevertheless, the impact of this tech on personal and professional lives is apparent.
Has iPhone changed our education, healthcare, the way we travel, eat, sleep and exercise, or our worldview, mindset and collective attitude? Sure it has, and we can support that argument with hundreds of little real-life facts. Or, we can simply use our smartphones to find the answer on Google.
Everything's connected with the iPhone because the iPhone is connected to everything.
If not this particular product itself, then it's the very concept of smartphones and all the technology that stemmed from it that gave way to today's unlimited world of instant connectivity, information, and services. Thanks to the iPhone, a modern-day man is carrying the entire world in his own pocket.

Disrupting the Industries
A single iPhone replaces a huge number of stand-alone devices, be they a calculator, a camera, a scanner, or something entirely different. Consider these three pieces of technology alone – before smartphones, they've been manufactured on a large scale, with entire markets behind them. That's already three industries that Apple has disrupted, and hundreds of companies that it has bankrupted.
By expanding the definition of what a phone could be, Jobs and company have stumbled across a multipurpose tool that would in time devour an enormous number of devices. Now Apple is going against payment systems too; by connecting banks directly to the mobile phone, Apple Pay may soon eliminate all need for credit cards. Of course, that's only a piece of the company's plans for the future.
Ten years later, Apple's iPhone is not only alive and well; it's also omnipresent and omnipotent. We can only guess what the world's most valuable company has in store for us, but one thing is for certain – the most popular smartphone will continue to be a major catalyst for change in all aspects of life.
Finoit Technologies is a renowned mobile app development company providing custom software development services and IOT application development services. We have developed over 450 mobile apps, and have assisted many solopreneurs in their journey of startups by functioning as a tech partner and rolling out their product ideas. For questions/queries, you may write to us at [email protected]
Book a Free consultation
Drop in your details and our analyst will be in touch with you at the earliest.
USA
6565 N MacArthur Blvd, STE 225 Irving, Texas, 75039, United States