Why Software Development Outsourcing is a Smart Move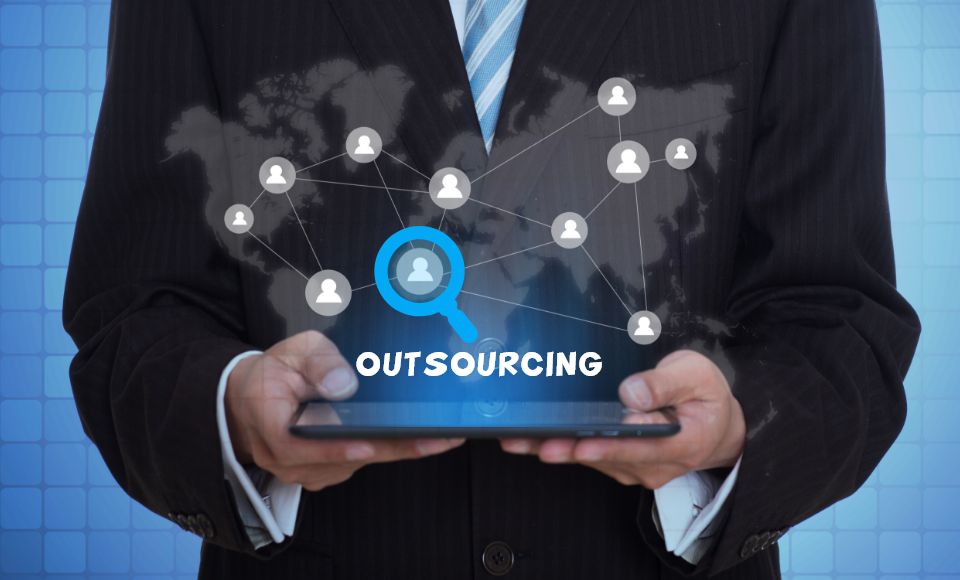 Software development outsourcing is one of the potential ways for businesses to attain their technological as well as strategic goals. It reduces costs while accelerating the development process. Let's discuss the benefits that outsourcing brings here in this article.
The technological landscape is progressive and vibrant, and business owners understand that they are indeed operating in a cutthroat environment. You have to be on your toes at all times if you want to remain on top.
Business owners might choose to rely on their in-house IT personnel to manage all responsibilities; however, when they are overburdened, restricted by the budgetary constraints, or lack capabilities, outsourcing seems to be the savvy option.
According to statistics, the worldwide IT outsourcing market was worth USD 333.7 billion in 2019 and is predicted to increase at a 4.5% CAGR to reach USD 397.6 billion by 2025 during the forecast period (2020 – 2025).
Software development outsourced to a third-party firm allows businesses to attain economies of scale and helps focus on their core capabilities. Whether you're new to the concept of outsourcing or are unsure if it's the correct choice for you, this blog will assist. Let's delve right in!!
How Outsourcing Software Development Can Help You Stay Competitive
Explore the various benefits of software development outsourcing from the standpoint of enterprises wishing to transition to an outsourced software development business model. Because it is a prevalent misconceptions that outsourcing just saves money, here are the top 9 benefits of outsourcing software development to a third-party vendor:
Agility with Quality
Most outsourcing companies use agile methodology and can significantly contribute to high product quality. Let's understand how they help by offering agility through agile approaches.
Collaboration: Agile methodologies emphasize collaboration between cross-functional teams, including developers, testers, and business stakeholders. This collaboration ensures that everyone is working towards a shared goal, and any issues or concerns are addressed quickly.
Iterative development: Encourage iterative development, which involves developing and testing software in short cycles. This enables for frequent feedback and testing, which helps in the detection and correction of flaws early in the development process.
Quality assurance: Agile methodologies include quality assurance practices throughout the development process. This ensures that defects are caught early and that the final product meets the required quality standards.
You can avail benefits of software development outsourcing by getting quality-driven software. A highly disciplined outsourcing software company can further help in establishing a fail-safe process that ensures that the sign-offs provided in service level agreements (SLAs) are met, leading to high-quality software products that meet or exceed customer expectations.
Future-Ready Approach
In recent years, traditional outsourcing has given way to disruptive outsourcing. Emerging technologies such as the Internet of Things (IoT), artificial intelligence (AI/ML), 5G connectivity, and blockchain are driving change within enterprises with the ambition and capability to bridge the technology gap.
To keep up with today's rapid technological advances, businesses must digitally transform into future-proof enterprises. An experienced outsourced software vendor can bring the essential technical skills to the table in order to create applications with a futuristic perspective in hopes of achieving the specific business needs, such as leveraging predictive analytics to identify incidents that lead to unexpected traffic spikes.
Maximizing Efficiency and Minimizing Costs
If you have an in-house software development team, the cost will be fairly expensive. Not only do you have to pay their income, but also their benefits package, vacation, and other expenses. According to some studies, the total cost of a new in-house developer for a business might be 2.7x the base wage when all incentives, taxes, meetings, and so on are factored in. That is, to say the least, shocking!
Thus, if you're now paying $100 for your developer, that figure quickly rises to $270. Isn't it terrifying? But what if you could shift the majority of those costs to a different company? Why not have someone else pay for the package, bringing the total cost much closer to the initial estimate?
For instance, Curiosity Streams, is a global independent media company and video-on-demand streaming service that has dabbled in outsourcing. They engaged a team of six programmers to assist them in developing the video component that increased the amount of hours watched. This aided them in increasing overall productivity and lowering the cost of developing the software.
So, if you outsource your development, you can bring in a lot more individuals for a lot less money. This is because they will be hired on a temporary basis, and benefits, taxes, and holidays will be taken care of by the company you outsource. It's a win-win situation!
Punch above your weight
When you rely solely on your internal team, you are limited to who you have on board. Yet, when you outsource, your possibilities are nearly endless. Do you require a QA tester, a software architect, or a project manager? Any of the roles can be outsourced.
software development Outsourcing will be able to provide you with a whole team of testers, designers, marketers, CTOs, and others. Plus, once you've established a relationship with a third-party developer or development team, you can count on them whenever you need a few additional hands or an expert sight.
Streamlines Customer Expectations
A qualified outsourcing business will assist you in researching and identifying the personas of your target customers. Investing in personal development allows you to better understand your intended audience, allowing you to create the software product that your clients want. Without a thorough understanding of your clients' goals, needs, and expectations, your app or website may fail. This is where outsourcing proves handy.
Talent at your disposal
It is more vital than ever for businesses to identify and keep the right employees to stay ahead of the competition. Unfortunately, there is a clear talent shortage in the relevant technical areas. This is where software development outsourcing can help.
Let's take a glance at the success story of Alibaba. Back in the 90s, Alibaba's founder, Jack Ma, suffered a scarcity of resources. There were not enough Chinese specialists with e-commerce development experience. Another difficulty was that China had severe internet restrictions, which made website development difficult.
Thus the company started to seek partners and outsource overseas across a variety of projects, and they found the human resources they required in the United States. By hiring expertise from other countries, the website started to grow at an exponential rate. According to experts, this technological gap will not close anytime soon, making software outsourcing even more significant.
One stop solution for all
It is a prevalent misconception that software development outsourcing is only advantageous to large corporations. Yet, the size of a company has little to do with outsourcing. Software development projects are outsourced by businesses of all sizes, from startups to Fortune 500 corporations.
Skype, the successful communication startup, is just one of many examples of how early-stage outsourcing may help your business significantly. Two Europeans, one from Sweden and the other from Denmark, launched the company in 2003. Instead of developing the software themselves, they hired three professional developers from Estonia to build their dream platform from the ground up.
This method not only provided them with access to the most recent technological advancements, but also allowed them to save money. Skype has now altered the way businesses do business, pioneering distant communication technology and promoting global outsourcing.
While major firms benefit from employing overseas development teams to reduce locational risk by distributing the workforce, small and medium-sized businesses outsource to save money on human resources, IT infrastructure, and to avoid the inconveniences of hiring new employees.
Exposure to a New Perspective
"The goal is not to create the best ideas, it's to create a system that allows for the best ideas to emerge" Quoted by experts of Datamark. So When it comes to building custom software, having a seamless outsourcing system development helps in attaining the unique approach and out of the box thinking. Also outsourced developers may surprise you with unexpected and novel ideas for improving your project.
For example, Oktopost, is a social media management platform that was launched in 2013. They had 22 employees and operated in Israel, Ukraine, and the United States. Oktopost hired software developers in 2018 to assist them expand their strategy and increase their business. The outsourcing development team has undoubtedly assisted them in developing services that they struggled with in the beginning. Outsourced work assisted them in improving their company strategy and attracting new investments and consumers.
The experience of outsourcing services of working for different industries will demonstrate that they are not restricted to a single way of thinking, but that they look at your project with a different angle and newer perspectives.
Well worth your time
Without a doubt, the technological environment is the most rapidly changing. Businesses are competing to be the first to introduce unique, cutting-edge solutions to the market. Only collaboration with a trustworthy software development outsourcing services provider raises your chances of meeting tight deadlines.
Furthermore, because not every feature needs to be created from scratch, an experienced team can give efficient solutions quickly. This kind of team has the potential to save a substantial amount of time during the software development process.
Hire an expert today to build your software
Software development can be outsourced to a third-party vendor to drive and accelerate innovation, regardless of the business size, use case, industry vertical, technology, or scope of the project. Advantages of software outsourcing are many and you get to experience them when you rightly choose the outsourcing partner.
Many factors might have an impact on the effectiveness of your outsourced personnel, both favorably and adversely. However, turning to external partners seems to be a smart decision for a custom software development company and might be a true doorway to the success of your software development initiatives. Yet, as the saying goes, the devil is in the details. The outsourcing model is designed to be a highly competitive alternative to internal teams, but it must be carried out in an efficient, productive, and cost-effective manner in order to meet these expectations.
Book a Free consultation
Drop in your details and our analyst will be in touch with you at the earliest.
USA
6565 N MacArthur Blvd, STE 225 Irving, Texas, 75039, United States